Sweet Potato Bacon Mac and Cheese will soon become your new family favorite! Sweet potatoes are the basis for this creamy sauce that's packed full of the most delicious sharp cheddar cheese.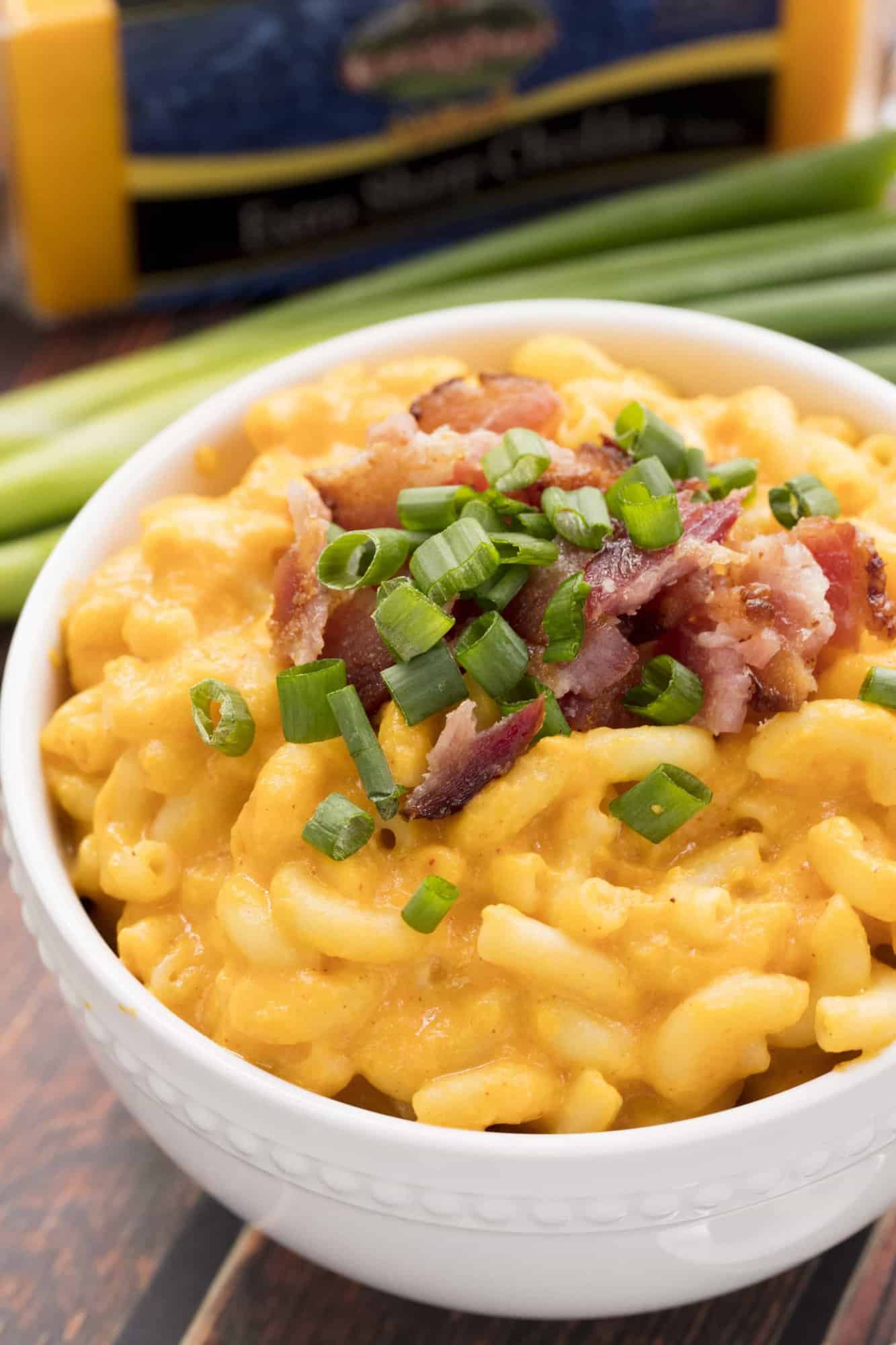 This post is sponsored by Cache Valley Creamery. All opinions expressed are my own.
Looking to switch up your mac and cheese routine? This is the recipe for you! People will never guess there are sweet potatoes in this twist on macaroni and cheese. The sweet potatoes end up just adding extra flavor and creaminess to the sauce with all the benefits of sneaking in some nutrition. That's always going to be a winner. This dish is perfect for fall entertaining and can really wow people for the holidays in particular.

MY OTHER RECIPES
As with any cheese recipe, the quality of cheese you use is super important. This recipe utilizes extra sharp cheddar cheese from Cache Valley Creamery. You want the extra sharp factor to cut through the sweetness of the sweet potatoes. Cache Valley is a local creamery to me. You guys know I always prefer local and my cheese preferences are no exception. Cache Valley is Utah's hidden gem.
Cache Valley has a wide variety of dairy products including block cheese, slices, shreds, snack sticks, singles, butter, and more! You can find Cache Valley products at a variety of retail stores in Utah. If you live in Utah, buy Cache Valley. If you travel through Utah, make sure you stop and try some! If you aren't here or planning to come here, now, you just need to rectify that. Utah is beautiful! You can learn more about Cache Valley Creamery on their website.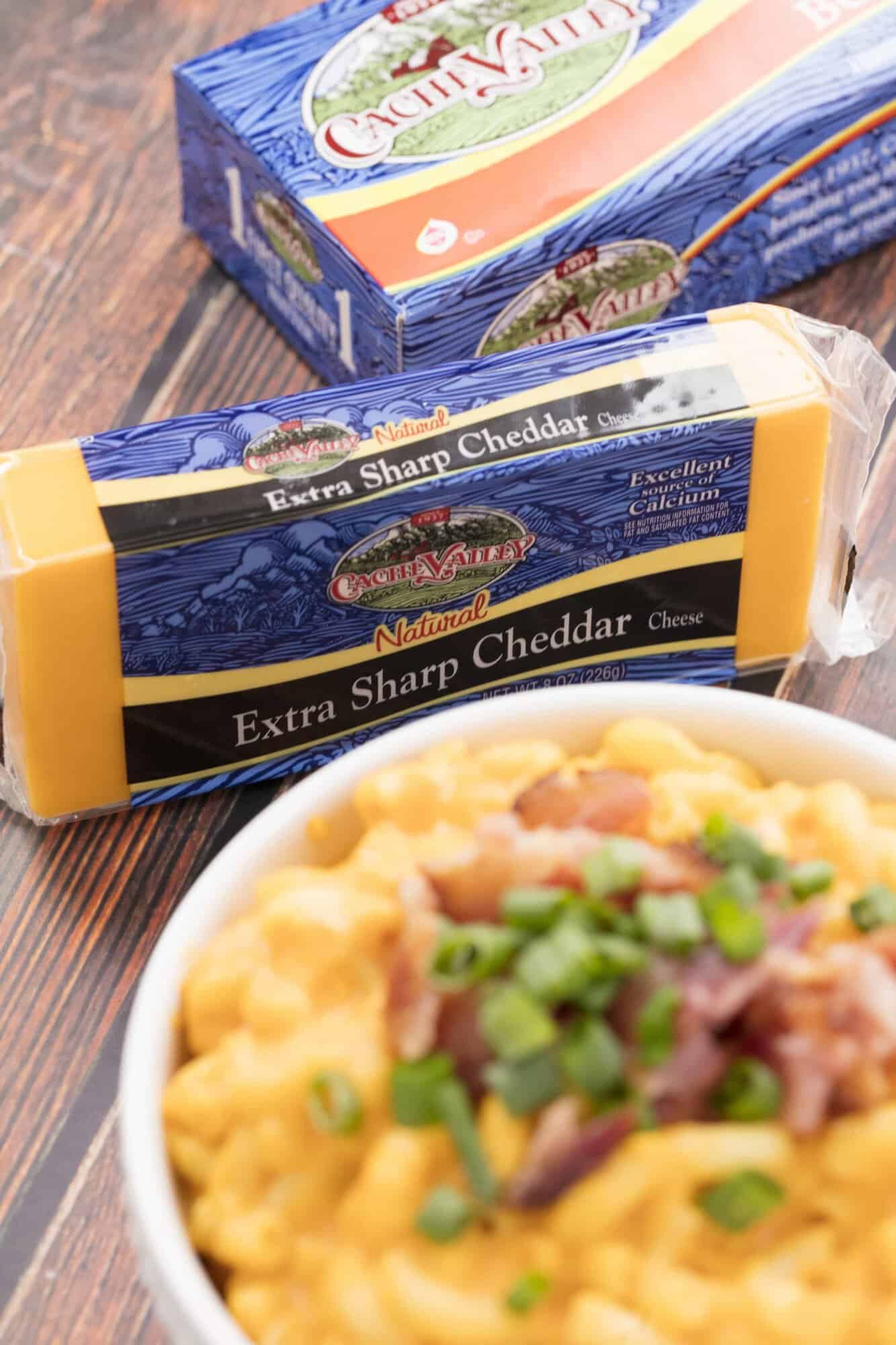 Make sure you don't skip the hot sauce in this recipe. Hot sauce brings out amazing flavor when added to macaroni and cheese. It won't be spicy. I promise! If you are worried about it being spicy, skip the cayenne pepper, but definitely don't skip the hot sauce! It's an old trick and it takes macaroni and cheese from ordinary to extraordinary.
Watch the video to get a quick glimpse at how this recipe is made!
Sweet Potato Bacon Mac and Cheese
Sweet Potato & Bacon Mac and Cheese
Author:
Rachel Farnsworth
Ingredients
2 tablespoons Cache Valley salted butter
½ red onion, diced
3 cloves garlic, minced
2 cups milk
2 cups cubed sweet potatoes
1 teaspoon paprika
½ teaspoon cayenne pepper
½ teaspoon salt
3 cups Cache Valley sharp cheddar cheese, shredded
2 teaspoons cayenne pepper hot sauce
1 lb elbow noodles
6 slices thick cut bacon, cooked and crumbled
½ cup sliced green onion
Instructions
In a large saucepan, melt the butter over medium-high heat. Add in the red onion and saute for 4-5 minutes. Stir in the minced garlic and saute for another 2 minutes.
Add in the milk and sweet potato and bring to a boil, stirring frequently as to not scald the milk. Reduce heat and simmer until sweet potatoes are cooked through and soft, about 15 minutes (actual time will depend on how big your sweet potato cubes are. The smaller the better).
Meanwhile, cook your elbow noodles according to package directions.
Once the sweet potatoes are cooked through, pour the saucepan contents into a blender (or use an immersion blender) and blend until smooth and creamy. Stir in the cayenne, paprika, salt, cheddar cheese, and hot sauce. It should still be hot enough to melt the cheese. Once the cheese is melted, blend it up again to bring back some of the creaminess.
Add the cooked elbow noodles into the sauce and stir to combine. Garnish with bacon and green onion.