Perfectly Crispy Spring Rolls are filled with tender, crisp vegetables and savory meat, cooked in the most amazing combination of traditional Chinese-American takeout flavors, and fried to crispy perfection. This is an appetizer you'll want as your whole meal!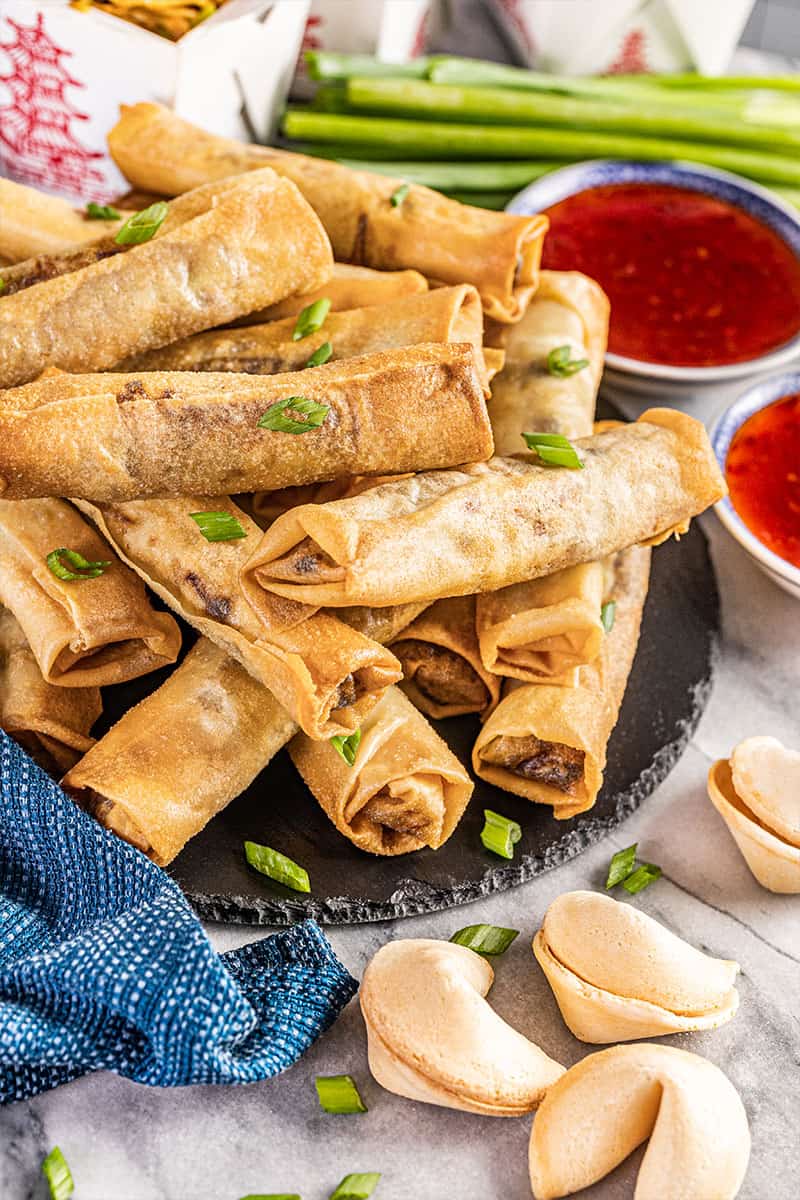 Chinese takeout is divine. Once we get the itch for it, we cannot be satisfied with anything else. Far too often we get the craving at a ridiculous hour of the night when all takeout restaurants are closed. What are we to do? Like many of our recipes, this was born out of necessity. The ability to have spring rolls at any given moment is a constant source of happiness, and we simply can't keep that to ourselves. Get ready to delight in these absolutely amazing homemade spring rolls!
Perfectly Crispy Spring Rolls is not an authentic Chinese recipe, but rather a typical American version of Chinese-American takeout restaurants. The Stay At Home Chef uses ingredients that are easily accessible for most people in the United States and Canada so that anyone can easily celebrate world cuisines even if their opportunities for travel or access to regional ingredients are limited.
Perfectly Crispy Spring Roll Appreciation:
While spring rolls may be considered a part of Chinese cuisine, you can find spring rolls all throughout East and Southeast Asia, and Vietnam. Different cultures have modified spring rolls with their own variations on the type of wrapper and filling, and are all uniquely delicious!
Egg Rolls vs. Spring Rolls:
While you can find many variations of both egg roll and spring roll fillings, the biggest difference between the two is the wrapper. Spring rolls are much lighter and crispier when fried, due to a thinner dough. Egg rolls however, have a much thicker wrapper and are more dense.
Meat Options:
Ground chicken and pork are most common, but you could easily make this with other ground meat if needed. Alternatively, pork butt that has been chopped fairly small is another great option!
For a plant based option, your favorite meatless crumbles can also be used.
Can I use powdered ginger and garlic?
We love fresh, but if needed you can always substitute with 1 teaspoon ginger powder and 1 teaspoon garlic powder.
Oyster Sauce Substitute:
If you can't find oyster sauce, there are a few options for substitutes. Hoisin sauce is your best bet, having a similar consistency and flavor. Otherwise, you can always use soy sauce.
Air Fryer Instructions:
If you would like to make these in the air fryer, spritz your spring rolls with vegetable oil and preheat an air fryer to 390-400 degrees Fahrenheit. Cook for 4 minutes, flipping half way through.
Baking Instructions:
Spritz your spring rolls with oil and preheat your oven to 400 degrees Fahrenheit. Bake for 5 minutes, flip, and then bake for an additional 5 minutes. Serve hot with sweet chili sauce.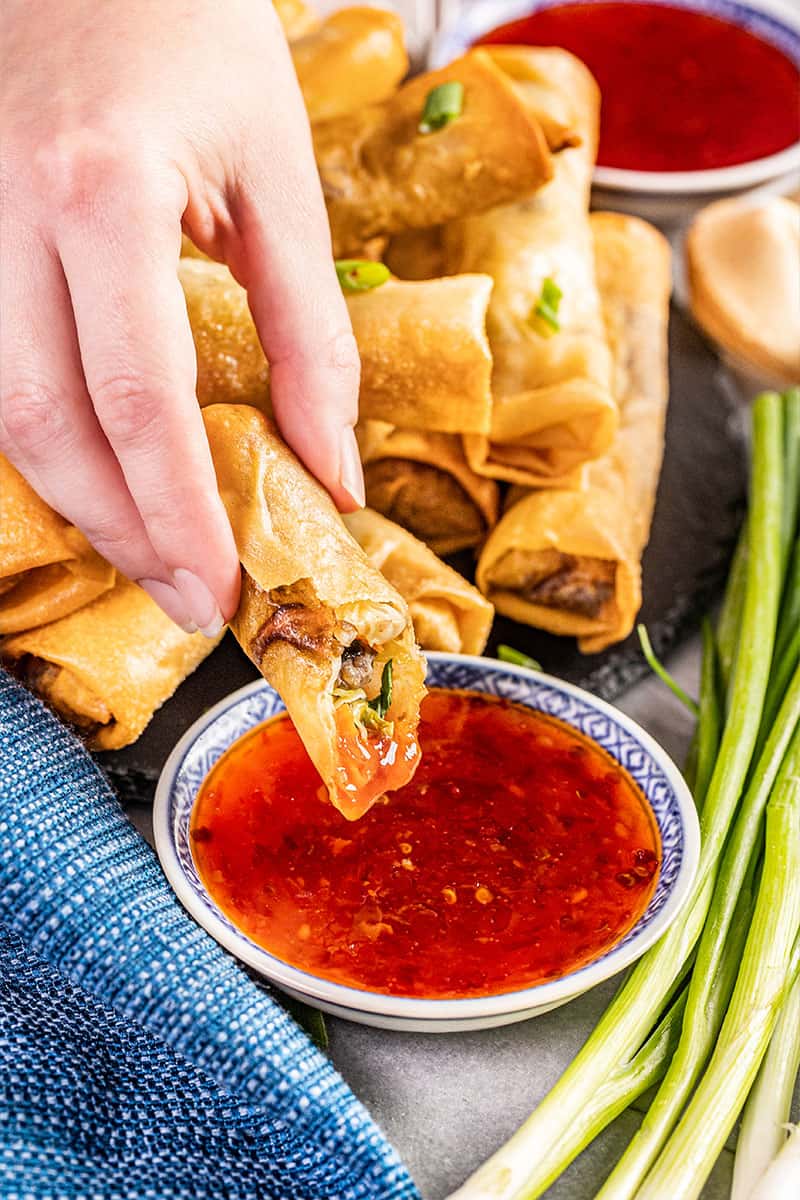 Make Ahead Instructions:
This recipe is extremely easy to prep early, so you are not rushing to get a meal on the table! The filling can be made earlier in the day, and stored in the refrigerator until ready to wrap and fry.
Storage and Reheating Instructions:
Spring rolls are best served fresh. You may refrigerate leftovers in an airtight container for up to 3 days. Reheat in an oven preheated to
If you like this recipe, you may be interested in these other delicious appetizer recipes: