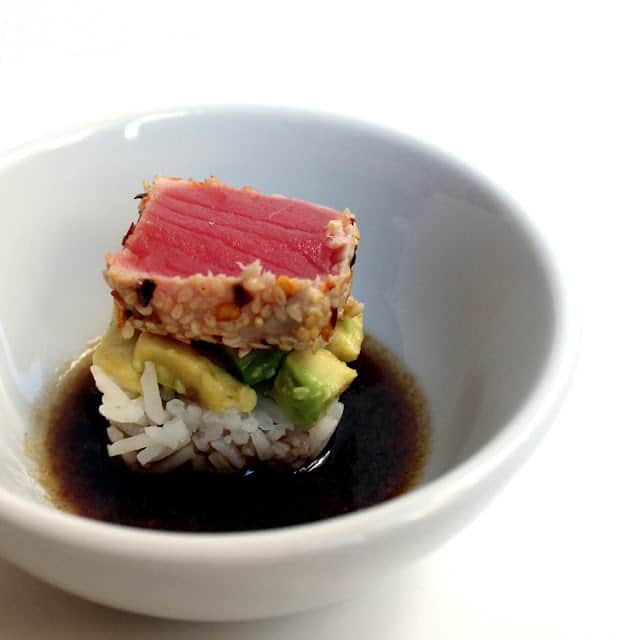 Sometimes I do weird things like make sushi in an ice cube tray. I came across a delicious sashimi grade ahi tuna steak again and couldn't resist. I brought it home and then had to figure out what to do. I had a couple avocados so I knew I could work something out. I boiled up some rice and shoved a spoonful into each hole in an empty ice cube tray and put it in the freezer to cool. You have to press it down so it molds well to the tray. I cut up an avocado into small cubes and squeezed some lemon juice over it and put it in the tray for the next layer. I used a butter knife to pop out the rice/avocado cubes and set a slice of seared ahi on top. Seriously, it was awesome. Some of the rice displaced a little (shown in the picture, see I'm willing to photograph the mistakes!), but each one came out in a nice, serve-able cube. I served it with a spicy sauce and boy was it heavenly!
Ingredients
Rice Layer
1/2 cup rice
1 cup water
Sauce
1/4 cup soy sauce
2 tsp sriracha sauce
1 tsp ground ginger
1 lemon, juiced
Avocado Layer
1 avocado, small dice
1/2 lemon, juiced
Spicy Seared Ahi
1 sashimi grade ahi tuna steak, cut into 1 inch-wide, long strips (2, maybe 3 strips in total)
seasame seeds
red pepper flakes
1/2 lemon
1 tablespoon olive oil
Instructions
1. Make the rice by placing 1/2 cup rice and 1 cup water in a small saucepan. Bring to a boil, cover, reduce heat and simmer for about 15 minutes, until water is completely absorbed.
2. Place a small spoonful of rice in the bottom of each hole in an empty ice cube tray. Press it down so it molds well to the tray. Place in the refrigerator or freezer to cool.
3. While the rice is cooling make the sauce. Combine all ingredients in a small bowl and whisk together.
4. Squeeze 12 a lemon over diced avocado and place a layer on each of the cooled rice cubes. Refrigerate until ready to use.
5. In a small bowl, combine the sesame seeds and red pepper flakes. Take the other 1/2 lemon and squeeze over the ahi steak. Place the ahi into the bowl to coat with the seeds/flakes.
6. Heat a skillet over high heat. Add in 1 tablespoon olive oil. Sear each of the 4 sides of the ahi strips, about 30 seconds each side. Remove from heat and slice.
7. Remove rice/avocado cubes from the tray with a butter knife. Serve with a slice of ahi on top with the dipping sauce.