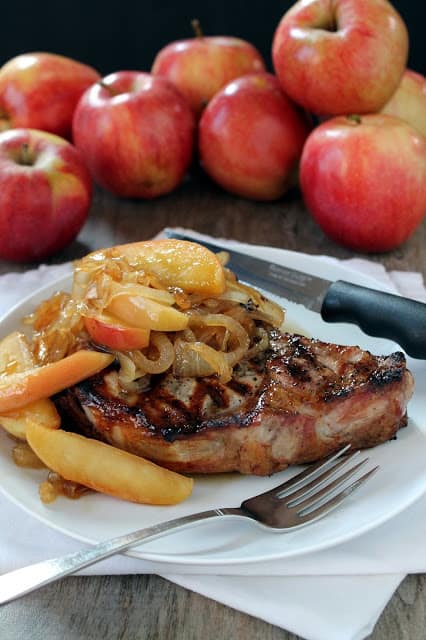 So, cute story. The first time I ever cooked for my husband I made this dish. Okay, I didn't say it was a long story. This dish just has a lot of meaning to me. It is something I love and it brings me right back to those days of awkward dating, trying to impress each other, and falling in love. Oh, the good ol' days! Granted, these are the good now days because there is no more awkwardness, I already know I impress him pretty much every day, and we just fall deeper in love all the time. Sappy, I know. Food is all about emotion. You can taste the love that is put into it. These pork chops are all about Fall comfort. Bring on the apples, savor the sweet onions, and cherish that wonderful, salty pork. Sweet and salty, always a great combination.
Ingredients
4 thick cut pork chops (1-2 inches thick)
3 apples, cored, sliced in half and quartered
1 large onion, sliced (white or preferably vidalia when in season)
2 tablespoons olive oil, divided
1 tablespoon brown sugar
1/2 cup apple juice
Salt and Pepper
Instructions
1. Heat 1 tablespoon olive oil in a pan over medium high heat. Add in apples and onions, salt them using about 1/4 tsp, and saute for about 5 minutes. Turn heat to low and continue to saute for about 10 more minutes until apples are softened and onions are translucent. During the last 2 minutes add in the brown sugar and stir through. Remove from pan and set aside.
2. Use the remaining olive oil to rub over your pork chops. Season both sides with a little salt and pepper. Remember that pork needs salt so don't skimp.
3. Heat the pan used to cook the apples and onions until it is smoking hot (a drop of water would instantly sizzle like crazy and evaporate). Put the pork chops in and sear them for about 2 minutes on each side. They'll get a nice brown crust on them so you'll know they are perfect.
4. Add in the apple juice and turn the heat down to medium. The apple juice will sizzle and reduce fairly quickly as the pork chops finish cooking. This apple juice reduction will serve as a bit of a sauce. The remaining cooking time on your pork chops will depend on how thick they are cut. For a thin cut it will probably only take about 4 minutes per side total. For a thicker cut you'll run 7-8 minutes per side.
5. Add in the apples and onions at the end, smothering the pork, and serve hot.