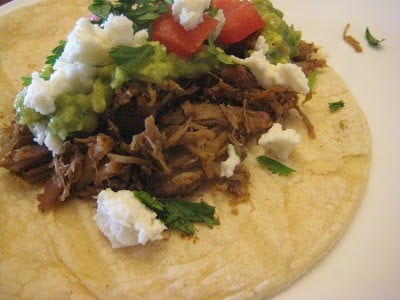 I love Mexican food. We do not have an outstanding Mexican restaurant where we currently live. Sure we have some that are good enough, but none that make my mouth water and cause me to rush over in a craving frenzy once a week. It is very disappointing to me. The key to good Mexican food is all in the meat. I have been desperately working on a good recipe for Mexican meat. After watching "Drive-ins Diners and Dives" on the FoodNetwork I found inspiration to use from the Red Iguana in Salt Lake City. I have finally developed a good concoction and think it is pretty darn close to what the Red Iguana serves up. As with most things in life, I cook it in the crock pot to save myself time and to ensure a splendidly tender result, but you can also cook it in the oven.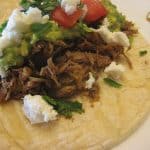 Always a hit in large groups, this Slow Cooker Mexican Pork is easy to make and will win over any crowd.
Ingredients
1

Pork Butt/Shoulder Roast

2

T

Cumin

1

T

Chili Powder

1/2-1

T

Cayenne Pepper

depending on how spicy you want it

3/4

T

Garlic Powder

1

tsp

Ground Cloves

2

Bay Leaves

1

T

Salt

Vegetable Oil
Instructions
Trim roast and slice into 1/4 inch thick pieces. Put directly into crock pot (or baking pan). I hate eating gristle and fat so trim, trim, trim!

Combine spices and toss into crock pot (or baking pan).

Add enough vegetable oil to cover meat. Yes, it is a lot of oil, but fear not. If you skimp you won't get the same results.

Toss together using hands until evenly coated with spice and oil goodness.

For crock pot, cook on low setting for 8 hours. If baking, cook at 350 for 2 hours.
Nutrition
Calories:
174
kcal
|
Carbohydrates:
1
g
|
Protein:
22
g
|
Fat:
8
g
|
Saturated Fat:
2
g
|
Cholesterol:
74
mg
|
Sodium:
797
mg
|
Potassium:
428
mg
|
Vitamin A:
370
IU
|
Vitamin C:
1.2
mg
|
Calcium:
31
mg
|
Iron:
2.4
mg
You can use beef, pork, or even chicken. Whatever suits you best. I love the pork. It is the best at soaking up the flavor.
You don't need much to dress these tacos. Some nice white onion, chopped with some cilantro and a little lime juice on a corn tortilla and you have yourself a little piece of heaven.