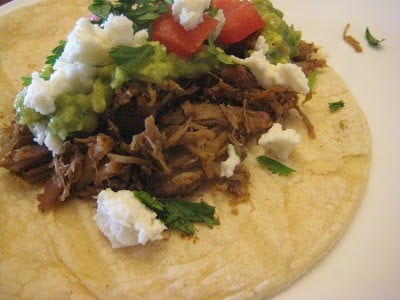 I love Mexican food. We do not have an outstanding Mexican restaurant where we currently live. Sure we have some that are good enough, but none that make my mouth water and cause me to rush over in a craving frenzy once a week. It is very disappointing to me. The key to good Mexican food is all in the meat. I have been desperately working on a good recipe for Mexican meat. After watching "Drive-ins Diners and Dives" on the FoodNetwork I found inspiration to use from the Red Iguana in Salt Lake City. I have finally developed a good concoction and think it is pretty darn close to what the Red Iguana serves up. As with most things in life, I cook it in the crock pot to save myself time and to ensure a splendidly tender result, but you can also cook it in the oven.
You can use beef, pork, or even chicken. Whatever suits you best. I love the pork. It is the best at soaking up the flavor.
You don't need much to dress these tacos. Some nice white onion, chopped with some cilantro and a little lime juice on a corn tortilla and you have yourself a little piece of heaven.