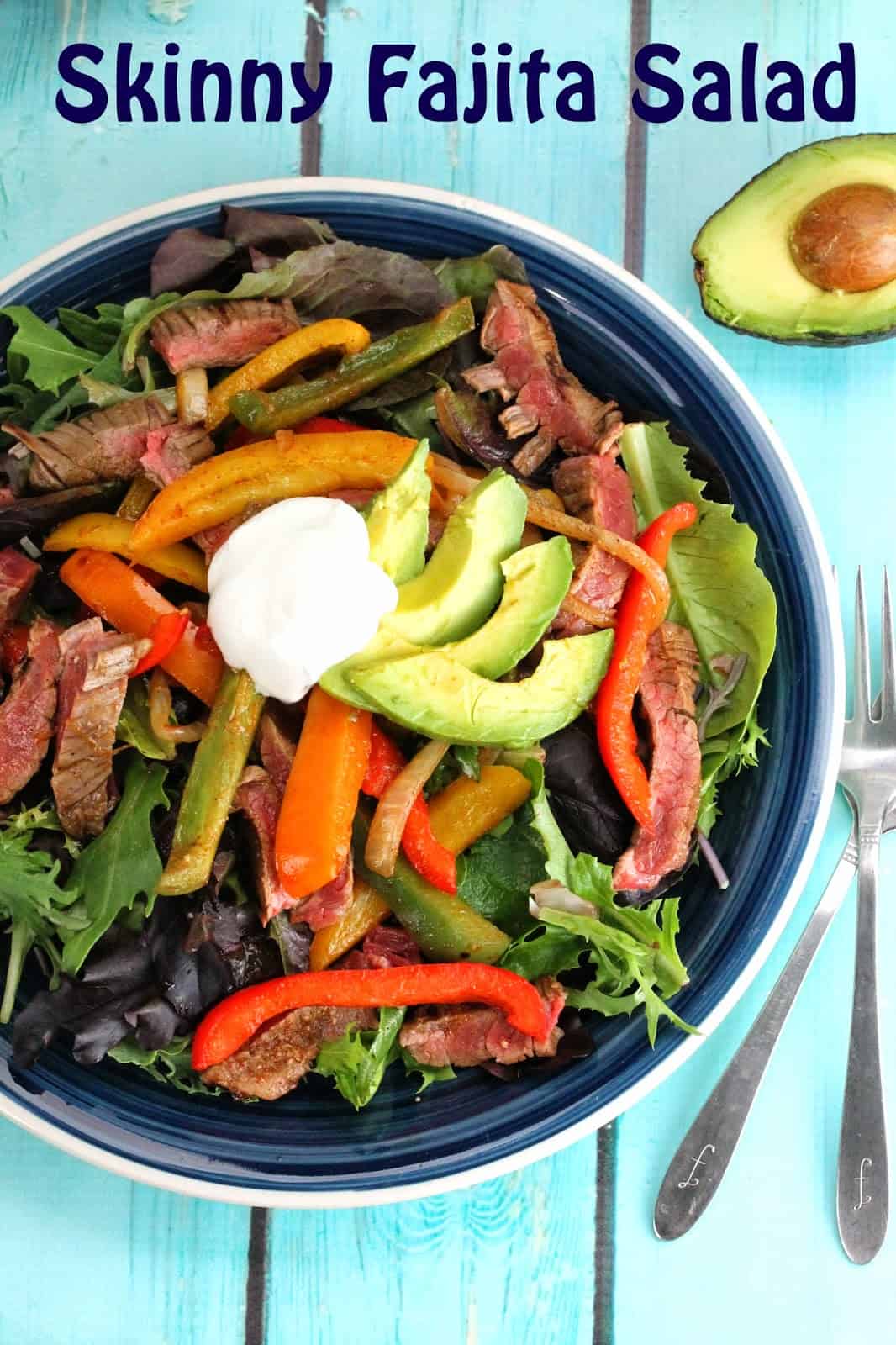 Some people get their skinny going in January in preparation for summer outfits and swimsuits and all that jazz. I'm not into that. I don't prepare for life that far in advance, I love food way too much, and I'm learning to be happy just the way I am. I saw a body image quote on Pinterest that I absolutely love. It said something like, "How to get a beach body: 1. Make sure you have a body, 2. Go to the beach." Can I get an amen to that?
So then why am I giving you a skinny recipe? It certainly isn't to get your body beach ready. Feel free to go to the beach the way you are. I definitely understand counting calories though and watching what you eat though. I suffer from a chronic illness and what I eat really matters. I share a skinny recipe because it feels good to eat on the lighter side on a regular basis. Salads don't have to be "rabbit food" as my brother so lovingly calls them. They can be delicious, and satisfying, and full of healthy [gasp] fats! Summer is upon us and salads provide a satisfying lighter meal that our bodies crave. One thing that I love about a fajita salad is that it makes for a versatile family meal. You have all the fixings for a fajita. Just throw it on a tortilla instead of on a bed of leafy greens for those who need the extra fats and calories, or keep it on the leafy greens for a cold, refreshing lighter side. Everyone ends up happy and you don't have to feel like you are denying yourself anything.
Just remember, don't get too caught up in the skinny. Love yourself the way you are and let your inner glitter shine through! Because you rock just the way you are!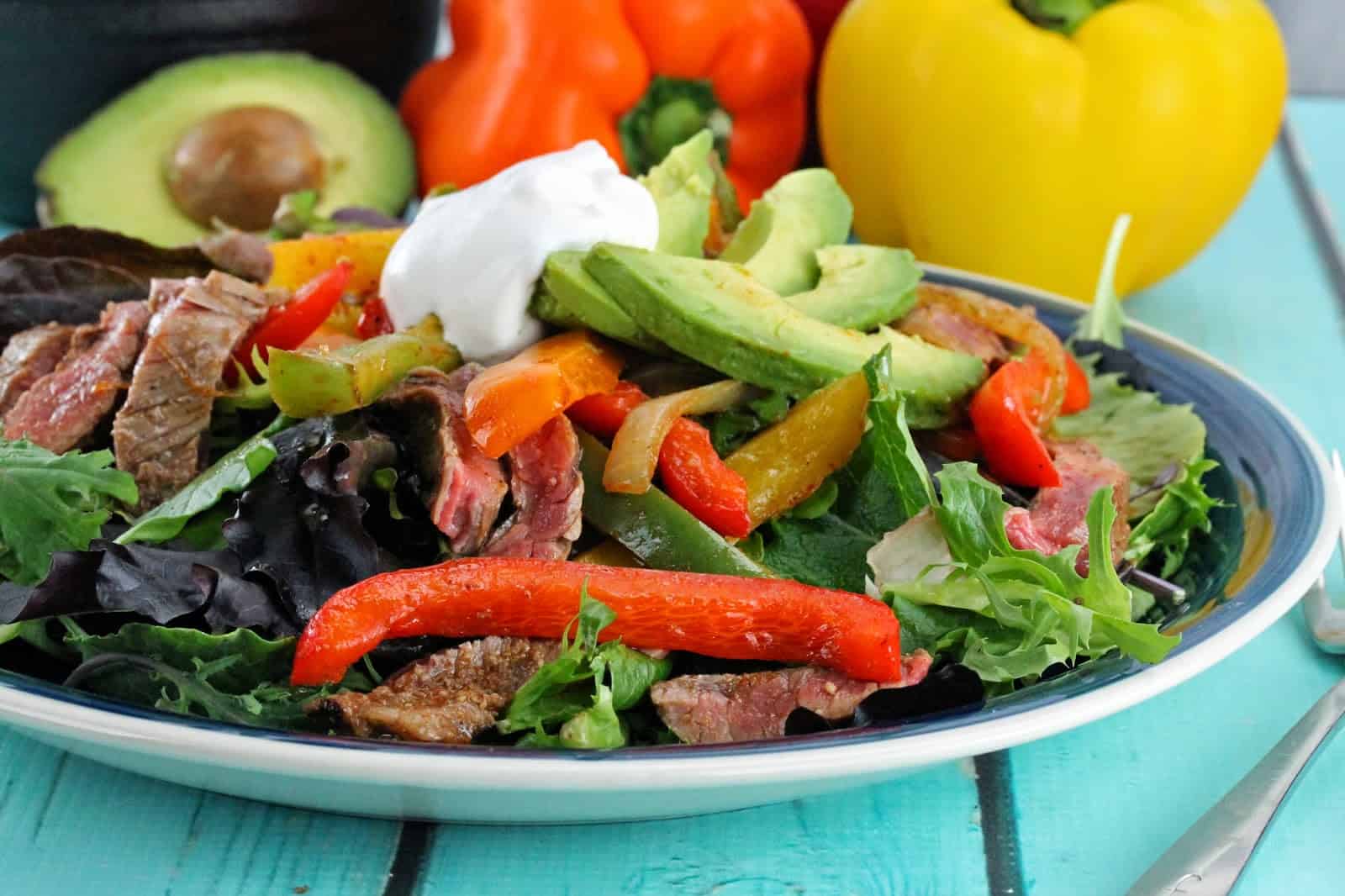 Time To Make It: about 15 minutes (+ 30 minute marinating time)
Calories per serving: 475 with avocado, 340 without
Yield: Serves 6
Ingredients
Marinade
1 tablespoon olive oil
Juice of 2 limes
1 tsp cumin
1 tsp chili powder
1 tsp onion powder
1 tablespoon worcestershire
1 clove garlic, minced
1.5 lbs flank steak

1 tablespoon olive oil
1 onion, halved and sliced
3 multi-colored bell peppers, sliced into strips
1/2 tsp salt
1 tsp cumin
1 tsp chili powder
1 tsp red pepper flakes
8+ cups fresh leafy greens (your choice)
2 avocados, halved, pitted, and sliced (optional)
sour cream, for serving
salsa, to use as a dressing
Instructions
1. Create the marinade for your flank steak. In a shallow dish, combine together the olive oil, lime juice, cumin, chili powder, onion powder, worcestershire, and minced garlic. Lay your flank steak in it and then flip it over so there's marinade on both sides. Let marinate in the fridge for at least 30 minutes.

2. Heat a large skillet over high heat. Add in 2 tablespoons of olive oil, let heat for a minute, and then add in your onion, and bell peppers Season with salt. Sautee until the vegetables are tender crisp (7-10 minutes). During the last few minutes of cooking, add in your cumin, chili powder, and red pepper flakes. Remove the vegetables from the pan and transfer to a serving dish, but keep the skillet hot.

3. Return the skillet to high heat. Cook your flank steak in it for about 2 to 4 minutes on each side (time is dependent on thickness) for medium doneness. Slice the meat for serving against the grain.
4. Serve on a bed of fresh leafy greens with meat, vegetables, maybe a little dollop of sour cream, some sliced avocado, and salsa as your dressing.
Alternate Preparation

Generally when I cook steak I cook them medium-rare. When it comes to fajitas though I'm usually feeding a crowd and most people in my circles, and especially kids, like their meat done well. The good news is that a good flank steak can be done well and still practically melt in your mouth.

1. Slice your flank steak into strips by cutting against the grain. Marinate all the strips in the marinade.

2. Prepare vegetables as directed above.

3. Cook your flank steak strips in the skillet. This should only take a few minutes. Just stir it around to give all the meat a chance to sear on the bottom.
***You can always cook all of these ingredients on your outdoor grill for that added grill flavor.


Cutting against the grain is important! Look at your flank steak. See how there are lines running across it? Do not cut that meat parallel to those lines! You will end up with tough, chewy pieces of meat. Cutting against the grain breaks up that tissue and allows for a delightful strip of steak that melts in your mouth. CUT AGAINST THE GRAIN!