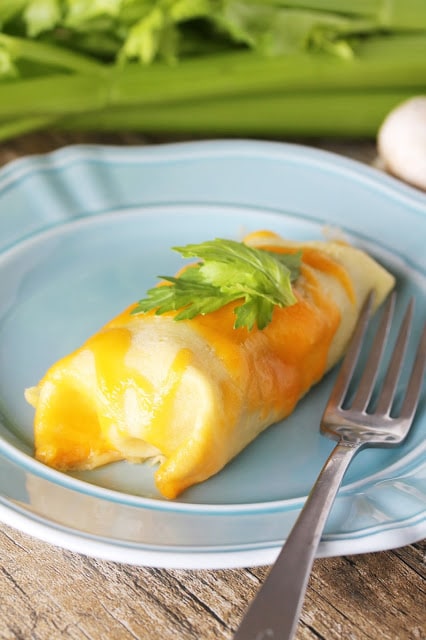 Chicken, vegetables, and cheddar cheese are stuffed into this savory crepe recipe. In this savory crepe recipe I show you not only how to make crepes the easiest way, but also give you a delicious recipe for cheesey chicken crepes, one of our family's favorite recipes. Make perfect crepes in the blender and eat them up in this tasty dinner recipe idea.
I first made this recipe as part of a cooking course I took in college. It has changed over the years, but is nostalgic to me. I've included a video demonstration so you can see how to make the crepes. If you've never done this before, the video will be helpful in seeing what exactly you need to do.
Savory Cheesey Chicken Crepes
Chicken, vegetables, and cheddar cheese are stuffed into this savory crepe recipe.
Author:
Rachel Farnsworth
Ingredients
Crepes:
3 eggs
½ teaspoon salt
⅔ cup all-purpose flour
1 cup milk
Filling:
1 cup sour cream
8 oz. mushrooms, sliced
¼ cup sliced black olives
¼ cup thinly sliced green onion
¼ cup finely chopped celery
2 cups diced, cooked chicken
1 cup shredded cheddar cheese, divided
Instructions
Make crepe batter by placing eggs, salt, flour, and milk in a blender. Blend until smooth.
Heat a nonstick skillet over medium heat. Lightly grease the pan. Pour a little of the crepe batter in the pan and swirl it around to cover the bottom of the pan. Let cook about 1 minute, until surface loses its shine. Flip carefully. (see video for demonstration). Repeat until all batter has been used.
Preheat oven to 325 degrees. Lightly grease a 9x13 pan.
Make the filling by combining the sour cream, mushrooms, olives, green onion, celery, chicken, and half the cheddar cheese in a mixing bowl. Place a heaping spoonful in the center of each crepe. Fold ends and sides over and place in prepared pan.
Bake 30 minutes at 325°. Remove from oven and sprinkle on 1 cup grated cheese.
MY OTHER RECIPES