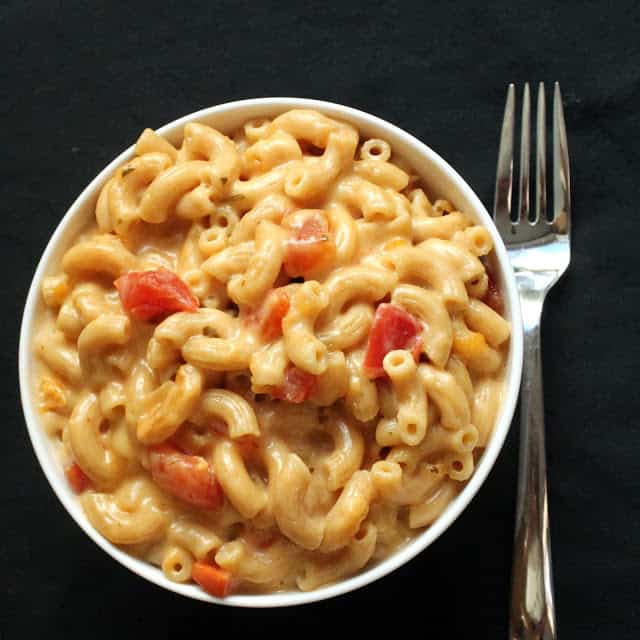 I decided to play around a little more with mac and cheese. This time it was about sneaking vegetables in, but I wanted to do it in an easy way. I knew I couldn't use anything green otherwise my kids would never be able to see past the green. I figured I already love using hot sauce in a mac and cheese so why not try salsa? I know it isn't terribly original at all. But my base mac and cheese recipe is perfect. The result gave us a pleasant twist on our usual mac and cheese fare. It had a little bit of heat for mom and dad, and the kids didn't pick out any of the vegetables. Like a true sneaky mom I even found a salsa at Trader Joe's that had carrots in it and used wheat pasta. Mission complete.
Ingredients

1 box uncooked macaroni (1 lb)
1/2 cup or 1 stick butter
1/2 cup flour
1 tsp salt
1 1/2 tsp ground mustard
1 1/2 tsp onion powder
3 1/2 cups milk
2 1/2 cups shredded sharp cheddar cheese
1 cup salsa


Instructions

1. Preheat an oven to 400 degrees. Grease a 9×13 pan.

2. Fill a large saucepan with water, and bring to a boil. Stir in the macaroni; cook until al dente. Drain well. Pour noodles into prepared 9×13 pan.

3. Meanwhile in another large saucepan, melt the butter over medium heat. Stir in the flour, salt, onion powder, mustard powder, and milk; whisk until smooth. Cook over medium-high heat, stirring constantly, for 3-5 minutes until the sauce is hot and begins to bubble. Reduce heat to low, and whisk in cheese until melted. Stir in the salsa. Pour cheese sauce over noodles in prepared 9×13 pan.

4. Bake, uncovered, 10 minutes.