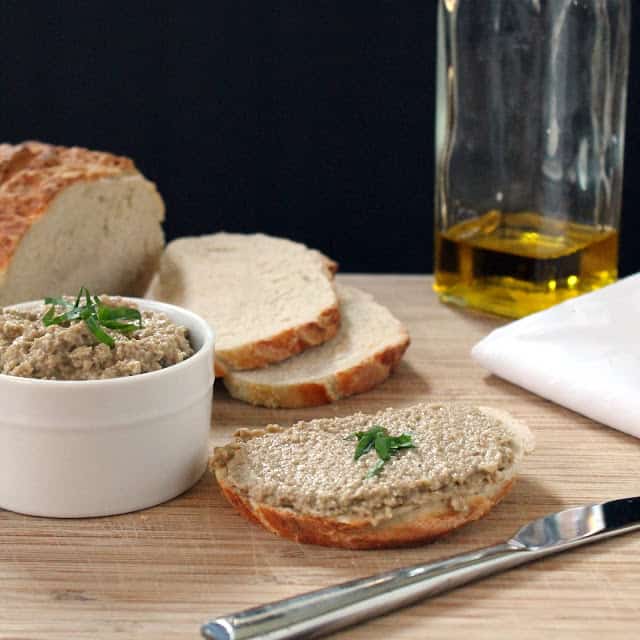 I went on a much needed girls weekend getaway last week. It was fabulous and exactly the kind of relaxation I needed. We went to an Italian restaurant in Los Angeles called Sprazzo Cucina Italiana. They had the most amazing gnocchi. They were perfect little pillows and I was absolutely thrilled. While I had anticipated their renowned gnocchi, what surprised me was their delicious little spread to go with the table bread. When our sweet host announced it was eggplant I got a huge smile on my face because I knew at least one member of our party absolutely hates eggplant. Every time she gets it in her CSA box she gives it away. I encouraged her to give it a try and what do you know? She liked it! I'm telling you, eggplant is totally under appreciated. It can be absolutely tasty. I knew I could replicate it at home and was totally happy with the result. It's great lathered on bread and I also discovered it makes a great filling on a grilled cheese sandwich with pepper jack cheese. Yumm-o! The moral of the story is that you should give eggplant a try if you haven't already discovered its goodness. It really can be made into so many delicious different dishes.
Ingredients
1 large eggplant
lots of salt
1 whole head of garlic
1/4 cup olive oil + more to drizzle
1/2 cup crumbled feta
salt and pepper
basil for garnish
Instructions
1. Peel the eggplant and then slice it into 1/2 inch rounds. Lay the sliced rounds out on a baking sheet and pour a disgusting amount of salt over them. Let stand 30 minutes, rinse, and pat dry. Don't worry, the salt won'tn soak in, it just draws out the bitterness of the eggplant. Rinse your baking sheet as well and put the slices back on the baking sheet and drizzle with olive oil.
2. Meanwhile, preheat an oven to 400 degrees.
3. Chop the tip end off the head of garlic, exposing all of the cloves inside. Drizzle with olive oil and wrap in foil. Put the garlic in the 400 degree oven and roast for 25 minutes. When done remove the cloves from the shells.
4. When your eggplant is ready, pop it in the oven and roast it with your garlic for about 15 minutes, until it softens and starts to brown.
5. Remove from oven and puree the eggplant, roasted garlic cloves. olive oil, and feta in a food processor. Season with salt and pepper to taste. If your dip is too clumpy to puree, add a little more olive oil to smooth it out. Serve cold. Garnish with basil if desired.
Serve as a spread on bread or as a dip.