Cod fish is skillet roasted to perfection with a homemade garlic lemon butter on top. You're going to love this dish!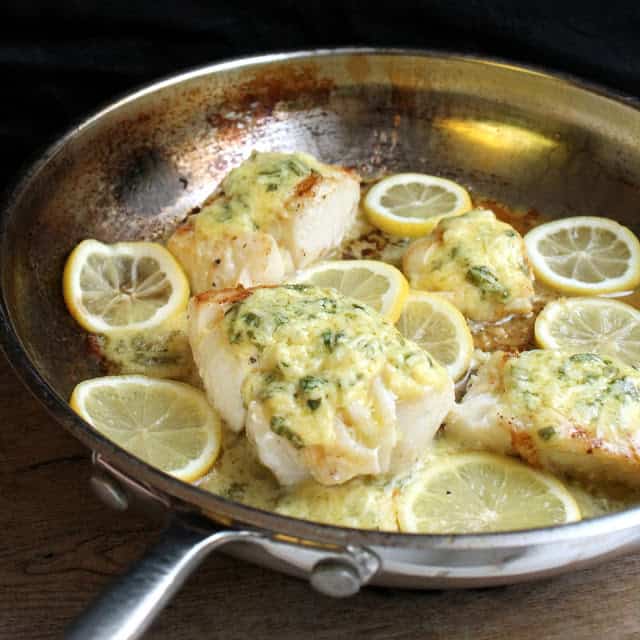 There's nothing quite like a good roasted fish on a summer night. Cod is a nice, thick white fish with a nice firm bite to it. We absolutely love cod, and when we came across some the other day we just had to give it a go! The topping on this was just amazing and full of flavor. It was perfect.
You'll notice I had several different thicknesses on the filet, and yes, I did defer their cooking time so that everything came out equal. The zing from the lemon juice makes for lemony goodness on a wonderful piece of cod. Side note: does anyone else think of Captain Hook when cooking cod? 
Cod Substitutes: 

If you can't find cod, or would like to just add more variety of fish into your diet, you could always try:

Haddock
Pollack
Stripped Bass
Mahi Mahi
Grouper

Fresh vs. Dried Basil:

Certain times of year it is just difficult to find good quality fresh basil. If necessary, you can swap out the fresh basil for 2 teaspoons of dried basil.

Lemon Juice:

We highly recommend fresh squeezed lemon juice and not a store bought bottled variety. There is nothing quite like fresh lemon juice on roasted cod fish. Trust us, you'll want to have an extra lemon on hand to squeeze a bit extra on top when serving. 
If you like this recipe, you may be interested in these other delicious fish recipes: