Refrigerator pizza dough is the best way to have fresh, homemade pizza anytime you crave it! Make it ahead, let it rise, and it's ready to use for up to 2 whole weeks!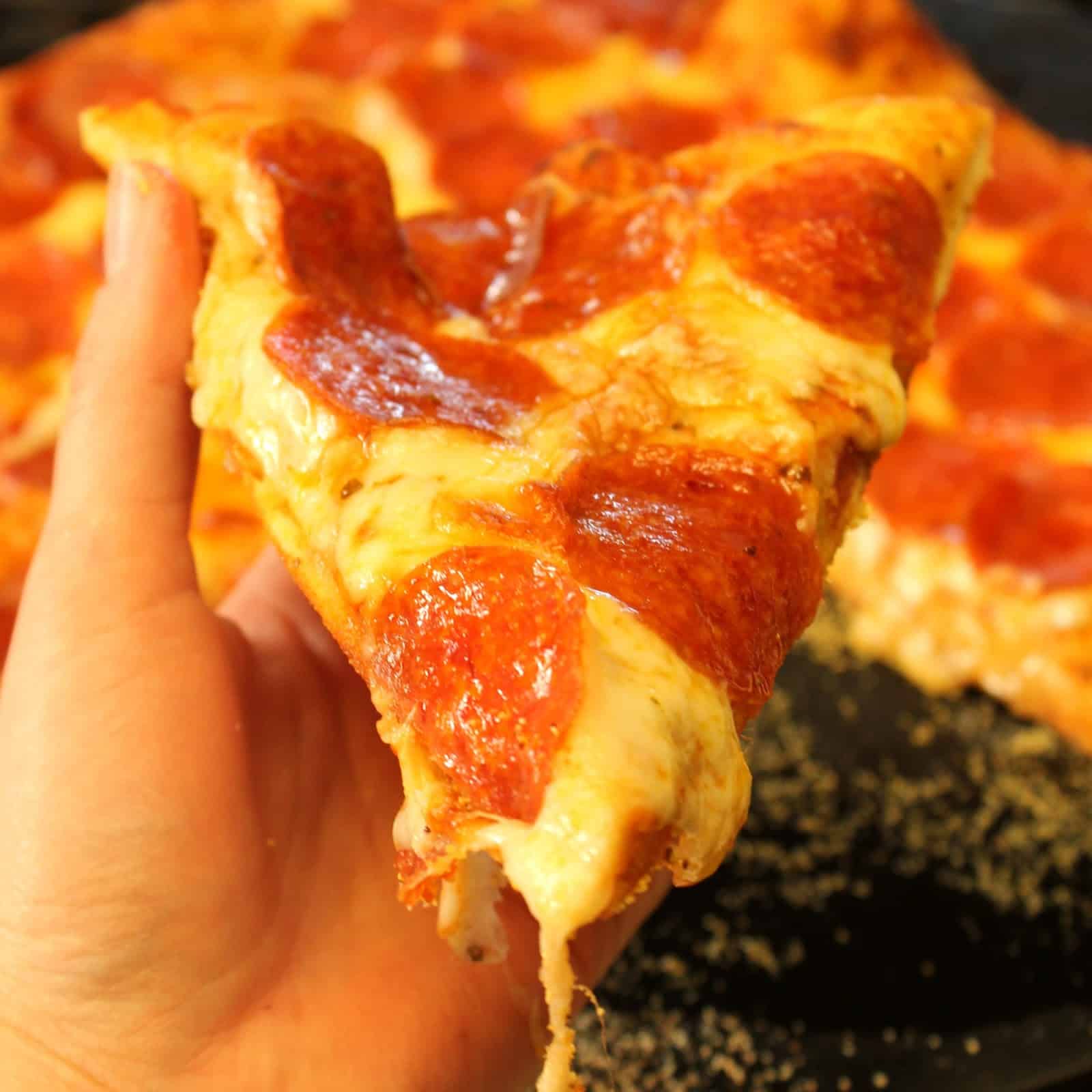 It's a rare day that you wouldn't find pizza dough in our fridge. Sometimes we need a last minute meal and pizza is our favorite go-to. You can put almost anything on a pizza and make it good. This dough is great because you can make a batch (or double batch), toss it in the fridge, and then I know that you're covered for dinner emergencies for the next two weeks. You can pull it out of my fridge and have dinner ready within 15 minutes. We showed this trick once for a group cooking lesson and everyone was amazed.
There is no reason to order out. Just keep shredded mozzarella and pepperoni in your freezer, and a jar of sauce in your pantry, and of course some dough in your fridge. It's easy and it only takes 5 minutes of hands on work to put the dough together. Forget about it for an hour or two while it rises, and then toss it in the fridge.
Topping Options:

You can add any and all of your favorite toppings to this pizza dough! You can spread it with pizza sauce, pesto, or even just a garlic and olive oil mixture. Veggie lover? Meat lover? It's all up to you and what you prefer on a pizza. We promise you're going to love it!

Instant Vs. Active Dry Yeast:

You can use either yeast in this recipe. Instant yeast can be added with all ingredients and doesn't require any activation or proofing time. If you choose to use active dry yeast, you'll want to let that proof in a small bowl by mixing it with the amount of water called for in this recipe. Your water needs to be warm, and should be between 100-105 degrees F to properly proof the yeast.

Storage and Reheating Instructions?

For leftover baked pizza, put remaining slices in an airtight container in the fridge for up to 5 days. Reheat in either a toaster oven or microwave until warmed through.
If you like this recipe, you may be interested in these other delicious easy dinner recipes: