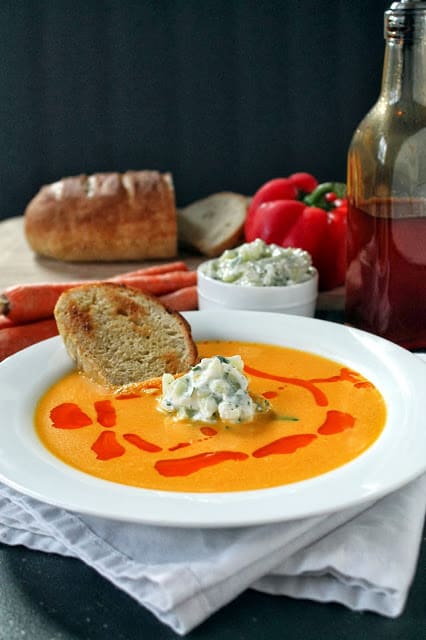 I'm in love with this soup. I can't remember ever tasting a soup that was better than this. It is such a complex layering of flavors. You have the carrot soup base with Thai flavors, you have the Indian raita, and then there's the smoked paprika oil which is more of a Moroccan flavor. Talk about fusion! It may sounds totally out there, but the flavors meld together to form this amazing soup. As I was eating it my mind was racing thinking of all the people I wanted to make this soup for. You may read through the list of ingredients and think it is weird, but you should seriously try it. I promise it is amazing!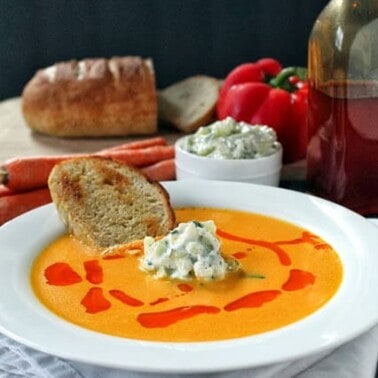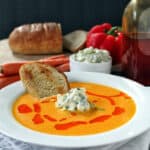 Ingredients
Smoked Paprika Oil
1

red pepper

roughly chopped

1

cup

olive oil

2

tablespoons

smoked paprika
Red Curry Carrot Soup
8

carrots

peeled and chopped

2

shallots

sliced

1

onion

diced

8

cloves

garlic

sliced

2

teaspoons

Thai red curry paste

4

tablespoons

butter

1

cup

heavy cream

6

cups

vegetable stock

1/2

teaspoon

salt
Raita
1

cucumber

peeled and cut into a small dice

1

cup

Greek yogurt

4

mint leaves

chopped

2

tablespoons

cilantro

chopped

zest of 1 lemon

salt and pepper

to taste
Instructions
In a small saucepan, combine the red pepper and olive oil. Heat to a simmer and continue simmering for about 5 minutes. Add in the paprika and continue to simmer for about another 5 minutes. Remove from the heat and set aside while you make the rest of the soup. Strain before serving.

In a large saucepan, melt the butter over medium heat. Add in the shallots and onions and saute for about 5 minutes. Season with a little salt. Add in the garlic and thai curry paste and saute for just another minute or two to allow the flavors to be released.

Add in the carrots and vegetable stock and bring to a boil. Reduce heat and simmer until the carrots are soft, about 20 minutes.

While the soup is simmering, make the raita by combining all of the raita ingredients in a bowl. Season with salt and pepper to taste.

Use a hand blender to puree the soup, or puree in batches in a food processor or blender. After the soup has been pureed, add in the heavy cream. Taste and add salt if necessary. Hold soup warm to serve.

Serve by spooning soup into the bowl. Place a spoonful of raita in the center and drizzle a circle of paprika oil.
Notes
Recipe adapted from Chef Jamie Lauren as seen on Top Chef Season 5, Episode 9: Restaurant Wars