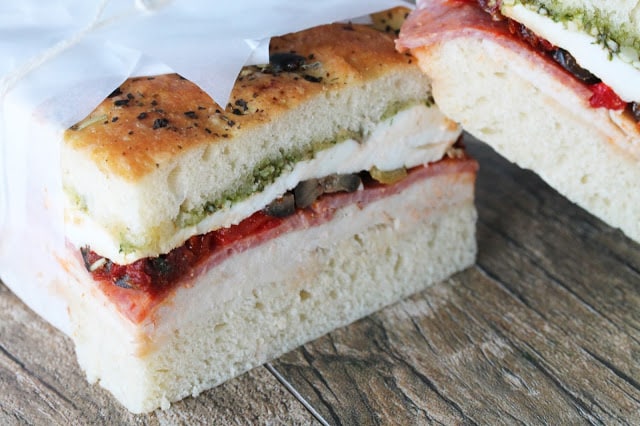 Picnics are a family favorite of ours. Spring, Summer, Fall, we like picnicking during them all! Pressed sandwiches are a perfect picnic item. They are also great for serving at luncheons, and baby/bridal showers. They are easy to put together and require making ahead so it is the perfect party and picnic food. This particular sandwich is bursting with flavor. I used a walnut pesto spread because I enjoy the flavor and slight crunch of the walnuts as opposed to the more traditional pine nuts. Sun-dried tomatoes provide an air of sophistication while pepperocinis provide a little zing.

MY OTHER RECIPES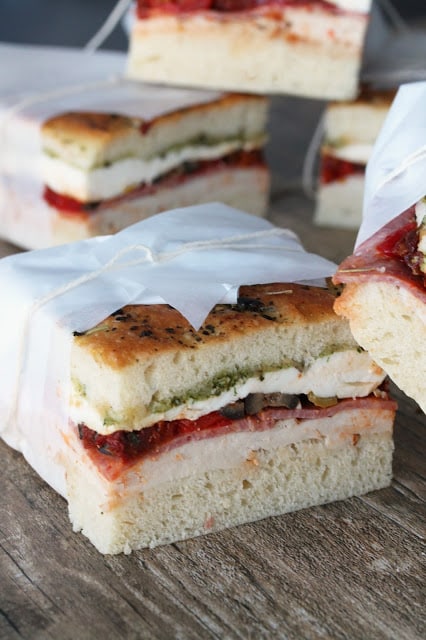 Prep Time: 15 minutes
Ready In: 12 hours
Yield: 12 sandwiches
Ingredients
2 cups fresh basil leaves, loosely packed
3 cloves garlic
1/2 cup grated Parmesan cheese
1/3 cup olive oil
1/4 cup walnuts
1 pound deli sliced chicken breast
1/2 pound deli sliced salami
1/4 cup sun-dried tomatoes
1/4 cup sliced olives
1/4 cup pepperocinis
2 roasted red bell peppers, roughly chopped
16 oz. fresh mozzarella, sliced


Instructions
1. Make the pesto by combining basil, garlic, parmsean, olive oil, and walnuts in a food processor or bender. Blend until fairly smooth.
2. Cut the focaccia loves in half carefully. Spread the pesto on the top halves and set aside.
3. On the bottom halves layer sliced chicken breast, and salami.
4. Mix sun-dried tomatoes, olives, pepperocinis, and roasted red bell peppers in a small bowl. Sprinkle over meat layer.
5. Top with slices of fresh mozzarella to cover the entire sandwich.
6. Place pesto covered top half of the focaccia onto the sandwich. Wrap tightly in plastic wrap.
7. Place the wrapped sandwiches onto a baking sheet. Place another baking sheet on top of the sandwiches. Place 2 heavy books or weights on the top baking sheet to squish the sandwiches. Place in the fridge, books and all, for 12 hours.
8. Once 12 hours have passed, unwrap the sandwiches and slice into square for serving. Wrap in wax paper and cooking twine for a cutesy presentation.