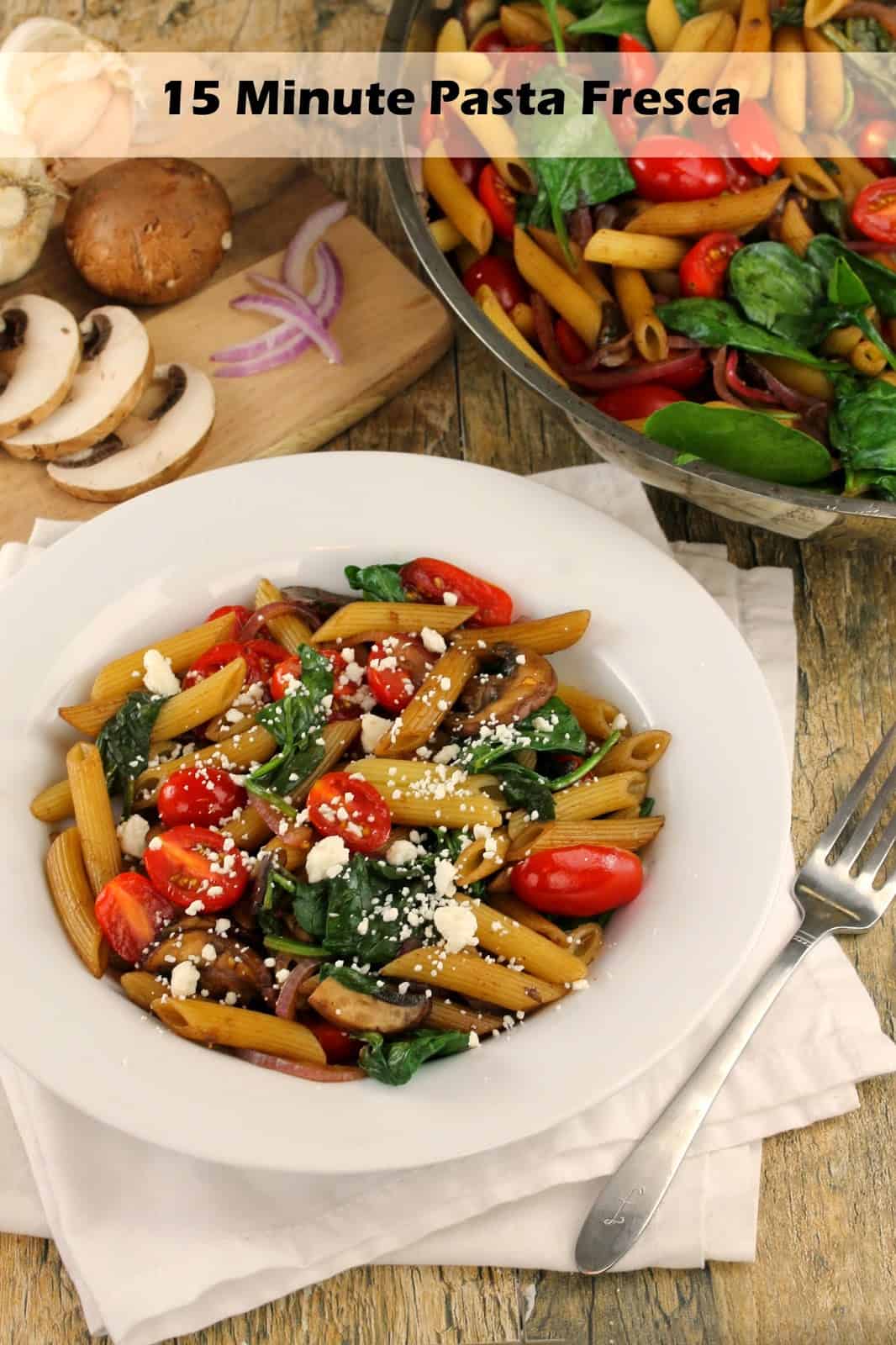 The post "Pasta Fresca" first appeared on The Stay At Home Chef on January 8, 2013″
This Pasta Fresca is nice and light and tasty to boot. It is a great low-cal pasta option, and even sneaks in healthy stuff like spinach and tomatoes. It is super easy to make at home and guess what? It is a 15 minute meal. I'm serious. It literally takes me 15 minutes to make this, start to finish. Start your water boiling for your pasta, prep your onions, mushrooms, garlic, spinach, and tomatoes, boil your pasta while you saute your veggies, combine and serve. Pretty tasty!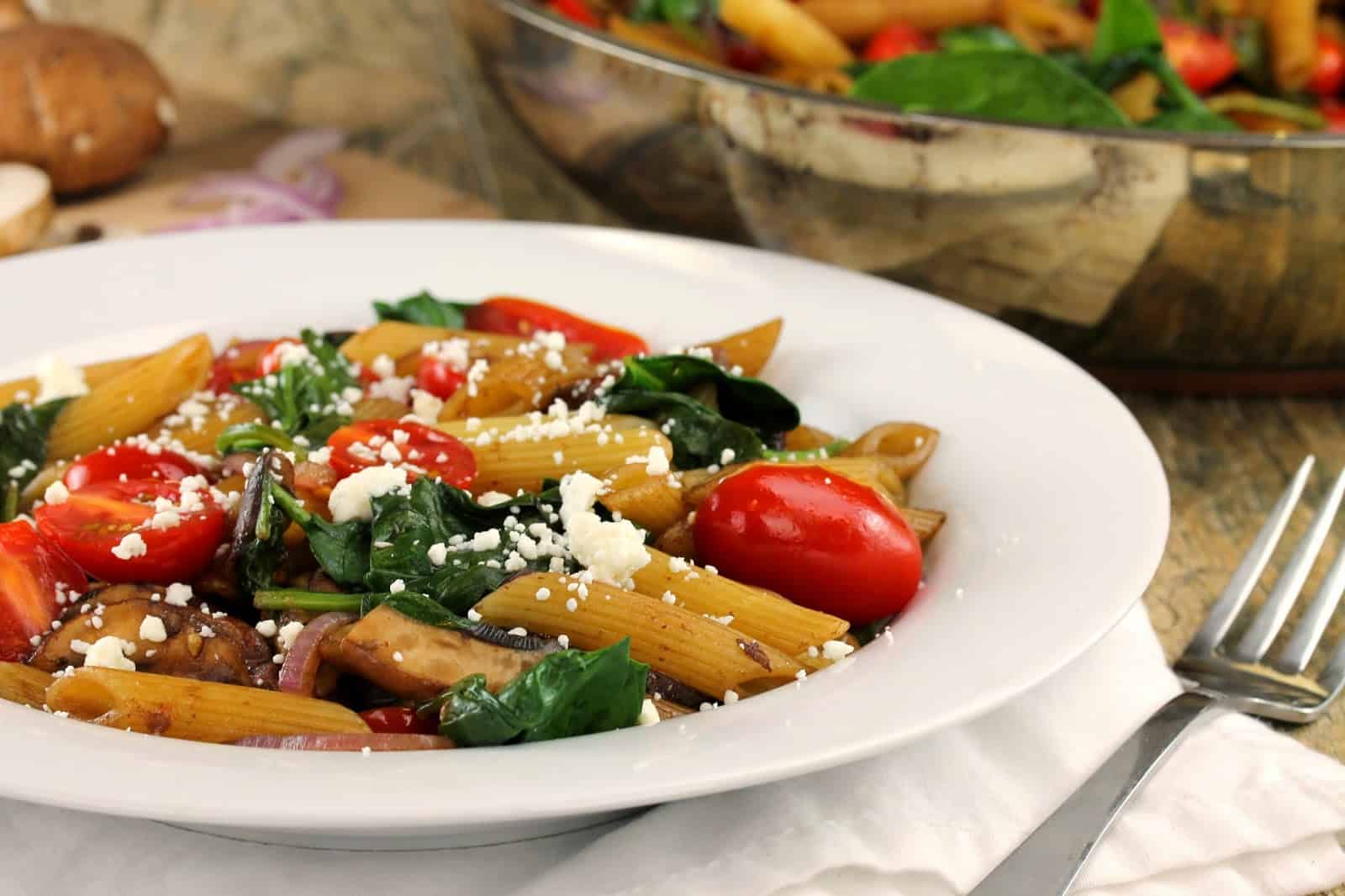 Time to Make It: 15 Minutes
Yield: Serves 4
Ingredients
1 lb penne pasta
2 tablespoons olive oil
1 red onion, sliced
1 (8 oz) package mushrooms, sliced
3 cloves garlic, minced
1/4 cup red wine vinegar
1/2 cup balsamic vinegar
1 pint cherry tomatoes, halved
3 cups fresh spinach, rinsed, stems removed
salt and pepper, to taste
1/2 cup crumbled feta cheese for topping
Instructions
1. In a large saucepan, bring water to a boil. Cook penne pasta according to package directions.
2. Meanwhile, heat olive oil in a large skillet over medium-high heat. Add in onions and mushrooms. Season with salt and pepper and saute for about 5 minutes.
3. Add in the minced garlic and saute for another minute.
4. Add in the vinegars. It'll sizzle like crazy and reduce rather quickly.
5. By this time your pasta should be done and drained. Turn off the heat and add in the cooked pasta, cherry tomatoes and spinach. Stir to coat the noodles and continue until the spinach begins to wilt. It should only take a minute or two. Taste, and season with more salt and pepper if necessary.
6. Sprinkle crumbled feta on top and serve.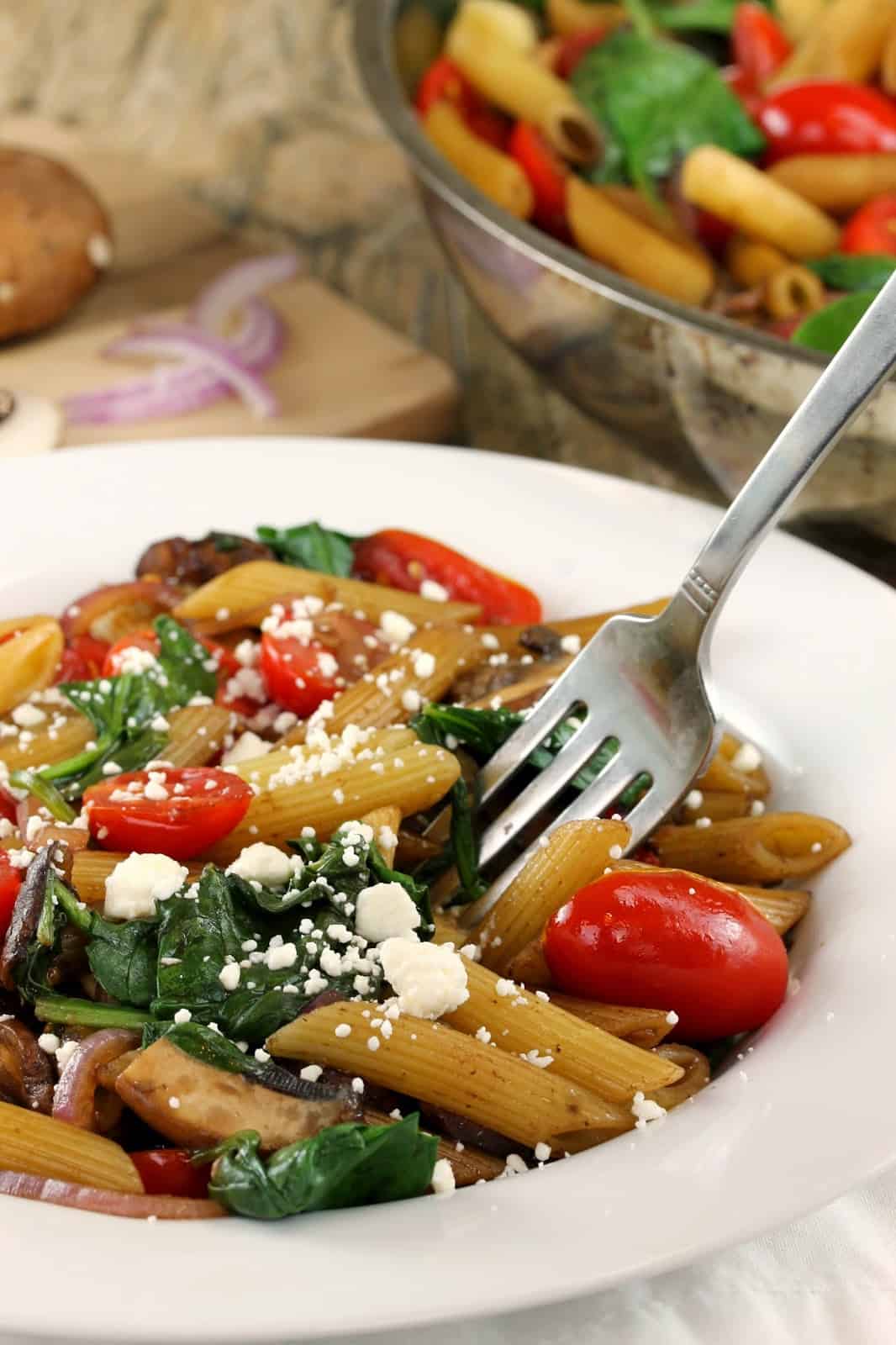 When a recipe calls for minced garlic to be sauteed, you should most likely add the garlic during the very last minute or two of cooking. Garlic burns very quickly and when burnt it brings on a bitter flavor. A minute of sauteeing will leave a pleasant, sweet garlic flavor that can really enhance a dish.