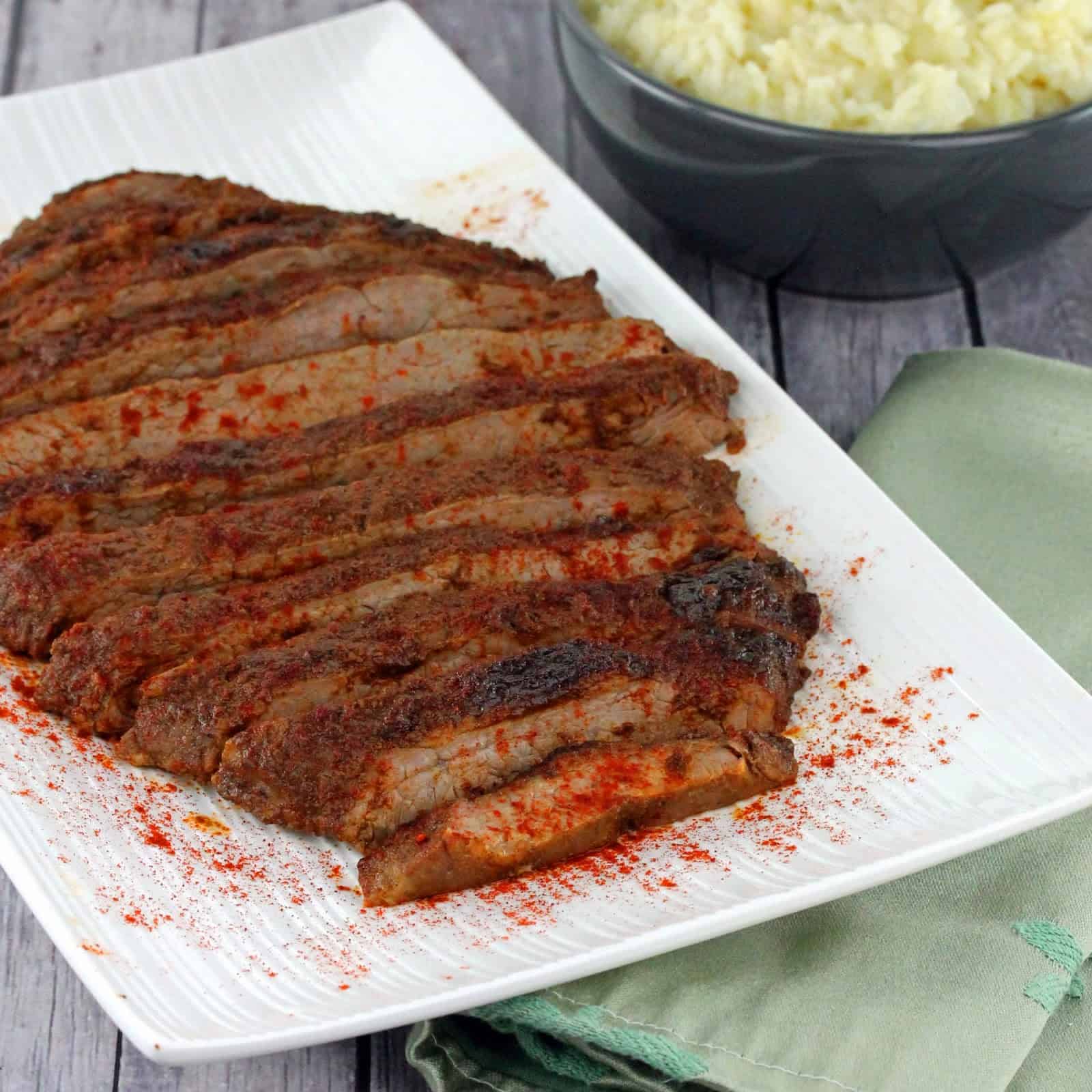 I've kind of got a thing for flank steak lately. Something about the versatility of this cut has my experimental curiosity and creativity churning. This time I decided to give the oven a go. A simply dry rub coats the meat, pop it in the oven, and out comes a delicious dinner. I love easy meals like that. This meat has a flavorful crust and tender interior. You are also free to cook it to your desired level of doneness, whether it be medium rare, or well done. And as always with flank steak, for heavens sake cut against the grain! The grain is very clear in flank steak, making it more important than ever to cut against it to ensure a tender piece of meat.
Prep Time: 5 minutes
Cooking Time: 25 to 40 minutes
Yield: Serves 4 to 6 people
Ingredients


1 (2-4 lb.) flank steak
1 TB. olive oil
1 TB. brown sugar
1 TB. paprika
1 tsp. salt
1 tsp. ground allspice
1/2 tsp. onion powder
1/2 tsp ground cumin
1/2 tsp. ground nutmeg
Instructions
1. Preheat oven to 350 degrees.
2. Place the flank steak in a 9×13 pan. Rub it down with olive oil.
3. In a small bowl, combine the brown sugar, paprika, salt, allspice, onion powder, cumin, and nutmeg. Sprinkle the spice over the flank steak and rub it down.
4. Cover the pan with aluminum foil and roast in the preheated oven for 25 to 40 minutes (depending on desired doneness).  For medium rare cook to an internal temperature of 130-135 degrees. Well done is 155.
5. Remove from oven and let rest 5 to 10 minutes before slicing and serving.
Never miss a recipe! Subscribe to the weekly newsletter.