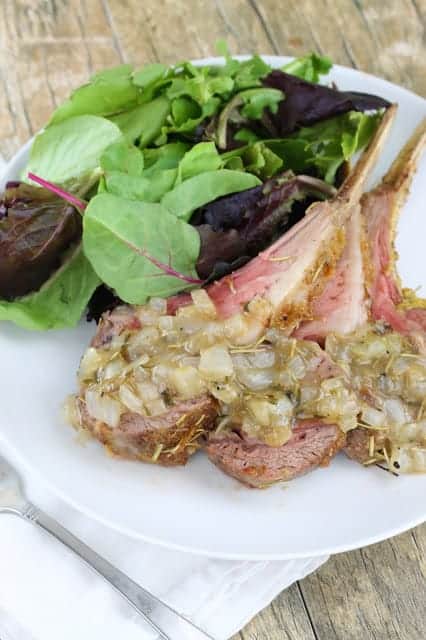 I love a good rack of lamb. It's always tender and lamb has such a distinct and unique flavor compared to your standard chicken, beef, pork. This rack of lamb is crusted with dijon mustard and has a plate-licking herb sauce over it that makes for a killer meal. We love this sauce on our lamb. It is just so dang tasty! You can use red wine in place of the grape juice, but we roll family friendly alcohol free 'round here. As with most meats, remember that racks come in various sizes and thicknesses. Your actual cooking time will depend on how thick your meat is. Use a meat thermometer for best results. Rack of lamb is best eaten medium-rare. The meat gets tougher and chewier the more done it gets. Keep it medium-rare for a tender, tasty rack.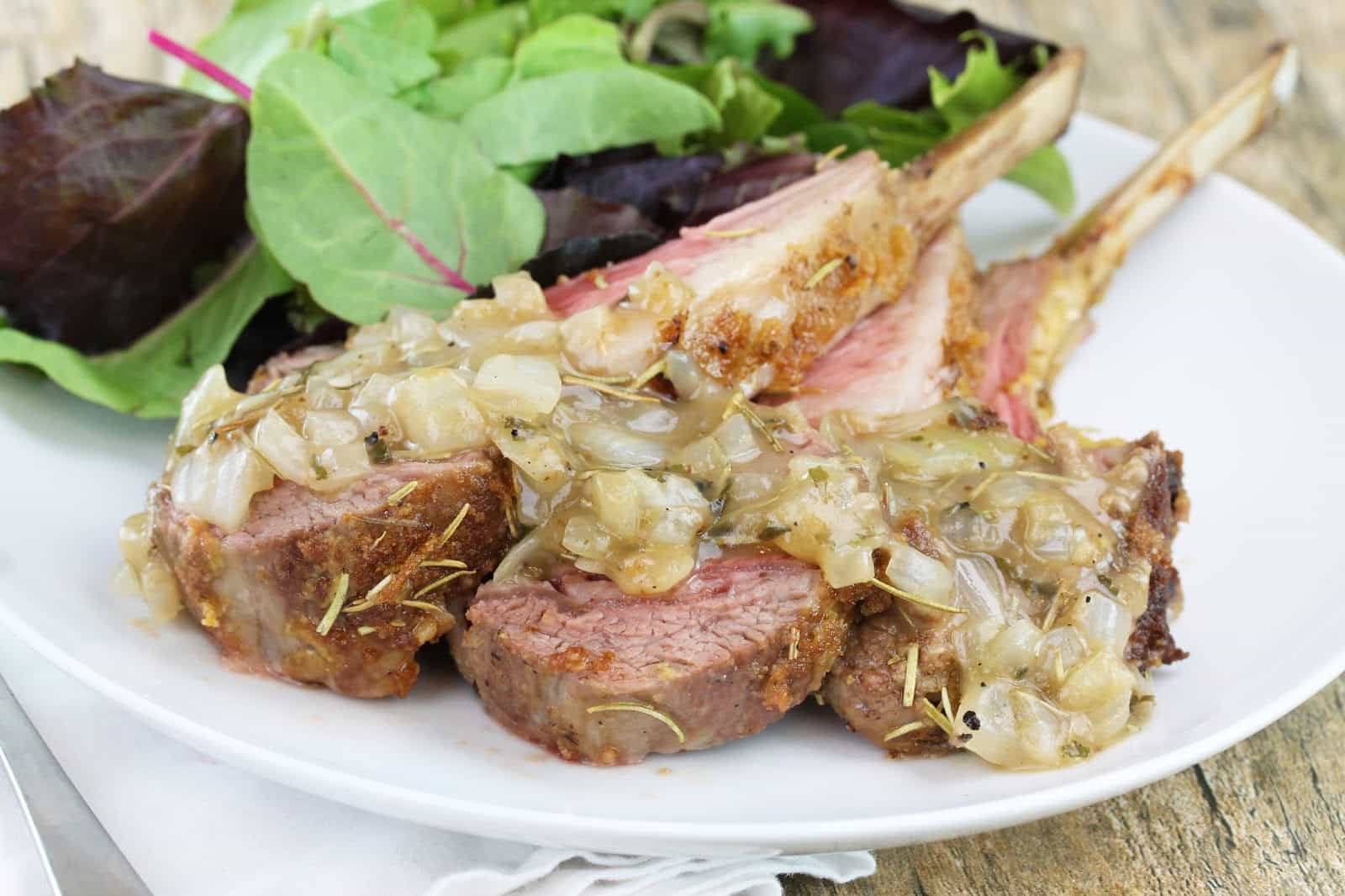 Time to Make It: about 35 minutes
Yield: Serves 4
Ingredients
1 (about 1.5 lb) rack of lamb, trimmed
1/2 teaspoon salt
1/2 teaspoon black pepper
1 tablespoon olive oil
2 tablespoons dijon mustard
1/4 cup dried seasoned bread crumbs
Sauce
1 tablespoon olive oil
1/2 white onion, diced
2 tablespoons dried rosemary
2 tablespoons dried parsley
1 tablespoon all-purpose flour
1 cup chicken stock
1 cup red grape juice
Instructions
1. Season all sides of the rack of lamb with salt and pepper. Heat the olive oil in a heavy skillet over high heat. Give the lamb a good sear until all the sides are browned. This should take about 8 minutes. Set the lamb aside to cool a little bit before proceeding so you don't burn your fingers. Keep the pan set aside for use in making the sauce.
2. Preheat oven to 450 degrees.
3. Use your fingers to rub the dijon mustard over the rack of lamb. Sprinkle the bread crumbs over the rack, pressing gently to make sure the crumbs adhere to the lamb. Place on a baking sheet or roasting pan and roast in the preheated oven until desired level of doneness is achieved. 145 degrees for medium rare should take somewhere around 15 minutes depending on the actual size of your rack. Let lamb rest for 5 to 10 minutes before cutting and serving.
4. While rack is resting, make your sauce by heating the olive oil in the pan you used to sear the meat over medium-high heat. Add in the onion and saute about 5 minutes, until onions start to turn translucent. Add in the rosemary, parsley, and flour until all white specks of flour have disappeared. Pour in the chicken stock and grape juice and heat until the sauce starts to thicken remove from heat.
5. Serve lamb hot with warm sauce spooned over.