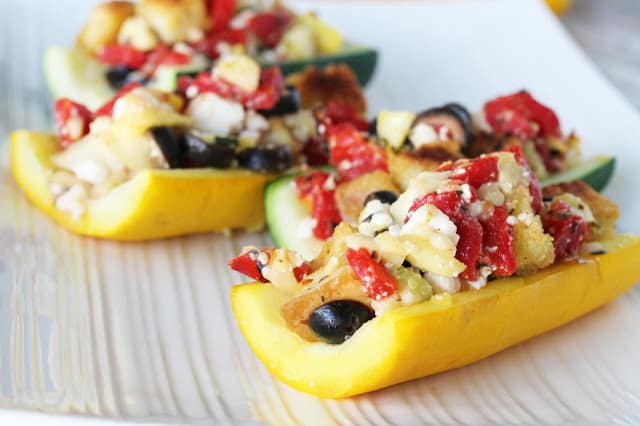 It is that time of year when your one little zucchini plant turns into a wheelbarrow full of squash. The grocery stores are overloaded with sales on zucchini that tempt you with their low prices and bright green color. This momma knows how to bring about some full flavor with veggies. One of my favorite ways to eat zucchini is to stuff them. I took a cooking class in college and they made a simple stuffed zucchini with just croutons, mushrooms, and butter. I've expounded upon that idea over the years. I gave it a go with flavors inspired by the Mediterranean diet and boy was it flavorful! California Ripe Olives are a super great thing to incorporate in to your regular diet. They have the good kind of fat, plus all sorts of vitamins and nutrients like Vitamin E, Vitamin A, Iron, and Fiber. You can check out the nutrition label for California Ripe Olives below or click HERE for more information.
California Ripe Olives is doing a Midsummer Mediterranean Giveaway. Ummm, hello! You should totally go enter to win this fabulous prize package so you can enjoy all the tasty flavors of the Mediterranean this summer.
In this recipe, the crunch of the croutons brings some texture to the roasted red peppers, black olives, and feta.It is finished off with a blast of lemon juice to bring out a bright flavor. Give your zucchini a twist this summer!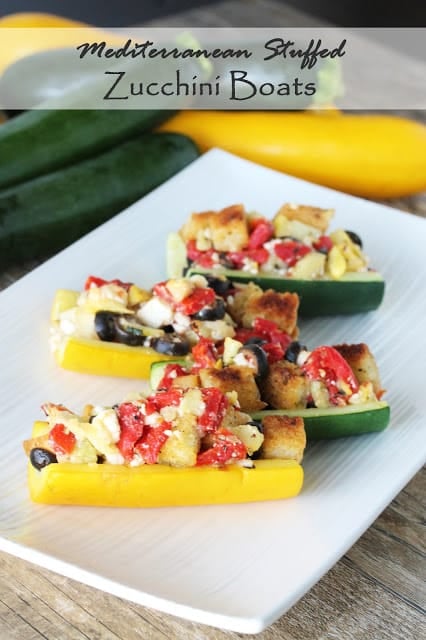 How to Make Your Own Croutons
It's super easy to make your own croutons!
1. Take 4 or 5 slices of bread and cut them into cubes.
2. Drizzle with olive oil and season with any herbs you want to use. For this recipe I seasoned them with a garlic infused olive oil and some oregano and basil. Toss the cubed bread until they seem like they've all gotten olive oil on them.
3. Spread them out in an even layer on a baking sheet. Bake in the oven at 350 degrees for 15 minutes.
California Ripe Olives Nutrition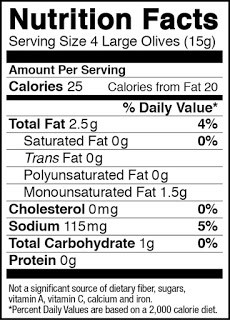 I was selected for this opportunity as a member of Clever Girls and the content and opinions expressed here are all my own.