King Cake is an easy and tasty traditional Mardi Gras treat that the whole family will love!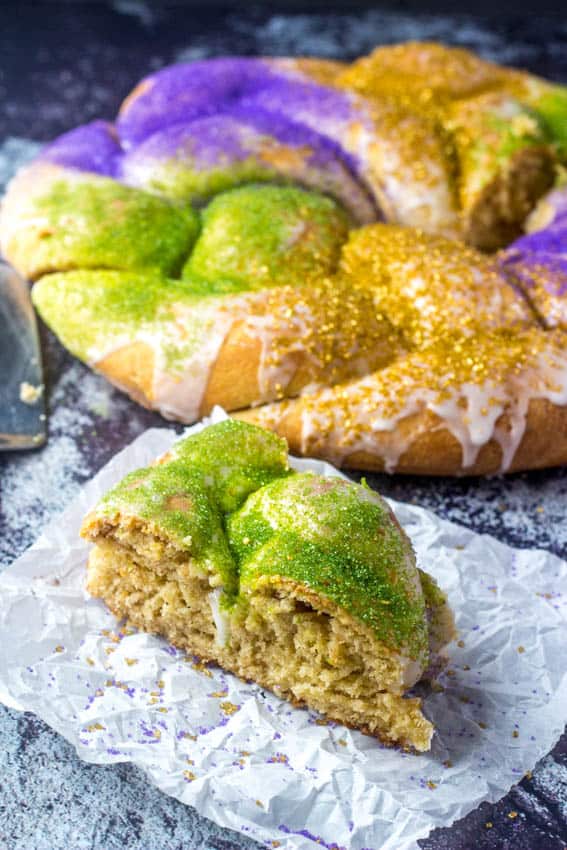 We love making bread in our household. Can you believe up until New Years I didn't own a stand mixer? Yes, it's true! I make a lot of bread and a lot of that bread had been made by hand. But boy, I have to tell you that now that I have a stand mixer it really makes things so much easier!
Have you ever had King Cake before? This is a delicious sweet bread and filled with a cinnamon sugar and butter mixture that is then braided and formed into a ring and baked. It is then glazed and sprinkled with yellow/gold, green and purple sprinkles. A beautiful vibrant cake that is PERFECT for any party! With mixtures of lemon and vanilla in the dough alone, the aroma from that will make you go crazy. But that actual flavor of that bread mixed with the filling and glaze is something else.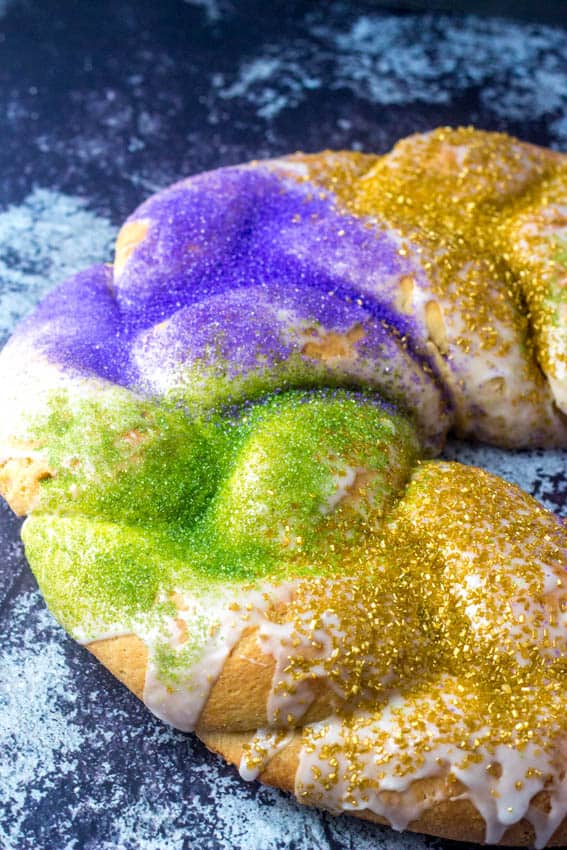 Can I add a baby to my King Cake?
Yes, you certainly can! It's a Mardi Gras tradition! Use a small plastic baby and add it into your King Cake during the braiding portion. The dough will rise around the baby and secure it into the cake. You can buy King Cake specific babies on Amazon.
Why is the baby in King Cake?
The baby in King Cake is a long standing Mardi Gras tradition. It symbolizes luck and prosperity to whoever finds it in their slice. The lucky person is crowned king or queen for the day and is supposedly responsible for providing next year's cake.
What day do you eat King Cake?
Any day between January 6 and Ash Wednesday!
Mardi Gras refers to a series of festival celebrations that occur between the Christian 3 Kings Day (feasts of the Epiphany) which occurs every year on January 6 and Ash Wednesday. Ash Wednesday occurs on the first day of lent, 46 days before Easter which changes dates every year. Easter is celebrated on the first Sunday after the first full moon that occurs on or after the vernal equinox.
This is a soft and delicious dough recipe that takes minimal ingredients and time to put together. If you're wanting something festive this Mardi Gras season, or really any time of the year then you need to whip up this Traditional King Cake and sit back and enjoy because this is one recipe that you'll want to make over and over again!