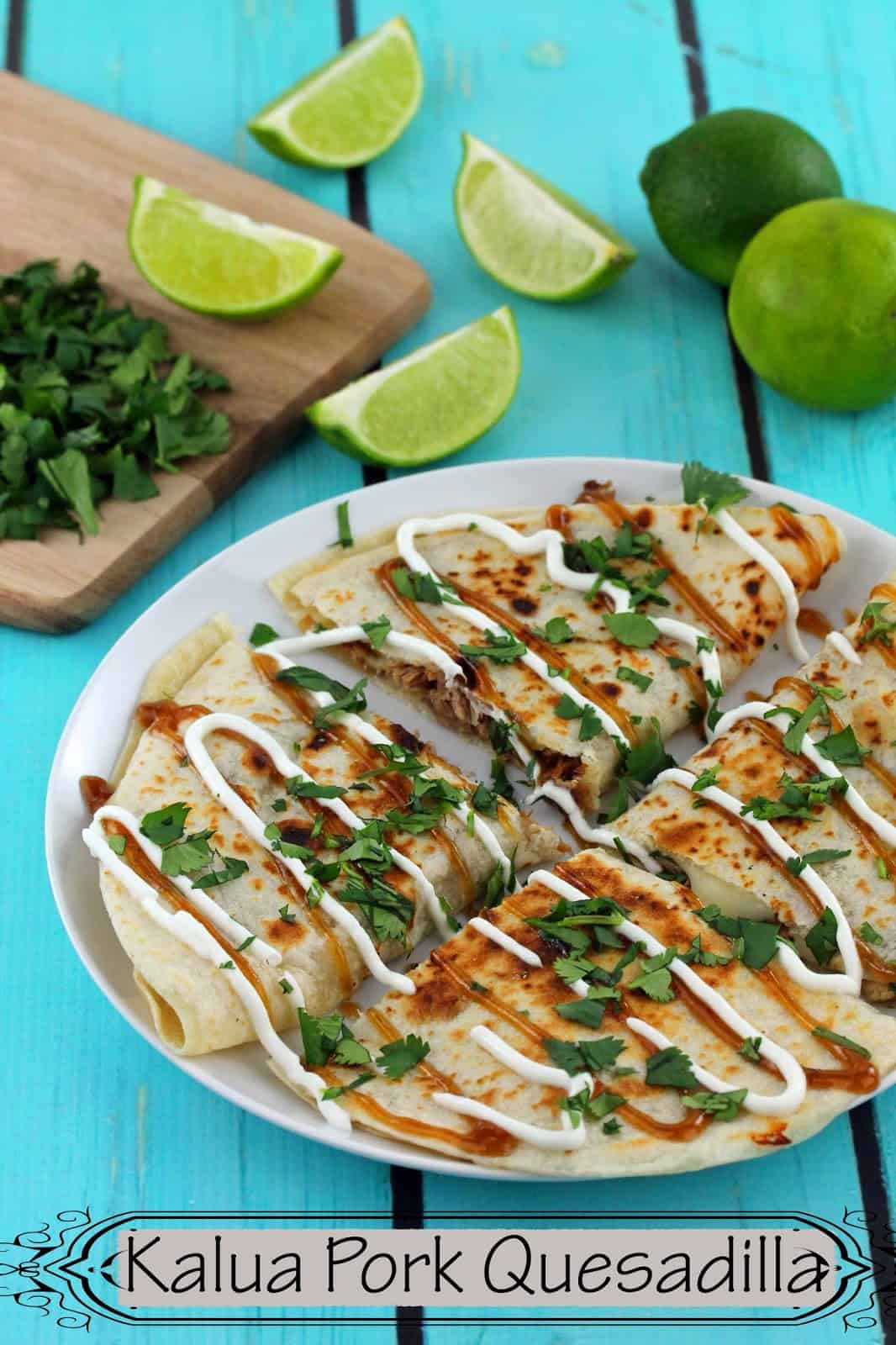 Are you ready for a ridiculously tasty quesadilla? My husband and I celebrated our seventh wedding anniversary a few weeks ago. To celebrate we went out sea kayaking in hopes of spotting some gray whales during their migration to Baja Mexico. We paddled out a few miles and ended up having up close and personal encounters with several giant whales. How crazy is that? It was an amazing experience. After all that paddling we were starved. We ate at a little foodie joint in La Jolla, CA called The Promiscuous Fork. Isn't that an awesome name? The name had me hooked. They had a Kalua Pork Quesadilla on the menu and I couldn't resist having been craving
Kalua Pork
ever since I made it in December. It was delicious and easy to replicate at home. So, of course, I'm sharing it with you today! We didn't have school on Friday so I put the pork in the slow cooker in the morning and headed off to Disneyland for the day. We got home at dinner time and I was able to whip out these quesadillas in under 15 minutes. Score! This was a super easy dinner and incredibly tasty. We had it Friday for dinner, and both Saturday and Sunday for lunch. I couldn't get enough!
Cooking Time: 8 to 10 hours slow cooker + 15 minutes
Yield: 6 to 8 servings
Ingredients
3 to 4 lb. boneless pork butt or shoulder roast
3 tablespoons liquid smoke
1 tablespoon sea salt
16 (10-inch) flour tortillas
4 cups shredded mozzarella cheese
1 cup sour cream
cilanto for garnish
Instructions
1. Make your kalua pork by placing the pork roast into the bottom of a 6 quart
slow cooker
. Pour the liquid smoke over the meat, and sprinkle with sea salt. Cook on low for 8 to 10 hours. Shred meat with a fork.
2. Heat a heavy skillet or tortilla pan over medium heat.
3. Assemble the quesadillas with 1/4 cup cheese spread over one tortilla, topped with shredded pork, 1/4 cup more cheese, and topped with a tortilla. Cook each quesadilla until outside is browned and cheese is melted, flipping halfway through.
4. Serve quesadillas hot drizzled with hoisin sauce and sour cream.