Flavorful, tangy, and crunchy, this sweet kale salad recipe is so simple to put together! It makes the perfect side dish for dinner, or it works great as a light lunch. With minimal ingredients and a yummy dressing, you can't go wrong.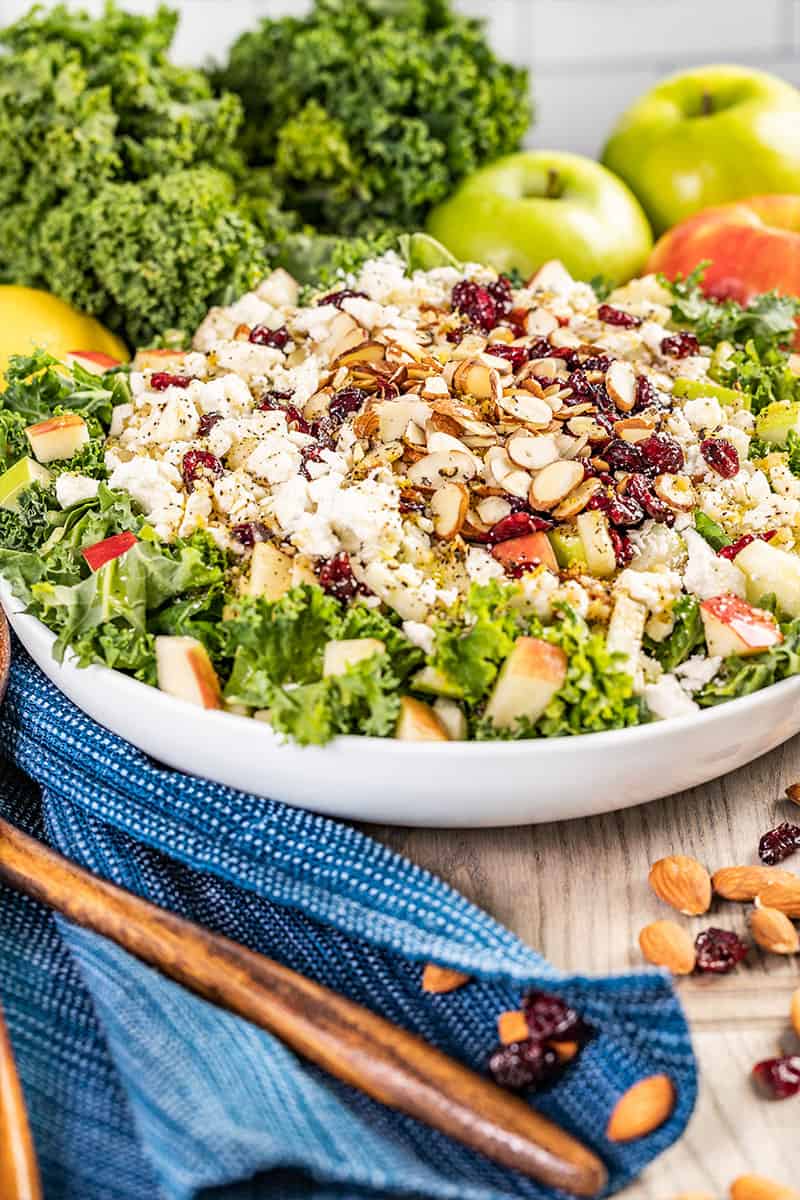 Here at The Stay at Home Chef, we believe that less is more when it comes to salads. Keep it simple, keep it delicious, and keep it to minimal ingredients. That's exactly what we had in mind when we created this sweet and tangy kale salad recipe! The combination of fruits, nuts, and cheeses is refreshing — and involves just 5 ingredients, plus the homemade dressing. If you're tired of eating salads filled with iceberg lettuce, switching things up for some kale is a great idea. It boasts a much more earthy and strong taste, and the leaves are quite crunchy! We like serving this kale crunch salad as a side dish, or on its own with a bit of bread for a light lunch. It comes together in just 20 minutes and involves very minimal prep work! It's easy, delicious, and fresh. What more could you ask for?
Can You Eat Kale Raw in a Salad?
Because kale does have a naturally bitter taste, some chefs shy away from using it raw. That said, you can definitely eat kale raw in a salad! It has more of a bitter taste than spinach or lettuce, but by adding in some other ingredients to balance it out, it is the perfect salad base!
Troubleshooting: Does Kale Need to be Blanched?
Along the same lines as above, kale is sometimes blanched to soften the leaves and get rid of its bitterness. While some salad recipes do include this extra step, you don't need to worry about it here. The dressing, Craisins, nuts, and cheese temper down the kale for a simply delicious salad!
How Do You Make Raw Kale Tender?
This additional step is not necessary, but it does produce the most tender kale. Remove the kale leaves from the stems and chop them into bite-sized pieces. Place in a large bowl and drizzle with a bit of olive oil, lemon juice, or apple cider vinegar. Massage the kale with your hands for a few minutes, or until softened.
Kale Options:
We use curly leaf style kale in this kale salad, but you can also feel free to use Tuscan style kale. For both varieties, make sure to cut off the stem before you chop the leaves.
Apple Options for Sweet and Tangy Kale Salad:
Use your favorite varieties of apple when creating your kale salad. We love Granny Smith and Honeycrisp ourselves, so we decided to use both! Here are some other apples to choose from:
You can also replace the apples for pears, or use both for a tasty variation!
Nut Options
Our kale crunch salad gets an extra crunch from the sliced almonds. That said, you can also use:
Pecans
Walnuts
Sunflower seeds
No matter which nut you choose, consider toasting them first. It will add even more crunch and flavor to the final results! If you have an allergy, you can also omit them completely.
Remember: this is your salad, so feel free to add or take away anything that you want!
Dressing Options:
On the recipe card below, you'll see that we have instructions for a homemade salad dressing to go along with your sweet kale salad. We think the poppyseed dressing as seen in our strawberry and spinach salad recipe would be delicious too! Try it out and let us know in the comments what you thought.
Serving Suggestions:
If you decide to serve this kale crunch salad as a side dish, you may be wondering what to pair it with. Here's what we suggest: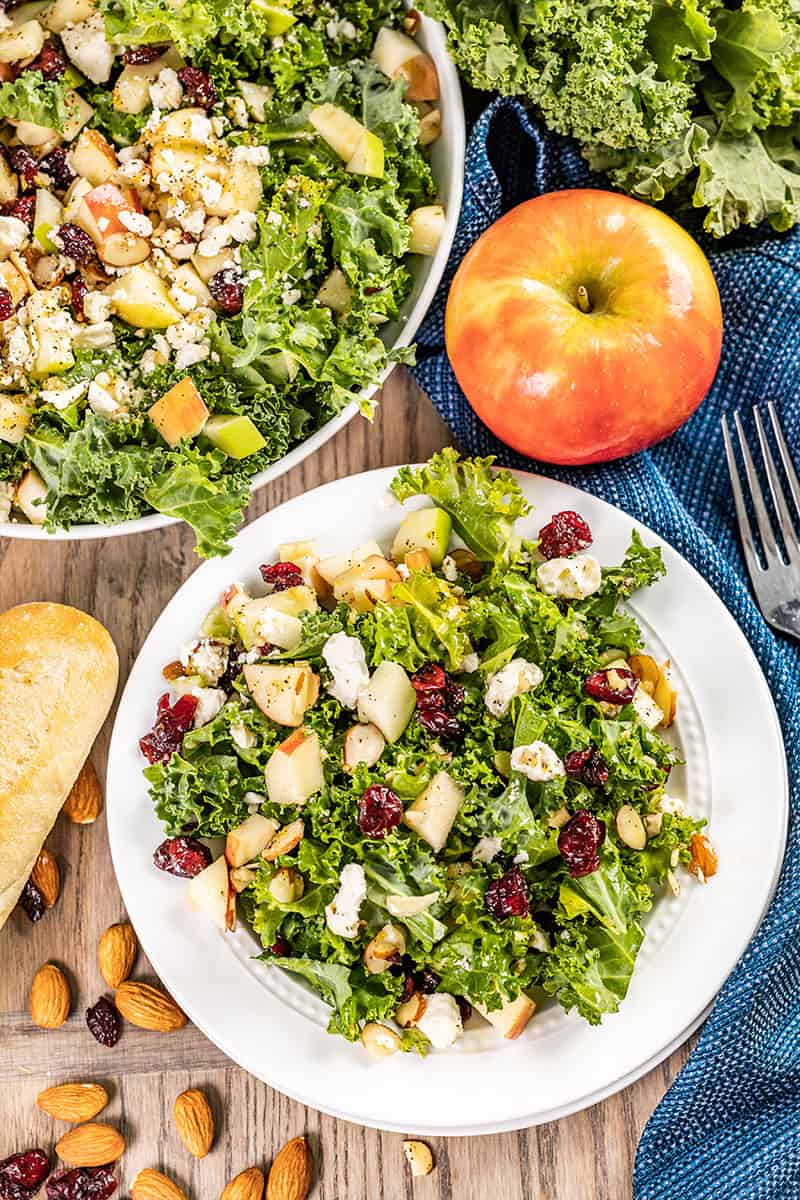 Storage Instructions:
You can store any leftovers in an airtight container in the fridge. We recommend that you store it without the dressing so that it stays fresh! It will keep for 1-2 days. Any longer and the kale leaves will start to wilt.
If you like this recipe, you may be interested in these other delicious salad recipes: