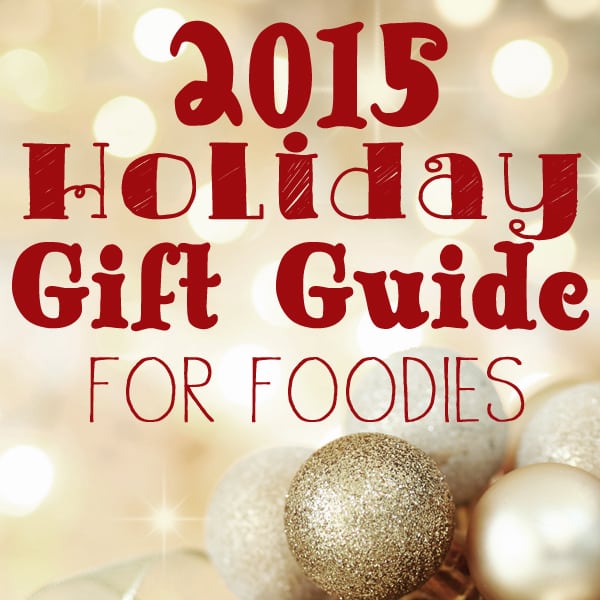 Need a gift for the foodie in your life? These are some of my favorite kitchen items and food related gifts! Click on the picture to take you on over to Amazon where you can buy it. These are all products that I personally own, use, and love!
Kitchen Appliances
(1) Every kitchen needs a stand mixer. I love my Kitchenaid stand mixer. It is used on a weekly (if not multiple times a week) basis in my house. (2) My Blendtec is what I lovingly call the Ferrari of my kitchen. Trust me when I say this is a gift that will spoil someone rotten. (3) I don't know what I'd ever do without my food processor. I use it all the time. It shreds cheese like nobody's business, and I use it for everything from chopping vegetables to making biscuits and pie crusts. (4) And since I wrote the book on Slow Cooker Cooking, I also think you should really own a slow cooker. I personally own 7 of them. You probably don't need that many 🙂 You definitely want one that is programmable and one that has a lid you can secure on. Both of those features are amazing!

MY OTHER RECIPES
Knives and Cutting Boards
(1) My very favorite knives are this set from Victorinox. I love them so much I've bought them for numerous other people! They are my favorite gift to give for weddings. Every kitchen needs a decent knife set. I have loved hearing people rave about the knives I have given them and talk about how they have changed their cooking. (2) And what's a knife set without a cutting board? This particular cutting board is a favorite of mine because it is huge! Most people have small cutting boards. A large cutting board like this is something I use every single day. (3) I store my knives in this knife block for a drawer. It keeps them out of the reach of kids, and stores them safely, while keeping them sharp.

Pots and Pans
(1) I believe every kitchen should have a set of stainless steel pots and pans. I have been so happy with my set from KitchenAid. They are easy to clean and conduct heat really well. They are great for every day cooking. (2) I also have a full set of cast iron pans. They are my work horses. They go easily between stove and oven and (3) a grill pan brings grilling indoors (a favorite!).  (4) A cast iron dutch oven is also great for all those winter favorites like braising meats and making stews. (5) And finally, every kitchen also needs a nonstick skillet or two. These are perfect for cooking eggs.
Kitchen Accessories
It's hard to narrow down this list! (1) I couldn't live without my pizza stone. It makes the best pizza! Seriously, I can't imagine making pizza without it. (2) My French rolling pin is something I love, love, love. It works so much better than a rolling pin with handles, cleans incredibly easy, and is just overall super amazing. Get one! (3) A good whisk may seem easy to find, but let me tell you, I'm super hard on my kitchen stuff and I have had many a whisk break on me. This one has stood up to my rough use and I highly recommend it. (4) Baking sheets are something I can never have enough of. Everyone kitchen needs a solid stash of these. (5) The best french bread is made on a French Bread Pan. It makes all the difference.
Books
(1) My cookbook should be on your list, of course! 120+ recipes for the Slow Cooker. That's a gift everyone will love! (2) Artisan Bread in 5 Minutes a Day changed my life (bread is life, right?). It's an amazing cookbook! (3) Every real foodie should have a copy of Larousse Gastronomique. It is THE culinary encyclopedia. (4) If you know a foodie who is serious about learning the art of cooking, buy them the Culinary Institute of America's textbook "The Professional Chef" and let them teach themselves. (5) Knife Skills are something every good cook should have. A reference book on the subject is a great gift for the serious foodie.
Cookbooks from My Blogging Friends
These are people I know and love with amazing cookbooks I'm recommending you buy this Holiday season! (1) Dream Puffs from Barbara Shieving at BarbaraBakes has a book all about creme puffs. I've had her make cream puffs for me and let me tell you, you need to get in on this action! (2) Red Velvet Lover's Cookbook by Deborah Harroun from Taste And Tell is prefect for the red velvet lovers in your life. (3) My friend Amanda Rettke from I Am Baker is a cake genius and is the brain behind Surprise-Inside Cakes. You can bake super neat cakes with designs on the inside. How stinkin' cool is that? (4) I Wash…You Dry blogger Shawn Syphus created an entire cookbook of recipes with 5 ingredients called Express Lane Cooking. Ya, who wouldn't like that? (5) Trish Rosenquist from Mom on Timeout has put together a cookbook of 100 Creative Ways to Use Rotisserie Chicken in Everyday Meals. Another genius friend!
Food for Foodies
(1) Give the gift of a subscription to Try the World. Every other month you receive a box of food items from a country hand picked by a chef. Seriously, it's so cool!