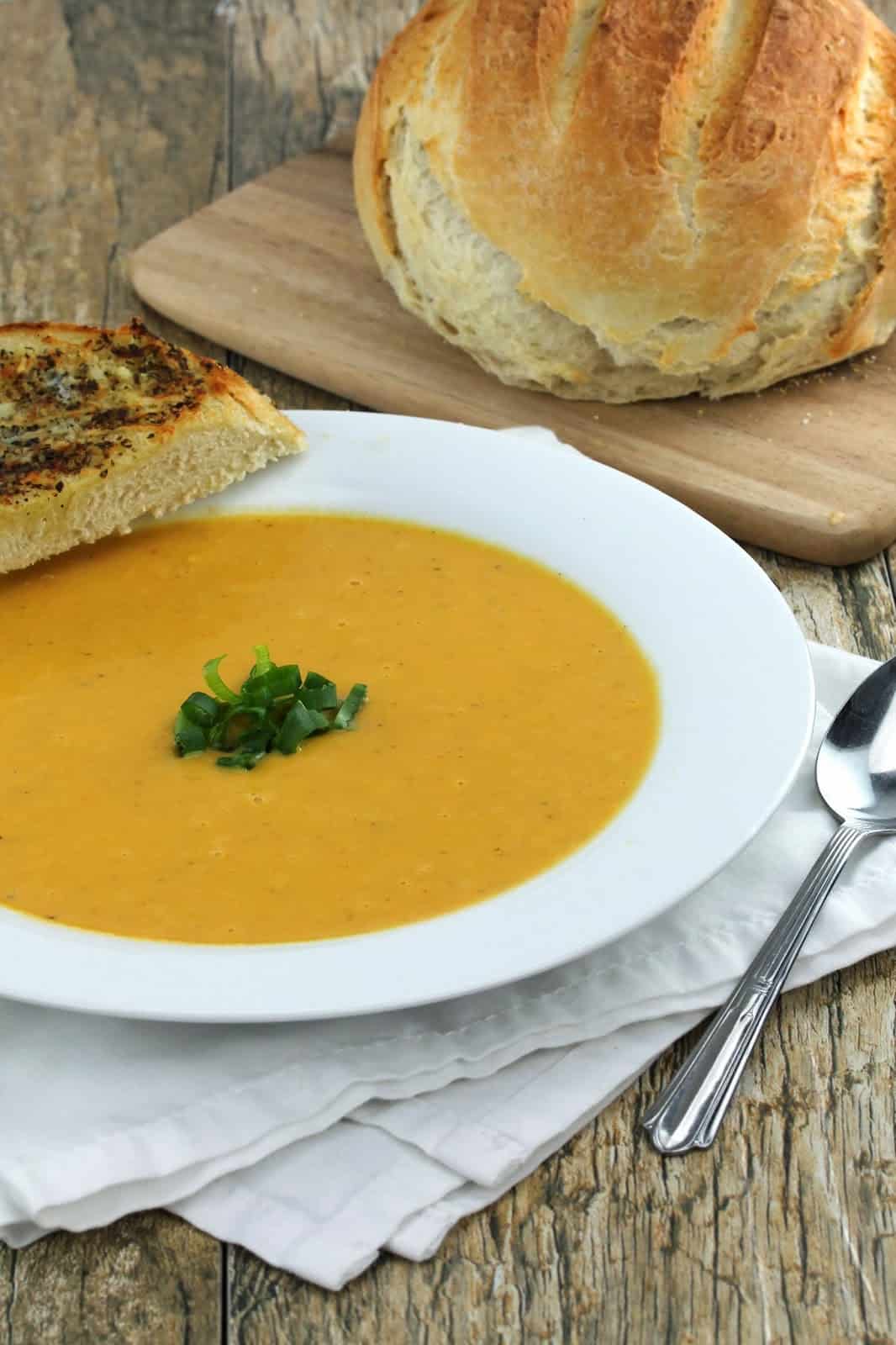 I discovered this recipe several years ago when I first started getting a CSA box (Community Supported Agriculture). CSA boxes are always interesting because you don't get to pick what goes in the box. It just comes with whatever is ripe on the farm. This recipe is perfect for fall and winter months when these ingredients are plentiful. It's warm, satisfying, and creamy and tastes fantastic. Plus it is kind of a cool soup recipe because it has an apple in it. In our church we regularly get to feed our missionaries. Yes, I'm LDS, and yes, those guys and gals with the black name tags you see walking around everywhere are the missionaries I'm talking about. We had two sweet young gals over for dinner and I fed them this soup. They get fed a lot of fancy meals, so I find that they appreciate the simplicity of soup and bread on occasion. They've been waiting to come over for dinner again after I finished my cookbook. I caught them just in time because one of them is being transferred to a new area. Anyway, they loved this soup, and I bet you will too! We've been loving it for years now!
Prep Time: 15 minutes
Cooking Time: 25 minutes
Yield: 6 to 8 servings
Ingredients
3 TB. butter
2 large leeks, white parts only, sliced
1 yellow onion, peeled and diced
1 butternut squash, peeled, seeded and cubed
1 medium sweet potato, peeled and cubed
4 medium carrots, peeled and diced
3 stalks celery ribs
1 apple, peeled, cored, and cubed
4 cups vegetable or chicken stock
1/2 to 1 tsp. salt (to taste)
1/2 tsp. ground nutmeg
1/4 tsp. black pepper
1/2 to 1 cup heavy cream (as desired)
Instructions
1. Melt the butter in a large pot over medium-high heat. Add in leeks and onion and saute for 5 minutes.
2. Add in butternut squash, sweet potato, carrots, celery, apple, and vegetable (or chicken) stock. Season with salt, nutmeg, and black pepper. Bring to a boil.
3. Reduce heat to medium-low and simmer for 15 to 20 minutes, until all vegetables are tender. Puree using an immersion or stick blender, or transfer in batches to a food processor or blender. Blend until smooth. Stir in heavy cream and serve hot.