Brown rice combined with delicious sautéed vegetables, soy sauce, and sesame oil. This tastes so good, you won't believe it's actually good for you!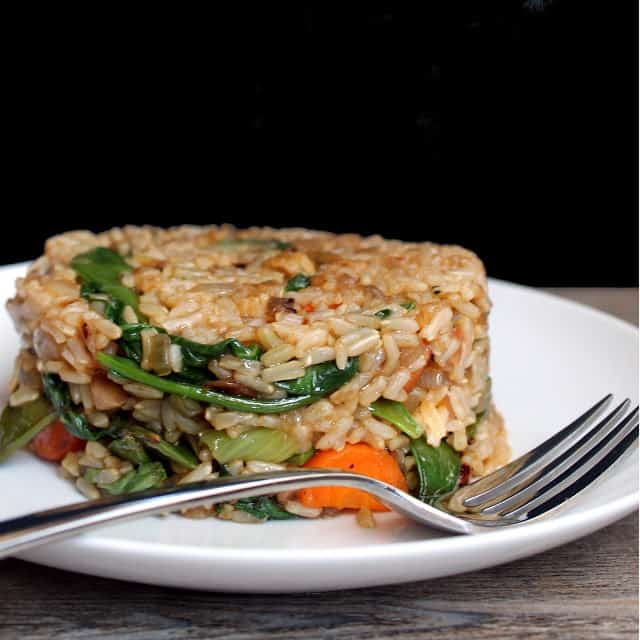 Fried rice is one of those tasty little dishes full of flavor and full of vegetables. It could totally be healthy if it weren't for all the oil and white rice! So we packed it full of veggies and turned this greasy Chinese restaurant classic into a healthy version that retains all the flavor. Honestly, you may not even realize it is good for you!
Cooking lesson: Soy Sauce. It tastes salty from a high sodium content. If you think the salt means it is "bad for you" then think again! Regular old soy sauce actually has a ton of health benefits. It actually has benefits for heart health and contains great antioxidants. It remains a controversial health food though due to its high sodium content. When purchasing soy sauce make sure you check out the list of ingredients for artificial colors or flavors (including caramel coloring). The list of ingredients should be really short. Kikkoman is a great choice. If you are on a low sodium diet you should probably use a low sodium variety of soy sauce.
Can I add eggs to healthy fried brown rice?

We know, eggs are kind of a staple in fried rice. We kept this recipe very simple and lower fat without the eggs, but you can absolutely add them in. Simply scramble up an egg and add it in with the rice at the end.

Veggie Options:

Don't feel limited in your veggies. You can add practically anything, so long as it is cut up very small. Some of our favorites are:

Cabbage

Bell pepper

Broccoli

Peas

Bok choy

Carrots

Green beans

Mushrooms

Storage and reheating Instructions:

Store any leftovers in an airtight container in the fridge for up to 4 days. Reheat in a skillet over medium heat, stirring often, until warmed through. 
If you like this recipe, you may be interested in these other delicious Asian inspired recipes: