Whether you are trying to lose weight or just trying to eat a little healthier, this Healthy Detox Vegetable Soup is for you!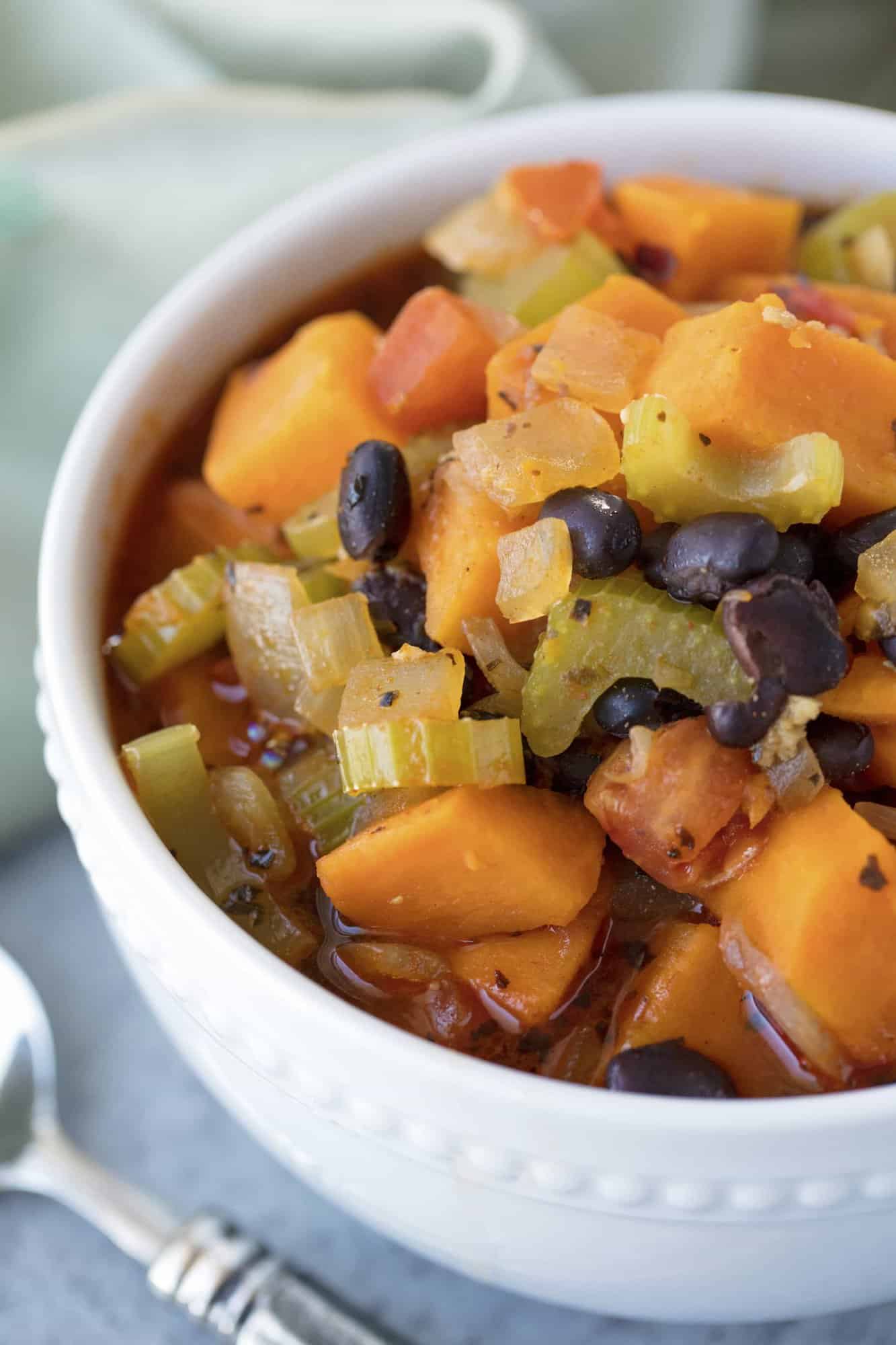 I've been making this soup for quite a few years now. My brother once referred to it as "dang hippie food" and the name just stuck. We've been calling it that now for a long time, but to you it can just be the most delicious healthy detox vegetable soup ever. No meat, tons of veggies, and everything in it is good for your body!
This soup is an all time favorite. I am absolutely in love with the flavor of this soup. It's hearty, filling, and super flavorful. Not to mention it's low in calories, low fat, has no cholesterol, and has 15 grams of protein and 12 grams of fiber per serving. What more could you want?
I don't really believe in dieting. Been there, done that, didn't work out well. What I do believe in is a healthy lifestyle that is all about balance. To me, eating healthy isn't about starving yourself on a diet. I eat the stuff that is good for me because it makes my body feel good. I weigh what I weigh and I love my body. I love every scar, stretch mark, and wrinkle. Because I love my body I also like to fuel it with good stuff. I mean, I also fuel it with cake, but the good stuff like fruits and vegetables far outweigh it.

MY OTHER RECIPES
Watch the video
where I walk you through every step of this recipe. I've got a whole
YouTube Channel
full of hundreds of cooking show-style videos. Check them out!
Healthy Detox Vegetable Soup
Healthy Detox Vegetable Soup
Whether you are trying to lose weight or just trying to eat a little healthier, this Healthy Detox Vegetable Soup is for you! Whole 30 approved!
Author:
Rachel Farnsworth
Ingredients
2 tablespoons olive oil
1 large white onion, diced
3 celery stalks, sliced
2 pounds sweet potatoes, peeled and diced
2 cloves garlic, crushed
2 teaspoons paprika
2 teaspoons ground mustard
1 teaspoon dried basil
1 teaspoon salt
¼ teaspoon cinnamon
¼ teaspoon cayenne pepper
4 cups chicken or vegetable broth
1½ tablespoons soy sauce or coconut aminos
2 large roma tomatoes, diced
1 (15 oz) can black beans, drained and rinsed (optional)
Instructions
Heat the olive oil in a large pot over medium-high heat. Add in the onion and celery and saute for 5 minutes.
Add in the garlic, paprika, ground mustard, basil, salt, cinnamon, and cayenne. Toast for 1-2 minutes.
Pour in the chicken or vegetable broth, add in the mustard and soy sauce and stir. Add in the sweet potatoes. Bring to a boil over high heat.
Reduce the heat to medium-low. Simmer on medium-low heat for 10 minutes.
Add in the diced tomato and black beans. Simmer until sweet potatoes are tender (about 5 more minutes).
Serve hot.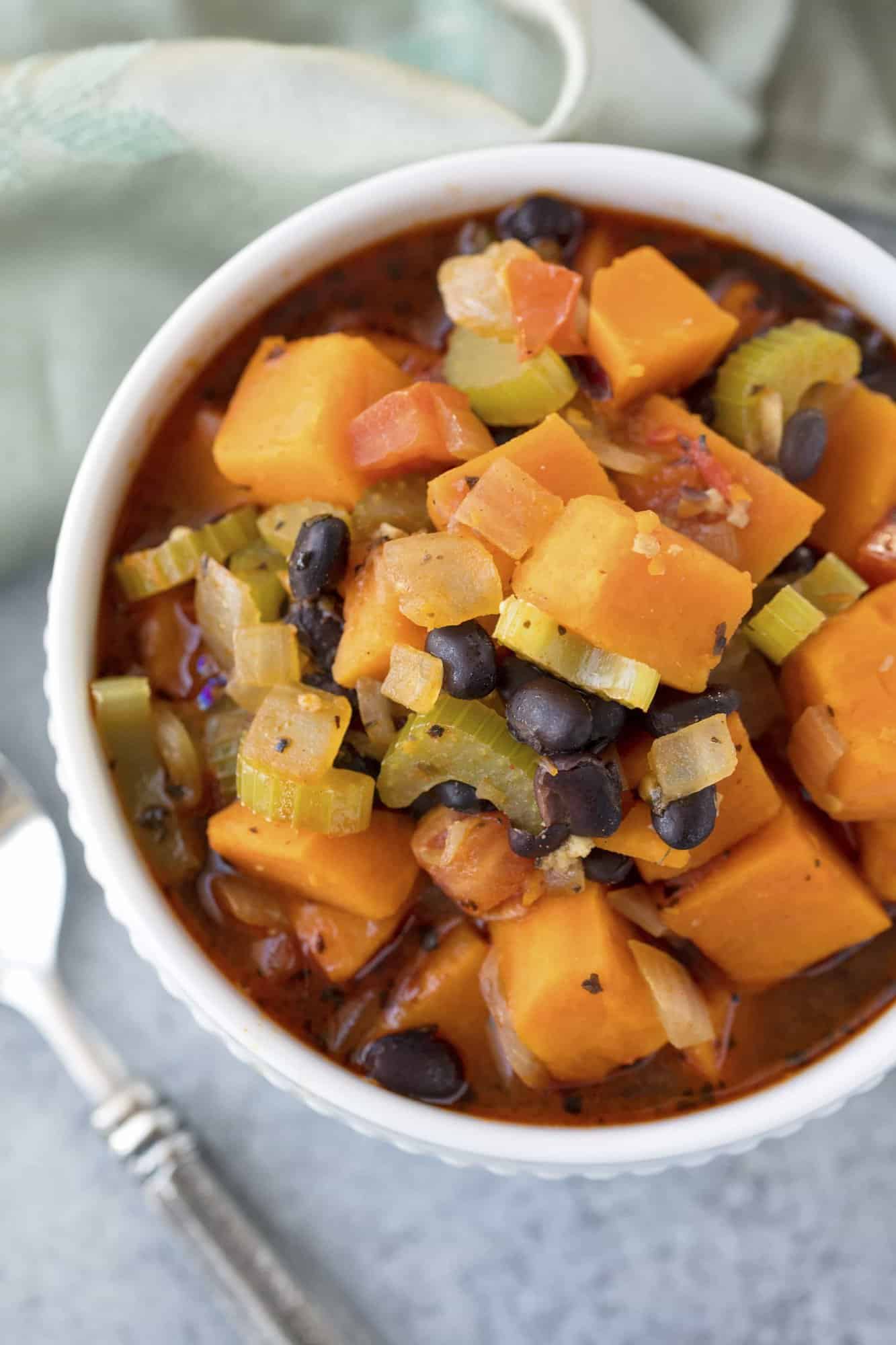 This recipe first appeared on The Stay At Home Chef on October 23, 2013
Get New Recipes Sent To Your Inbox 😃
Join my newsletter and get new mouth watering recipes sent directly to you weekly!