Oven baked chicken nuggets from scratch are exactly what every grown up needs. You're going to gobble these up!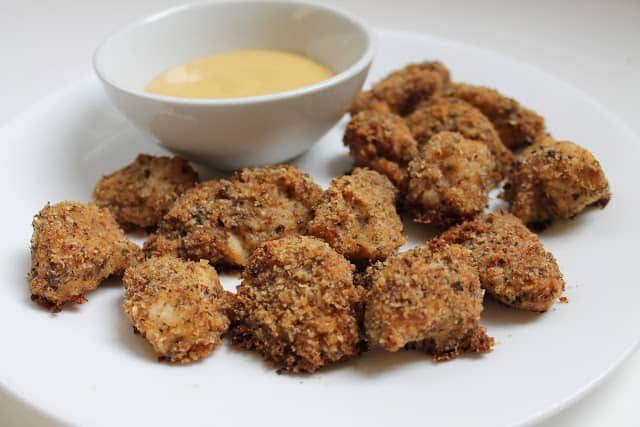 This nugget is chock-full of flavor. We like to serve them with honey mustard for a dipping sauce. These freeze well for later enjoyment. Just freeze before baking and add a few minutes to baking time. These babies have a nice crunchy coating, while the butter keeps the chicken breast nice and juicy.
Most fast food chicken nuggets are made from a meat slurry. Doesn't that sound tasty? The original fast food chicken nugget was introduced by McDonald's in 1983. So really, it is quite appropriate to have a good grown-up version under your belt since at 29 years old, it is time for the chicken nugget to act its age!
Fried vs. Baked Chicken Nuggets:

Chicken nuggets are traditionally fried in oil. Baking is a healthier alternative for both adults and children. Just meat and breading, toss in oven! A high temperature will help crisp the nuggets up. Using a dark coated pan will also increase crispiness on the bottom of the nugget.

Chicken Options:

We prefer chicken breasts for nuggets, but you can always use boneless, skinless chicken thighs if you prefer dark meat.

Dipping Sauces:

Not sure what to dip your nuggets in? You have SO many options! We love honey mustard, but you should also consider:

Ketchup
Mustard
BBQ Sauce
Creamy Ranch
Buffalo Sauce
Mayo
If you like this recipe, you may be interested in these other amazing chicken recipes: