Oven baked chicken nuggets from scratch are exactly what every grown up needs. You're going to gobble these up!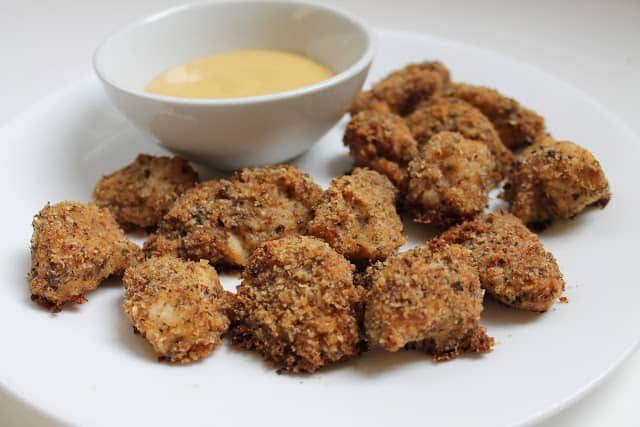 This nugget is chock-full of flavor. We like to serve them with honey mustard for a dipping sauce. These freeze well for later enjoyment. Just freeze before baking and add a few minutes to baking time. These babies have a nice crunchy coating, while the butter keeps the chicken breast nice and juicy.
Most fast food chicken nuggets are made from a meat slurry. Doesn't that sound tasty? The original fast food chicken nugget was introduced by McDonald's in 1983. So really, it is quite appropriate to have a good grown-up version under your belt since at 29 years old, it is time for the chicken nugget to act its age!
Fried vs. Baked Chicken Nuggets:

Chicken nuggets are traditionally fried in oil. Baking is a healthier alternative for both adults and children. Just meat and breading, toss in oven! A high temperature will help crisp the nuggets up. Using a dark coated pan will also increase crispiness on the bottom of the nugget.

Chicken Options:

We prefer chicken breasts for nuggets, but you can always use boneless, skinless chicken thighs if you prefer dark meat.

Dipping Sauces:

Not sure what to dip your nuggets in? You have SO many options! We love honey mustard, but you should also consider:

Ketchup
Mustard
BBQ Sauce
Creamy Ranch
Buffalo Sauce
Mayo
If you like this recipe, you may be interested in these other amazing chicken recipes: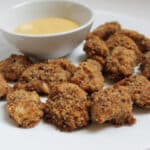 Ingredients
3

boneless, skinless chicken breasts

1/2

cup

bread crumbs

1/4

cup

wheat germ

1/4

cup

ground flax seeds

1/2

cup

Parmesan cheese

finely grated

1/2

teaspoon

salt

2

tablespoons

basil

1

tablespoon

oregano

1/2

cup

butter
Instructions
Preheat oven to 400 degrees.

Trim chicken breast of any fat. Cut into 1-inch, nugget sized pieces.

In a small bowl mix together the bread crumbs, wheat germ, flax seed, parmesan, salt, basil and oregano. If you don't want to use wheat germ or flax seed simply replace it with the same amount of bread crumbs.

In another small bowl melt the stick of butter in the microwave.

Dip the chicken pieces into the butter and then roll them around in the breadcrumb mixture. Make sure they are good and coated.

Places the coated chicken nuggets onto a lightly greased baking sheet.

Bake in the oven for about 25 minutes.