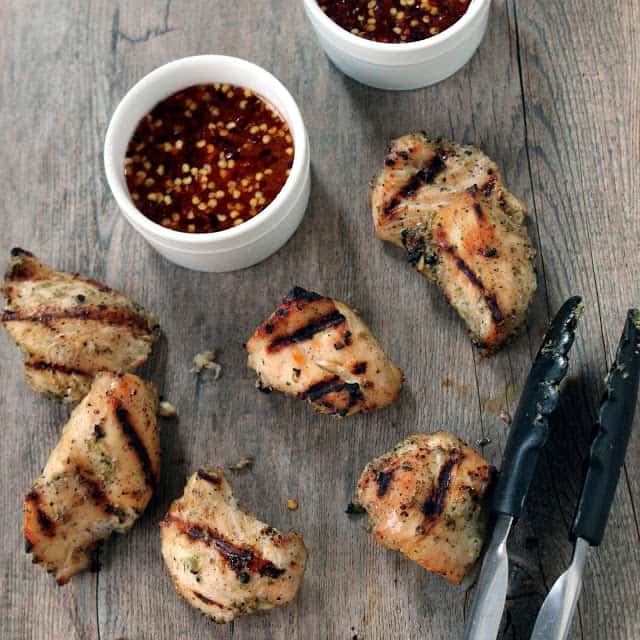 I checked out a book from the library on the cuisine Southeast Asian. It has been fascinating to read about the peoples and foods of the different regions. My husband and I are hoping to take a trip to the area next year. I'm always dreaming up exotic vacations so hopefully this one pans out. In the meantime, I do what I always do…bring the food to my own kitchen. It's kind of like traveling the world without ever leaving home. I will admit that I was kind of scared for this recipe. Look at the ingredients. That's a lot of fish sauce! Have faith in me though, because the end result is scrumptious. Garlic galore with that beautiful Southeast Asia twist. And then the dipping sauce…oh baby. I wanted to soak my chicken in it. It's nice to give a twist on the standard chicken nugget. I can wow my taste buds and still give my kids something that looks familiar that they will eat. Enjoy!
Thai Chicken Nuggets
Ingredients
3 boneless skinless chicken breasts, trimmed of fat and cut into 2 inch pieces
6 large garlic cloves, peeled
1 tsp black pepper
3 tablespoons cilantro stems
3 tablespoons fish sauce
1/4 tsp salt
Instructions
1. Place your chicken breast pieces in a medium-sized mixing bowl. Set aside.
2. Put the garlic cloves, black pepper, and cilantro stems into a food processor. Puree. Slowly add in the fish sauce until you get a nice pasty sauce. Season with salt and pour over chicken. Marinate for 1 hour.
3. Heat a grill to medium high heat. Grill your chicken for about 4 minutes per side until cooked through. Actual cooking time will depend on how thick your chicken is.
Hot and Sour Dipping Sauce
Ingredients
1/2 cup rice vinegar
1/2 cup sugar
2 cloves garlic, crushed
1 1/2 tsp crushed red pepper flakes
pinch salt
Instructions
1. In a small saucepan, bring the rice vinegar to a boil. Stir in the sugar and simmer 5 minutes.
2. Remove from heat and whisk in the crushed garlic, red pepper flakes, and a pinch of salt.