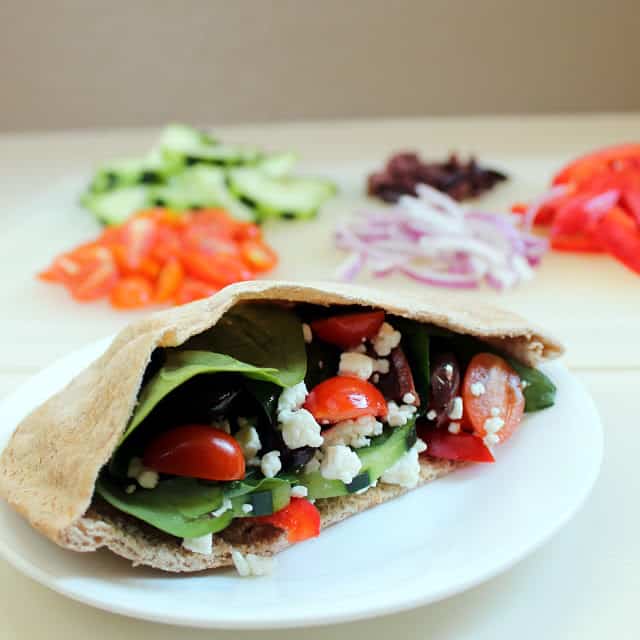 Some days I just really need a light lunch or dinner. I just crave veggies, but I tell you what, I am hardly ever in the mood for a salad. Like ever. Stuffing a salad into a pita pocket is genius. It transforms a salad into a sandwich that isn't weighed down with too much bread. I love it. Traditional Greek ingredients make it an absolute delight. You've got your tomatoes and cucumbers, olives and feta, red pepper for crunch, and a little red onion for that sharp bite, all over a bed of good-for-you spinach. Top it off with the delightful flavor of dill with a hint of lemon and you've got yourself the wonder that is tzaziki sauce. The best part is, this a totally healthy meal. For me that mostly just means I won't feel guilty eating dessert, but hey, a girl's gotta do what a girl's gotta do!
Makes 8 pita sandwiches
Ingredients
4 cups fresh spinach leaves
1 red bell pepper, sliced into sticks
1 cucumber, sliced
1 cup cherry tomatoes, halved
1/2 red onion, thinly sliced
1/2 cup pitted kalamata olives, halved
1/2 cup crumbled feta
4 large round pita pocket breads, cut in half
Tzaziki Sauce
1/2 cup plain greek yogurt
1 tablespoon olive oil
2 tsp lemon juice
1/4 tsp salt
1/4 tsp pepper
1 tablespoon fresh dill, chopped
1 clove garlic, crushed
1/2 cucumber, diced (optional
Instructions
1. Prepare the tzaziki sauce by combining all ingredients in a small bowl. Stir until well combined. Set aside.
2. Open up each of the pita pocket breads so that it can be stuffed full of goodness. Careful not to tear. Stuff full of the vegetable fillings, spread a little tzaziki sauce in there for flavor.
Tzaziki sauce is a greek yogurt cucumber dip. Some recipes call for mint or parsley in addition to or replacing the dill in the recipe above, depending on the region. You'll find this in countries beyond just Greece. Turkey, Serbia, Bulgaria, Macedonia, Iraq, and Iran all of their own versions. It's light, creamy, and full of bright flavors making it a versatile sauce. You can find it as a dipping sauce for breads or vegetables, on gyros, or used as a condiment.