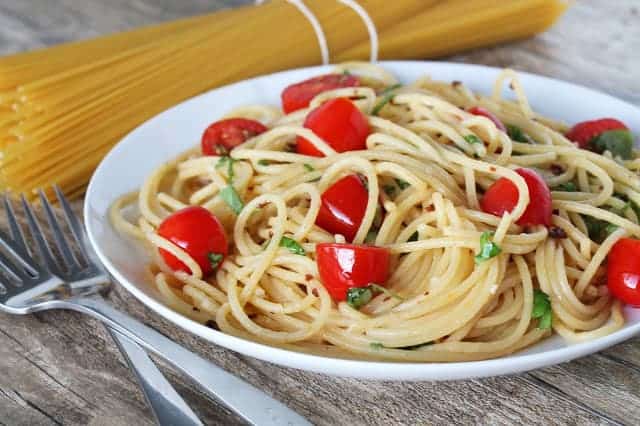 I'm all about summer tomatoes. We moved into a new house the first weekend of June. Knowing we were late in the season we moved in on a Saturday and planted a garden on Sunday. The garden is mostly tomatoes. Nothing beats a garden tomato. This is one of my favorite ways to serve up those beautiful garden cherry tomatoes that actually make it inside instead of being eaten directly off the plant.
This recipe uses rich Plugra butter. Since butter is the main sauce of the dish it goes a long way to use an extra nice butter like Plugra. Trust me on that one. Crushed garlic is steeped in the butter as it browns for a nutty, garlicky butter sauce. The best part of this meal besides the flavor? It takes less than 15 minutes to make it!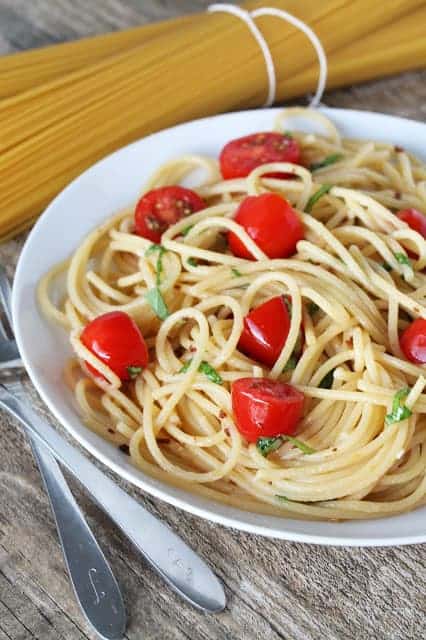 Time to Make It: <15 minutes
Yield: Serves 4 to 6
Ingredients
1 pound spaghetti noodles
1/2 cup unsalted Plugra butter
3 to 4 cloves garlic, crushed
1 pint cherry or grape tomatoes, halved
1 handful fresh basil leaves, chiffonade
1/4 cup grated parmesan cheese
Instructions
1. Cook pasta in salted water according to package directions.
2. Meanwhile, melt butter over medium heat. Add in crushed garlic and continue cooking until butter begins to foam. Watch closely until butter reaches a golden brown. Remove from heat immediately to avoid burning.
3. In a large bowl, pour garlic browned butter over cooked pasta. Toss together with tomatoes and basil. Garnish with freshly grated parmesan cheese.