Celebrate in style with this Funfetti Birthday Cake made from scratch. It's moist, and sturdy, and covered in sprinkle goodness for a beautiful cake perfect for any celebration or birthday.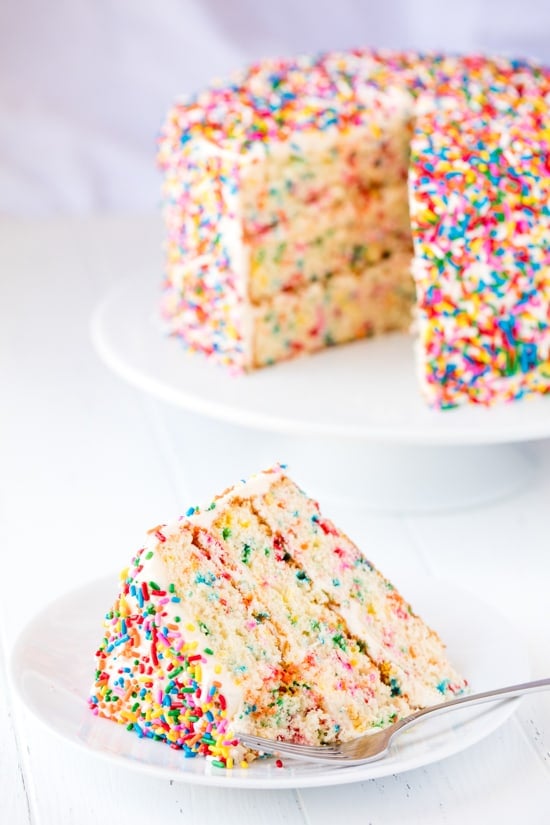 I'm well known for my amazing from scratch three layer cakes and this newest one is no exception. People have gone positively crazy over my recipe for The Most Amazing Chocolate Cake and now lately they have been gobbling up my recipe for The Most Amazing White Cake. Now it's time to party in style with this Funfetti Birthday Cake.
When making this particular cake, I highly recommend lining the bottom of the cake pan with parchment paper. This will ensure that your cake will come out of the pan in one piece. I have used both butter and nonstick cooking spray to grease the pan on this, and both worked out just fine.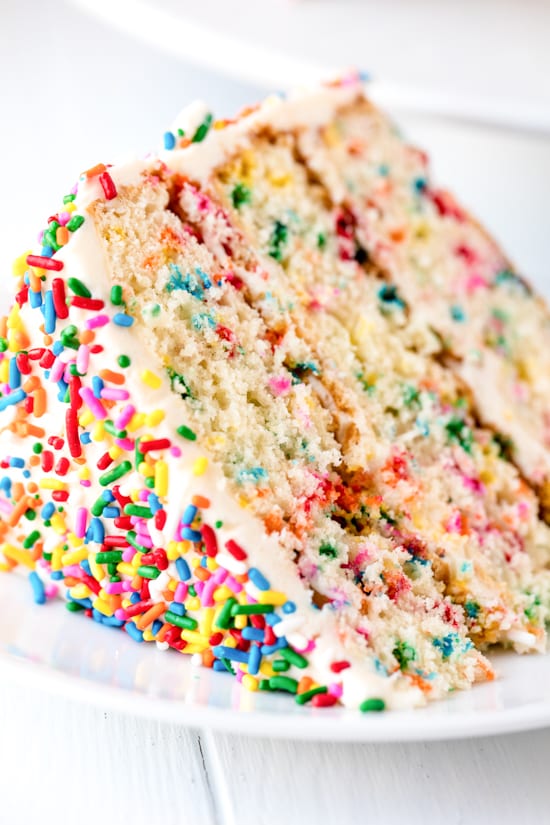 This recipe is written for 3 9-inch layers. A three tiered cake produces the ideal cake to frosting ratio. A 9-inch pan is a standard size. 8-inch and 10-inch pans will require adjustments to the recipe so adjust at your own risk.
Do not over bake this cake. Over baking a white or vanilla cake is the fastest way to dry it out. You can test your cake for doneness by inserting a toothpick into the center. If it comes out clean your cake is done. I prefer to tap the top of my cake. I can feel whether or not the cake is done by seeing if it jiggles at all. If it jiggles, there is still liquid in the center.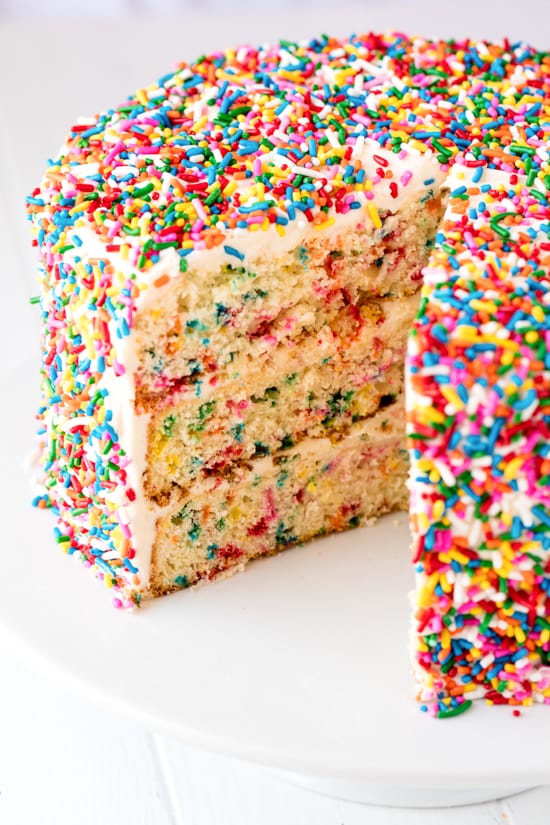 FREQUENTLY ASKED QUESTIONS
Q: Can this recipe be made into cupcakes?
A: Why yes it can! They are baked at 325 degrees for 20-22 minutes and this recipe makes about 36 cupcakes.
Q: Can I make this recipe into only two layers?
A: Yes you can, you'll need to divide the recipe by 2/3rds. But no, I won't do the math for you. I truly believe that the best cakes with the ideal frosting to cake ratio must be 3 layers.
Q: Do you have a substitute for eggs?
A: There are numerous options for substituting eggs in baking recipes. You can always try using one of those.
Q: What if I don't have buttermilk? Do I have to use it?
A: Buttermilk reacts with the baking powder in this recipe to give the cake volume. To learn all about buttermilk, as well as learn how to make a quick and easy buttermilk substitute, please read this post.
Q: Can I use a different pan size?
A: You are certainly welcome to try, but you'll need to adjust cooking times and be careful as to how much you fill the pan. This recipe is written for 9-inch round pans, which is a standard size and is meant to be eaten as a 3 layer cake.
Q: Can I use a different frosting?
A: You certainly can!
Q: Can I make this recipe gluten free?
A: Use gluten free flours at your own risk. Not all gluten free flours are equal and most don't work as a straight forward substitute for all-purpose flour. I have not tested any gluten free flours in this recipe as I do not have Celiac's disease.
Q: Do I have to coat the outside with sprinkles?
A: Nope! You can decorate the cake however you would like.
Q: Can I add sprinkles to the frosting for a funfetti frosting?
A: Yes! Once your frosting is made, simply fold in your sprinkles gently. This will keep the sprinkles from bleeding out their colors into the frosting.
Q: Can I use non-pareil sprinkles?
A: No, I don't recommend it as they bleed out their colors and won't produce the ideal result for a funfetti cake.
In the photos and video I have covered my cake completely with sprinkles. This required almost 2 cups of additional sprinkles. I will warn you that it can get downright messy so have a vacuum or broom handy. It's a beautiful result, but it can get a bit crazy.
Watch the video below where Rachel will walk you through every step of this recipe. Sometimes it helps to have a visual, and we've always got you covered with our cooking show. You can find the complete collection of recipes on YouTube, Facebook Watch, or our Facebook Page, or right here on our website with their corresponding recipes.