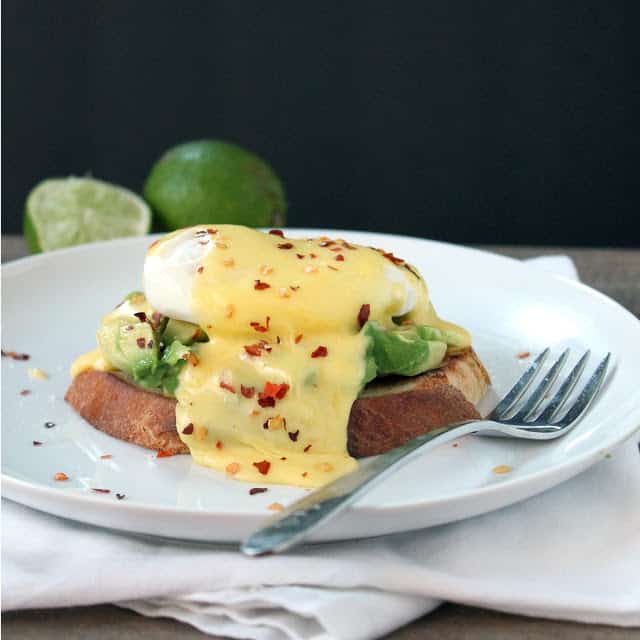 Ready for my new favorite breakfast? Eggs benedict meets avocado toast. It's a match made in heaven! Top it off with a lime hollandaise and…oh my goodness. Don't be intimidated by poached eggs or making a hollandaise sauce. It's actually pretty simple when you have good directions. With poached eggs it is all about creating a nice swirl in the water and sliding your egg in from a bowl (don't crack it directly into the water). And as for the hollandaise sauce, I've got a secret weapon: the hand mixer. It makes hollandaise tons easier to make. No tired arms from whisking, no worrying if you'll ever be able to triple the volume of those egg yolks. My hand mixer is my muscle. Take your time with those egg yolks and make sure they triple in volume. That's the key. Not just double, triple. Then it's all about slowly incorporating that butter for that oh-so-delectable rich, buttery, heaven-sent sauce. Can you tell I like hollandaise? I hope you enjoy this breakfast as much as we do!
Ingredients
1 tablespoon vinegar
4 eggs
4 slices bread
olive oil
2 avocados, diced
red pepper flakes
salt
lime hollandaise (recipe below)
Instructions
1. Fill a large saucepan or pot with water. Add in the vinegar. Bring it to an almost boil. You want the water to be simmering, but there shouldn't be much turbulence in the water. Crack an egg into a small bowl. Use a spoon to stir the water into a nice little whirpool. Gently slide your egg into the swirling water. Let cook for 4 minutes. Remove with a slotted spoon.
2. Meanwhile, drizzle olive oil on each of the slices of bread. Toast them in a heavy skillet over medium-high heat until each side is browned.
3. Compile your breakfast with a slice of toasted bread, diced avocado (mash it down a bit), season with salt, top with your poached egg and  nice heaping spoonful of lime hollandaise sauce. Garnish with red pepper flakes.
Lime Hollandaise Sauce
Ingredients
4 egg yolks
1/2 cup melted butter
pinch salt
pinch cayenne pepper
1 tablespoon lime juice
Instructions
1. Bring a pot of water to a simmer. Put the egg yolks into a glass or metal bowl that you can hold over your pot of water (double boiler). Use a hand mixer to whisk the eggs until they have tripled in size as you hold it over the hot water. This will take several minutes to do. They should be quite thick.
2. Slowly beat in the melted butter. The sauce should remain thick and a vibrant yellow. If at any point your egg begins to get cooked pieces from being too hot, remove your bowl from the heat and let it cool down for a minute and return it to the heat.
3. Finish by whisking in the salt, cayenne, and lime juice.