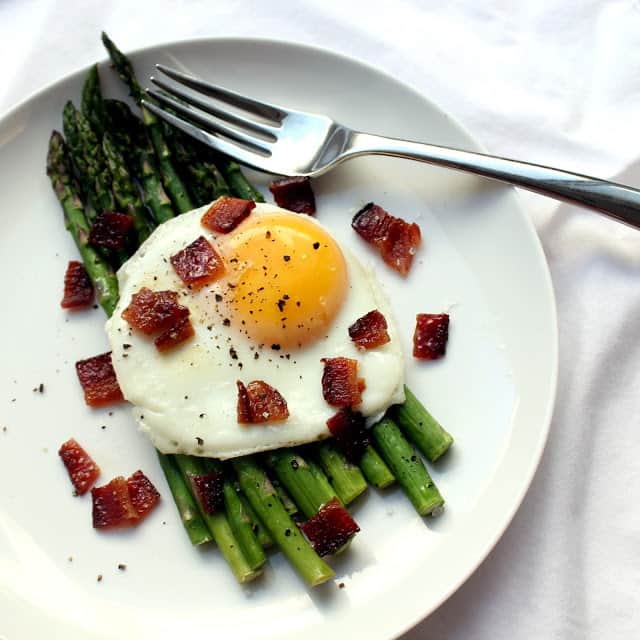 I've actually seen several recipes like this out there. Eggs over asparagus. It's just such a lovely spring food! The egg yolk creates this wonderful, rich sauce for the asparagus. I might be in love with candied bacon so I chopped some up and put it over it as well. Oh baby! The sweet, spicy, saltiness of the bacon combined with the richness of the egg yolk, and the yummy asparagus made it such a delicious breakfast treat for me. And seriously, vegetables at breakfast? You feel awesome about yourself for the rest of the day.
Ingredients
1 bunch asparagus, trimmed
olive oil
4 eggs
2 strips spicy maple-candied bacon, diced
salt and pepper
My Other Recipes
Instructions
1. Roast asparagus, drizzled with olive oil, in a 400 degree oven for about 10 minutes until tender crisp. Learn all about roasting asparagus.
2. Cook your eggs sunny side up (see cooking lesson below, it's easy!)
3. Divide the cooked asparagus up among 4 plates. Place one egg over each asparagus bunch and top with a bit of the crumbled candied bacon. Season with salt and pepper.
How to make a sunny side up egg:
What? You don't cook eggs sunny side up because it is intimidating? Well, it is totally easy!

Melt a tablespoons or two in a skillet over medium heat. Slide the egg onto the skillet. Cover with a lid or aluminum foil. Reduce heat to medium-low. Walk away and come back a couple minutes later to check on it. It is done when the whites are completely set on top around the yolk. The lid or aluminum foil is the key so that the tops of the egg white can get a bit steamed. That way you can have it cooked all the way through without getting a rubbery bottom.
Get New Recipes Sent To Your Inbox!
Join my newsletter and get new mouth watering recipes sent directly to you weekly!