Classic Braised Beef Short Ribs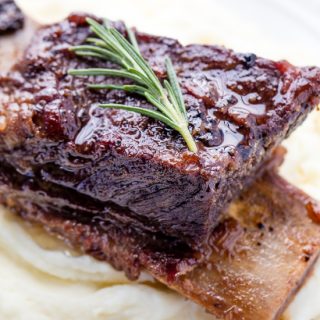 Author:
Rachel Farnsworth
Yield:
Serves about 3 to 4
6 (about 4 pounds) bone-in short ribs
½ teaspoon salt
½ teaspoon black pepper
3 tablespoons extra virgin olive oil
½ white onion, diced
2 to 3 cloves garlic, crushed
1 cup beef broth
2 tablespoons worcestershire sauce
1 sprig fresh rosemary
Preheat oven to 350 degrees.
Season all sides of the short ribs with salt and pepper.
Heat a heavy, oven safe pot over high heat. Add in olive oil and allow to heat briefly. Sear short ribs in olive oil, about 1 minute per side. Remove from pot and set aside.
Add in onion and sautee 2 to 3 minutes. Add in garlic and sautee 1 minute more.
Pour in beef broth and worcestershire sauce. Bring to a simmer. Add in meat. Place rosemary sprig on top.
Cover and transfer to preheated oven for about 2.5 hours, until meat is tender.
Note:
Don't have an <g class="gr_ gr_107 gr-alert gr_spell gr_inline_cards gr_run_anim ContextualSpelling ins-del multiReplace" id="107" data-gr-id="107">oven safe</g> pot? You can let it simmer, covered, in a regular pot on the stove for 2.5 hours.
Recipe by
thestayathomechef.com
at https://thestayathomechef.com/classic-braised-beef-short-ribs/