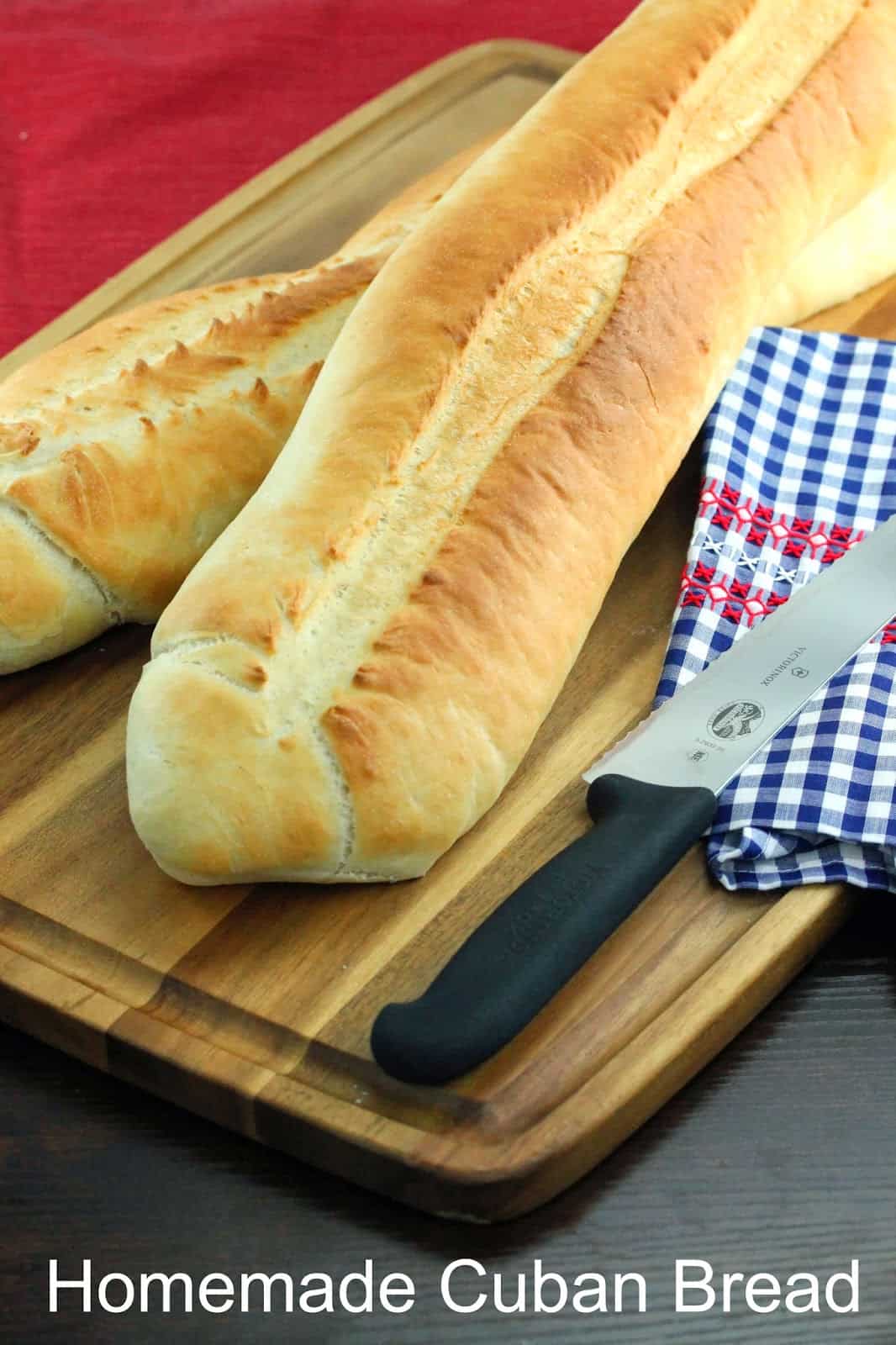 I got so much inspiration when I was in Miami a couple weeks ago. The food scene there is incredible and you can experience a fascinating montage of flavors there. I knew within the first day that I needed to figure out how to make my own cuban bread. Cuban bread uses lard as the fat base. I know that might scare you. Lard is such an ugly word, but the actual product is all natural and a great choice when it comes to fats to work with. All-vegetable shortening may sound prettier, but lard has been around for forever. You can find it in almost any grocery store. It is usually right in the same area as the shortening. It may come in a tin or a box. Give it a try. It can make some amazing pastries and biscuits. Lard, lard, lard. It's an ugly word, but boy does it make some tasty stuff. Embrace the lard. Love the lard. Use the lard.
Cuban bread has a nice crisp crust on the outside with a tender crumb on the inside. It's like eating a loaf of french bread that has been crossed with a pastry. It is best enjoyed fresh to retain that crisp outer layer.
Hands On Time: 15 to 20 minutes
Start to Finish: 2 hours, 40 minutes
Yield: 1 really long loaf
Ingredients
1 TB active dry yeast
2 tsp white granulated sugar
2 tsp salt
1 1/4 cups warm water (100-110 degrees)
1 1/2 cups bread flour
1 1/2 cups all-purpose flour
1/4 cup lard, melted
Instructions
1. In the bowl of a stand mixer, combine the yeast, sugar, salt, and warm water. Mix on a low setting using a dough hook.
2. Slowly add half of the flour, 1/2 cup at a time, alternating between bread flour and all-purpose.
3. Pour in the melted lard and let mix in, then gradually add in remaining flour until the dough comes together and stops sticking to the sides. Do not add too much flour. The dough should remain soft and pliable, but should not be stiff.
4. Knead on low for 3 to 4 minutes.
5. Transfer dough to a lightly greased large bowl. Cover and let rise until double, about 1 hour.
6. Roll the dough out into about a 12 inch by 20 inch rectangle. Roll up tightly from the long end to create a 20 inch long roll. Roll it back and forth a few times to taper the ends.
7. Place on a lightly greased baking sheet (you may have to do it from corner to corner to fit). Cover loosely and let rise another 1 hour.
8. Place a pan of water on the bottom shelf of the oven and preheat oven to 450 degrees. The water will create a steam oven.
9. Brush the rise loaf with a tablespoon or two of water and use a sharp knife to create a slice or two down the middle.
10. Bake in the preheated oven for 15 to 20 minutes, until loaf is browned.
11. Transfer to a wire rack to cool.
Recipe Adapted from 3 Guys In Miami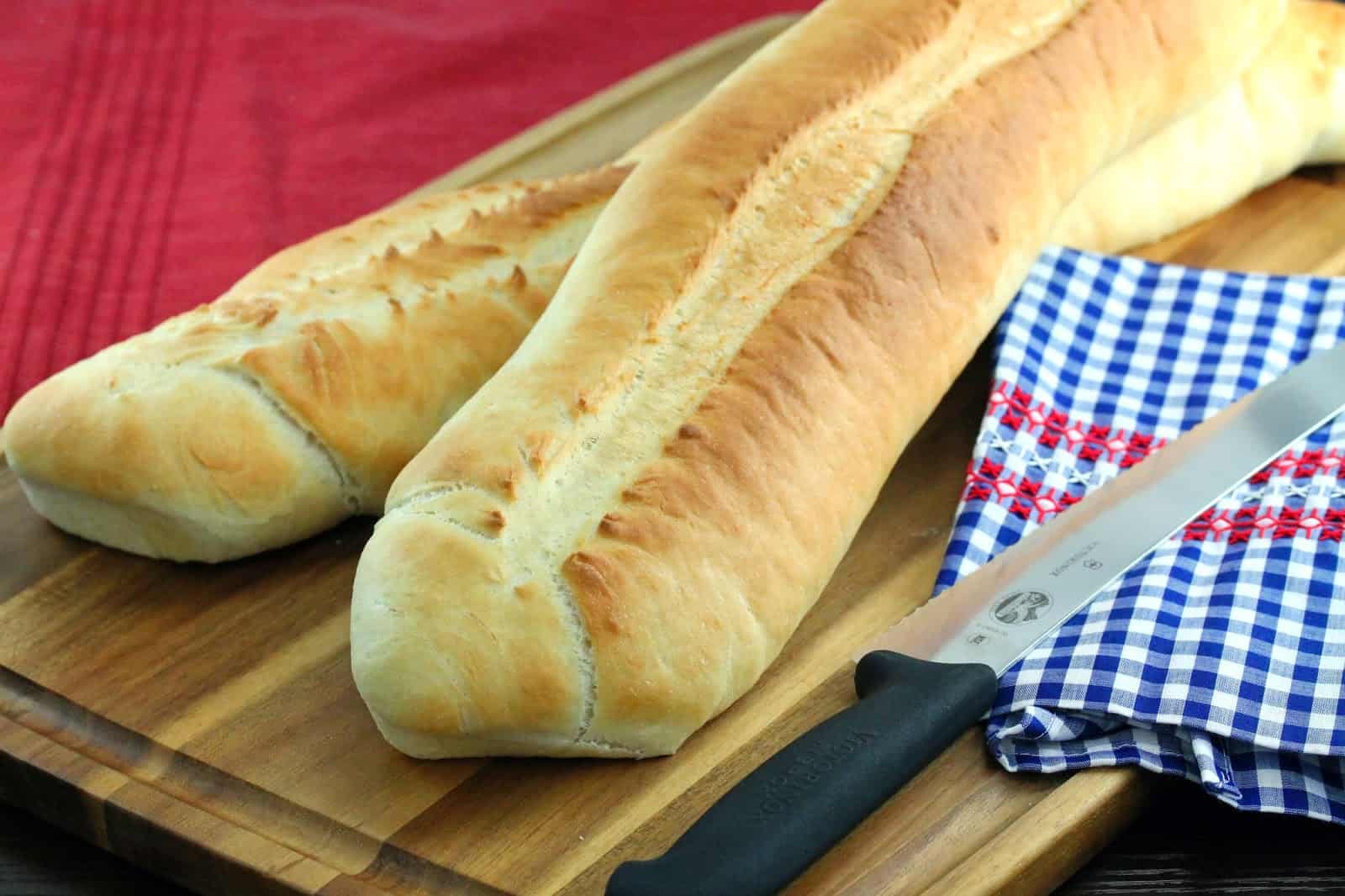 This recipe uses a technique that creates a steam oven at home. Commercial bakeries use steam ovens to achieve a crust that is chewy and flaky and ultra delicious. You can do that in your regular home oven by placing a shallow pan of water on the bottom rack of your oven. The heat of the oven will turn the water into steam. Just be careful when you are opening your oven door so the rush of steam escaping doesn't burn you.