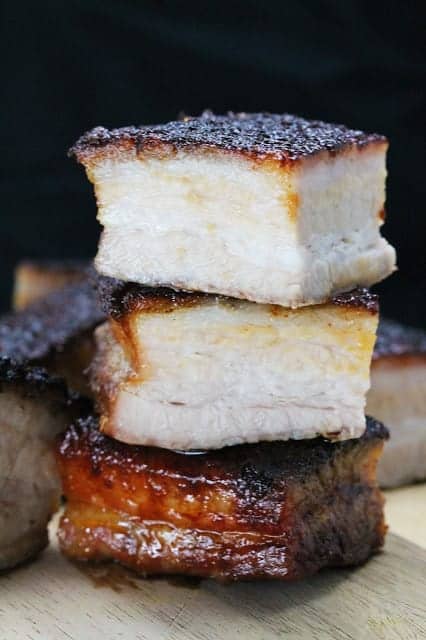 If you haven't had a good crispy roasted pork belly, boy oh boy, be prepared for the treat of a lifetime. If you love bacon, be prepared to fall head over heals for pork belly. Bacon is made from pork belly so when you get pork belly you are getting the basis for something that makes everything better. They started making it into bacon as a way of preserving it because they didn't have good refrigeration or freezing capabilities. You know the momma of bacon is the kind of mother that will turn heads. If I haven't convinced you yet that you need pork belly in your life I don't know what else to say. Obviously I sing the accolades of pork belly!
I may have squealed outloud when I saw that my local Costco was selling huge slabs of pork belly. I immediately texted my husband and skipped through the store to the checkout, forgetting several items on my list along the way. The promise of some good pork belly can consume the mind that way. If you don't have any at your local Costco, go to customer service and demand some come your way! You can also find it at higher end grocers like Whole Foods and such, but they tend to be a little more pricey. You can also ask your butcher if you can special order it. My Costco-sized pork belly was 8 pounds of goodness. I divided it up into two pound slabs and froze what I wasn't going to use right away.
In this recipe I've seasoned the pork belly skin with ancho chili powder and paprika for more of a Mexican-inspired taste. Ancho chili powder has a mild, sweet taste that I absolutely love and I knew it would go well with the pork belly. You could experiment with your own flavor combinations. The important elements to include are the sugar (to caramelize) and the salt (because, hello, cooking pork without salt is a sin!). In fact, you could just use the salt and sugar and let the pork belly shine on its own. Basically, you can't go wrong!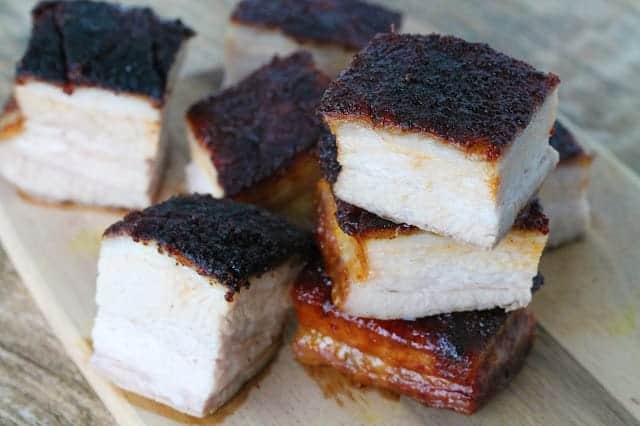 Prep Time: 5 minutes + 1 to 4 hours
Roast Time: 2 hours, 45 minutes
Yield: Serves 6 to 8


Ingredients
1 (2 lb) slab pork belly
1 tablespoon sugar
1 teaspoon salt
1 teaspoon ancho chili powder
1 teaspoon paprika
12 oz. braising liquid*
Instructions
1. Lay the pork belly out on a cutting board fat side up. Score the fat by running a knife across the slab in parallel motions, about 1 inch apart. Do the same thing in the opposite direction, creating a diamond pattern over the meat.
2. In a small bowl, combine sugar, salt, ancho chili powder, and paprika. Rub the mixture over the fatty part of the pork belly, getting it in the score marks as well. Cover and refrigerate 1 to 4 hours.
3. Preheat oven to 350 degrees. Place the pork belly on the rack of a roasting pan. Roast in the center of the oven for 90 minutes.
4. Pour the braising liquid* in the bottom of the roasting pan. Continue roasting for another 60 minutes.
5. Increase the heat to 500 degrees and roast approximately 15 minutes until skin crisps up and browns. Watch it carefully as actual time may vary based on your oven.
6. Let rest at least 20 minutes before slicing, or shredding.
*Braising Liquid = I used rootbeer, but you could use beer or any other soda really.