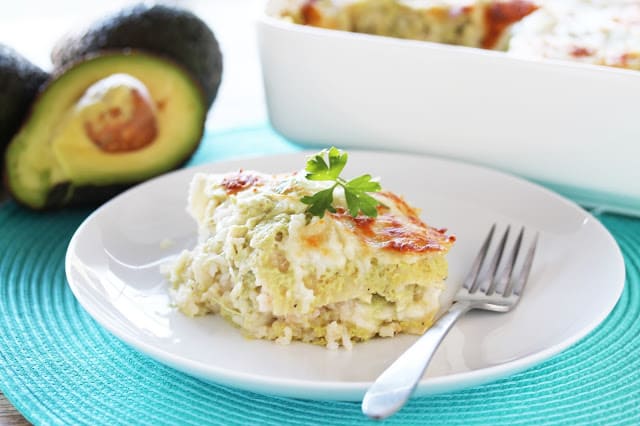 Enchilada casseroles are a great way to enjoy the flavors of enchiladas without all the hassle or rolling each individually. Avocado based sauces for enchiladas are all the rage these days, so I've taken a deliciously creamy enchilada sauce and compiled it in a quick and dirty casserole form. Flavored rice is piled on in there to add texture, filler, and extra flavor. I have used corn tortillas, but you are welcome to substitute flour tortillas.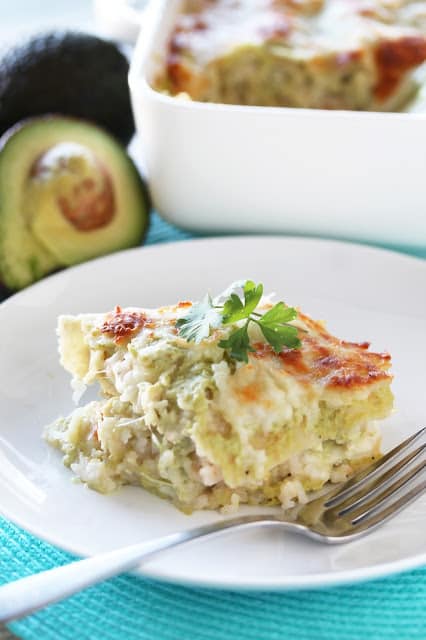 Prep Time: 30 minutes
Bake Time: 25-30 minutes
Serves: 8
Ingredients
1 cup white rice
1 teaspoon ground cumin, divided
1/2 teaspoon chili powder
1/2 teaspoon salt
1 cup salsa verde

MY OTHER RECIPES
2 avocados, pitted
1/2 cup sour cream
1 jalapeno, stem removed (optional)
2 boneless skinless chicken breasts, cooked and shredded
28-32 corn tortillas
4 cups shredded mozzarella
Instructions
1. Make the rice by pouring rice into a medium saucepan

with 2 cups water, 1/2 teaspoon cumin, chili powder, and salt. Bring to a boil, cover, reduce heat to low, and cook for about 15 minutes until all water has been absorbed or evaporated. Fluff and stir rice, and set aside.
2. Make the sauce by combining salsa verde, avocados, sour cream, jalapeno (if you want it spicy), and remaining 1/2 teaspoon of cumin in a blender
. Blend until smooth.
3. Mix a scoop of the sauce with the shredded chicken in a small mixing bowl, just enough to give the chicken a bit of favor.
4. Spoon another scoop of the sauce into the bottom of the pan, just enough to give the bottom a light coating. Cover the bottom a 9×13 pan

with tortillas, cutting them in half as necessary. Cover the base with some of the avocado cream sauce. Sprinkle a light layer of cheese over the tortilla base.
5. Spoon half of the cooked rice over the base, along with half of the chicken. Sprinkle with another layer of cheese. Top with another layer of tortillas and spread sauce on top of tortillas. Sprinkle a light layer of cheese over the sauced tortillas. Repeat with remaining rice and chicken.
6. Top with a final layer of tortillas, smother with remaining sauce, and cover with cheese.
7. Bake at 375 degrees for about 25-30 minutes until cheese is warm and bubbly. Serve hot.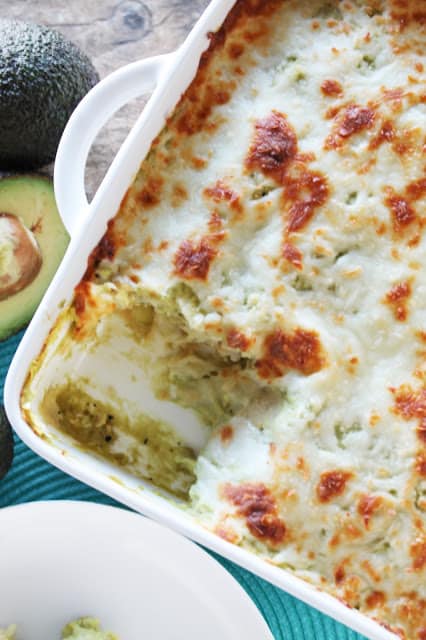 RECIPE NOTES:
– This can be assembled and refrigerated before baking, up to a day in advance. Just cover and refrigerate. 


– This recipe is mild. If you want to create a spicy version, add a whole jalapeno into the sauce.


– If you don't have any cooked chicken, simply place chicken in a pot of boiling water and boil until cooked, about 15 minutes. You can do this while your rice cooks. You can add some flavor to the chicken by boiling it in chicken broth, adding a couple cloves of garlic, and make sure your water is at least salted. Once it is cooked, remove from the liquid and chop it up.