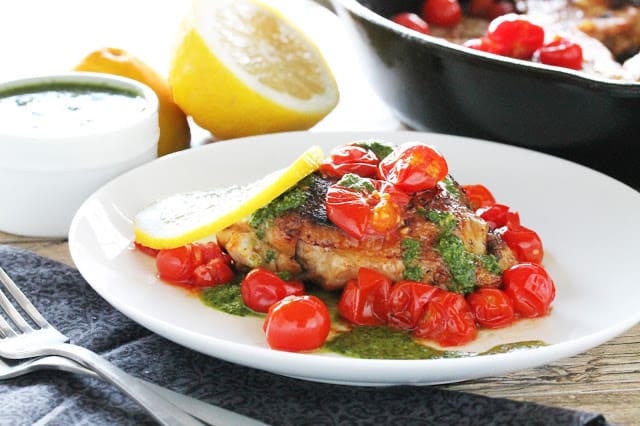 Cherry tomatoes straight from the garden are one of my favorite things. I'm always looking for ways to enjoy cherry tomatoes, and this one is combined with some of my other favorite things: chicken thighs and chimichurri. Chicken thighs are by far my favorite cut of chicken. They are moist and juicy, absorb flavor, and that crispy skin is absolutely to die for. I've made a cilantro-style chimichurri for this in lieu of the traditional parsley based version. Cilantro is also one of my favorites and sometimes I prefer the cilantro version to the parsley, especially when combined with flavors like cumin and chili powder. Serve this up with some crusty bread to soak up all that delicious chimichurri and juices from the chicken and tomatoes. You'll love it!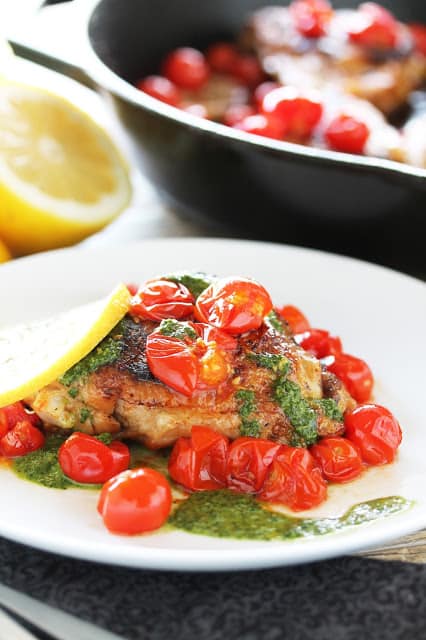 Time to Make It: 25 minutes
Yield: Serves 4 to 6
Ingredients

MY OTHER RECIPES
6 chicken thighs (bone-in, skin-on)
1/2 lemon, juiced
1/2 teaspoon salt
1/2 teaspoon ground cumin
1/2 teaspoon chili powder
1/4 teaspoon pepper
2 tablespoons butter
1 pint cherry tomatoes
Cilantro Chimichurri
2 cups fresh cilantro leaves
5 garlic cloves
1 tsp salt
1/2 tsp black pepper
1/2 tsp red pepper flakes
1/2 tsp. dried oregano
1/2 cup extra virgin olive oil
3 TB red wine vinegar
3 TB lemon juice
Instructions
1. Heat a skillet over high heat.
2. While the skillet is heating, get out a small bowl and mix together salt, cumin, chili powder, and pepper. Squeeze the lemon juice over the chicken thighs and then Sprinkle the seasoning over them.
3. Put the butter in the hot pan and let it sizzle, and let it spread out in the pan. Sear the chicken thighs for 2 minutes per side.
4. Cover, reduce heat to medium, and cook 10 minutes, skin side down. Flip, skin side up, and cook covered 7 minutes more.
5. Meanwhile, make the chimichurri by combining all ingredients in a
food processor
or high powdered blender and blend until pureed.
6. Add in the cherry tomatoes. Cover and cook an additional 3 minutes. The tomatoes will begin to burst.
7. Increase the heat to high and make sure the skin side gets one last sear (about 2 minutes). Add in lemon slices for a little citrus zing. Serve skin side up with tomatoes and a drizzle of the chimichurri.