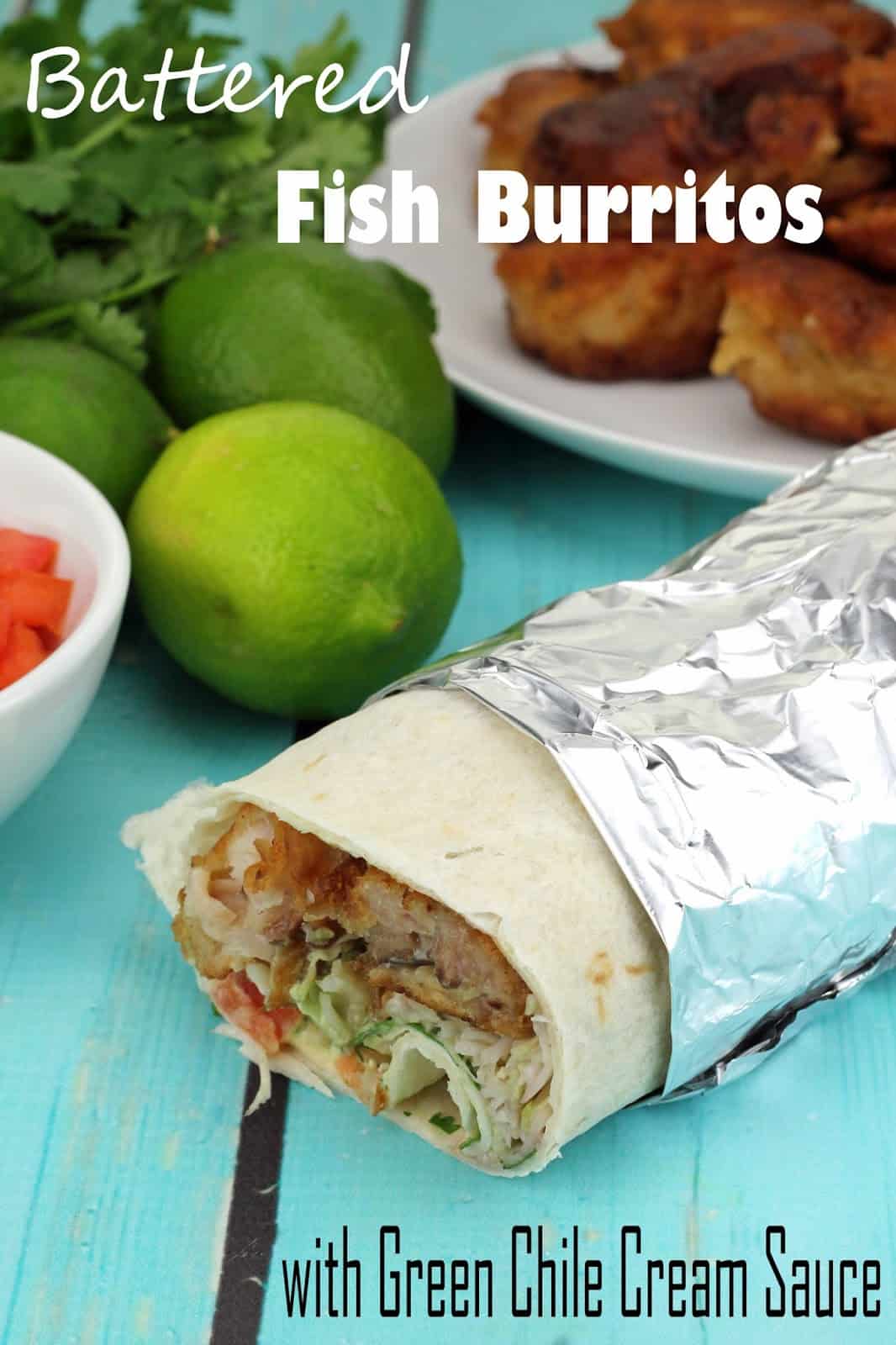 I live in San Diego so we kind of eat a lot of fish tacos. We have a local Mexican restaurant that we love and one of our favorite things to get is fish burritos. I was a bit skeptical at first, but dangit it is stinkin' tasty and I crave it all the time. I made these for visitors who were equally as skeptical and they devoured them. You don't need much to dress these up. Seriously, not much at all. A little shredded cabbage, some tomatoes, and maybe even some avocado. This burrito is all about the stars: fish and the green chile crema. Oh baby! Get me another burrito! Stat!
Ingredients


Green Chili Crema 
1/2 white onion,
4 whole green chiles (from a can), roughly
1/2 tsp salt
1 cup heavy cream
2 tablespoons sour cream
1/2 cup fresh cilantro leaves
juice of 1 lime
 Batter 
1 cup flour
1 tsp baking powder
1 tsp garlic powder
1 tsp dried basil
1 tsp red pepper flakes
1/2 tsp salt
1/4 tsp pepper
1 cup soda (we don't do beer, but we love ourselves some Dr. Pepper)
1 lb white fish (mahi mahi, snapper, etc.), cut into small strips (3 inches x 1/2 inch)
Other Ingredients 
Oil for frying
6 cups shredded cabbage
2 tablespoons red wine vinegar
Salt and Pepper
2 cups diced tomatoes
3 avocados, pitted and cubed (optional)
2 cups cilantro leaves, loosely packed
8 burrito-size tortillas
Instructions 
1. Make the creama by combining the onion, green chiles, salt, heavy cream, sour cream, cilantro, and lime juice in a blender or food processor. Puree until smooth.
2. Make the batter for the fish by stirring together flour, baking powder, garlic powder, basil, red pepper flakes, salt and pepper in a large mixing bowl. Slowly pour in soda and whisk until smooth.
3. Pour vegetable oil into a large skillet, about 1/2 inch deep. Heat to about 370 degrees.
4. Fry your fish by picking up a piece of fish with tongs, dipping it into the batter, and putting it directly into the oil. Work in batches, frying each piece for about 4 minutes, flipping halfway through. Drain on paper towels.
5. Toss shredded cabbage with red wine vinegar and salt and pepper.
6. Assembly burritos with 2 to 3 pieces of battered fish, 1 cup cabbage mixture, 1/3 cup tomatoes, 1/2 an avocado (optional), and 1/3 cup cilantro on a burrito-size tortilla. Smother with green chile sauce. Wrap and enjoy!