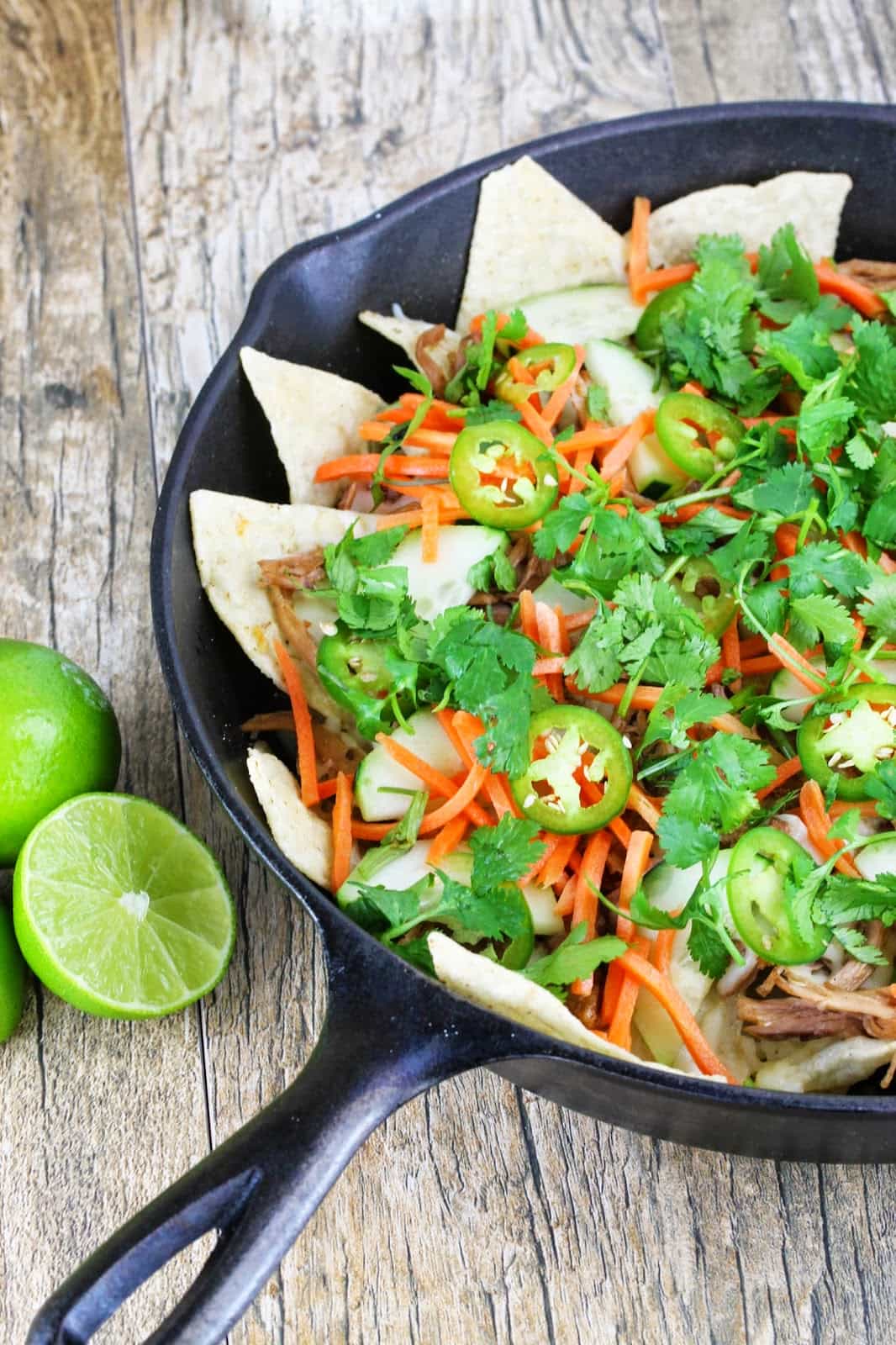 I kind of have a thing for the Vietnamese Banh Mi Sandwich. It's my favorite sandwich right now and I think about eating them all the time. If you haven't had one, you need to as soon as humanly possible. I love them so much I even put them in my cookbook. Since this love is pretty much out of control I decided, what the heck, why not make them into nachos. You can put carrots and cucumbers into nachos right? YES! Yes, you can! This ended up being insanely delicious. Who knew that nachos could be light? I mean seriously, these were so good I was scooping up the goods left and right.
First you are going to need some banh mi pork. I've got you covered there and just have you make it in the slow cooker. You could also make it the "hard way" and toss it in the oven at 350 degrees for 2 hours instead, but you know, whatever floats your boat. From there it's as easy as nachos can be. Next thing you'll know you will have a skillet of nachos in front of you covered in tasty meat and vegetables. It'll rock your world and you'll never look at nachos the same way again!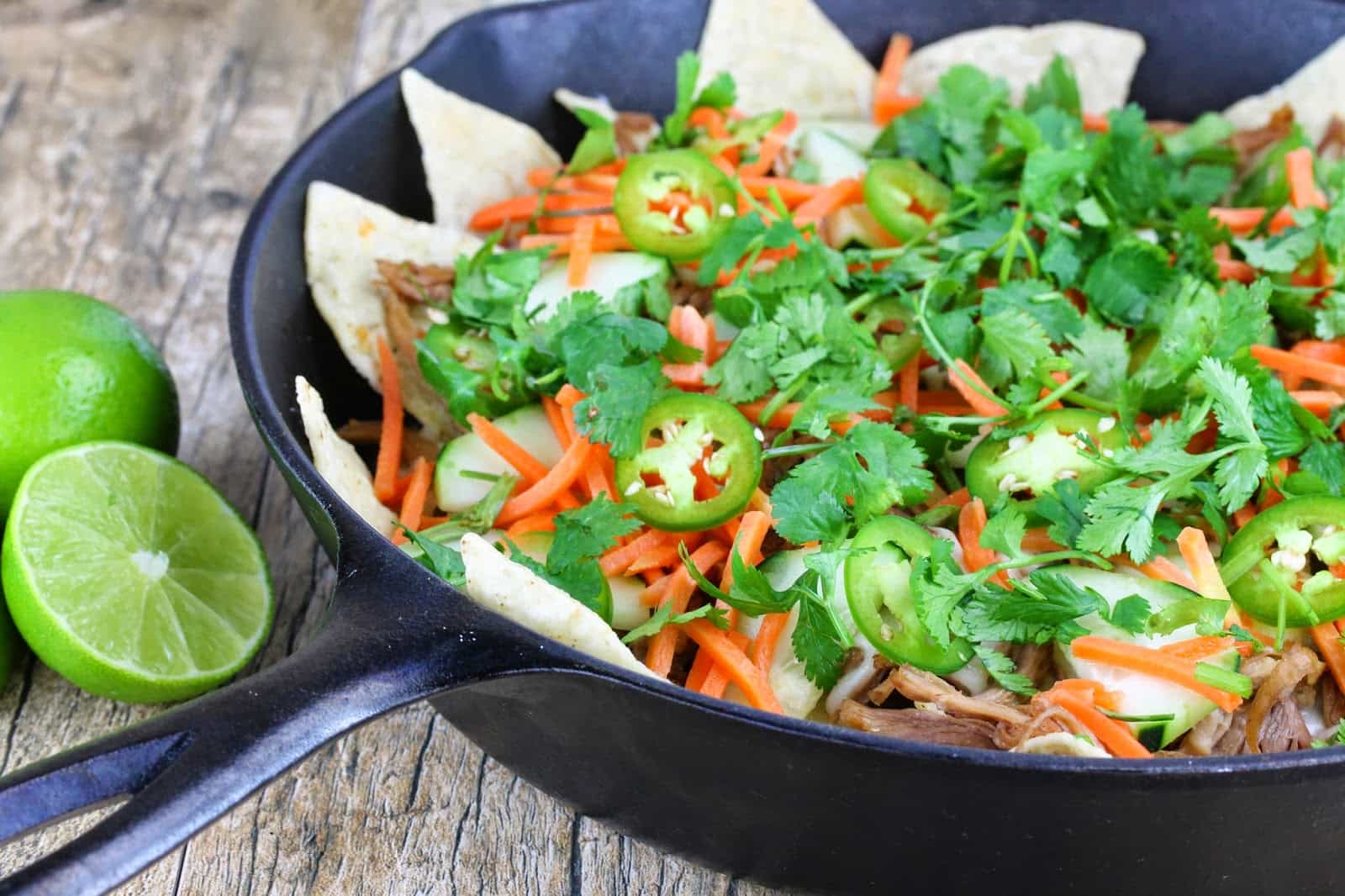 Prep Time: 5 minutes
Slow Cooker Time: 8 hours on low
Post Slow Cooker Time: 15 minutes
Yield: Serves 4 to 6
Ingredients
1 (2-3 lb) pork butt roast
1 cup chicken broth
1/4 cup soy sauce
2 TB fish sauce
1/2 tsp ground ginger
3 cloves garlic, crushed
2 large carrots, julienned or shredded
1/4 cup rice vinegar
juice of 1 lime
1 bag tortilla chips
2 cups shredded mozzarella cheese
1 cucumber, sliced
3 cups fresh cilantro leaves
1 jalapeno, thinly sliced
Instructions
1. Place the pork butt into a 6 quart slow cooker.
2. Pour in chicken broth, soy sauce, fish sauce, and stir in ginger and garlic.
3. Cover and cook on low 8 to 10 hours.
4. Meanwhile, in a small bowl, combine carrots with rice vinegar. Cover, and refrigerate until ready to serve.
5. When meat is finished, shred pork and stir in lime juice.
6. Lay out chips in the bottom of a heavy, oven-safe skillet. Sprinkle half the cheese over the chips. Spread 1 cup of the meat over the chips and sprinkle with remaining cheese. Put skillet into oven on the broil low setting. Watch closely and remove when cheese is melted.
7. Top with carrot mixture, cucumber slices, cilantro leaves, and jalapeno slices, and serve.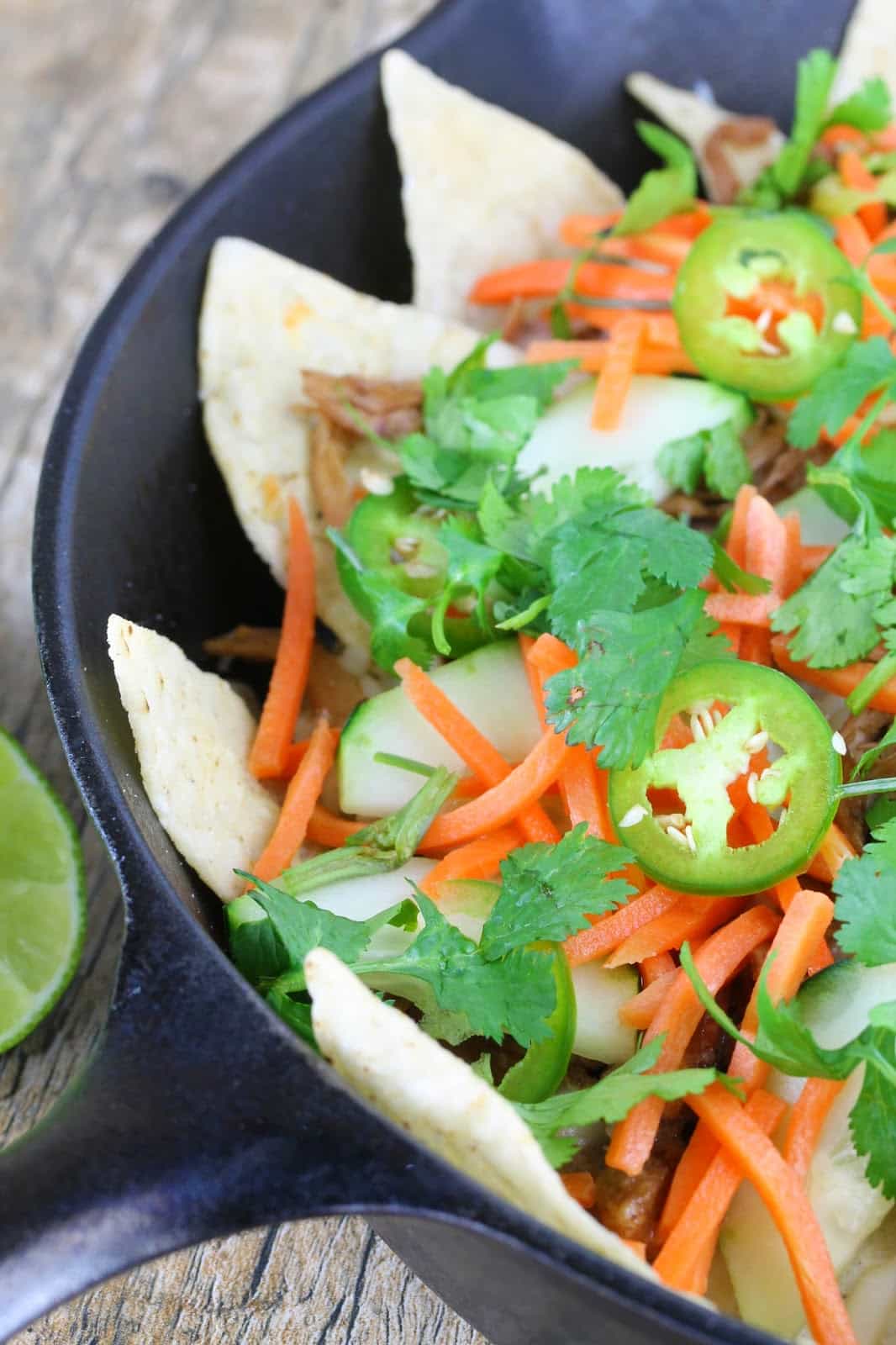 Ever get out your garlic and it has a green center? It happens all the time. That green center is completely edible, but it adds bitterness to the garlic. If you end up with a green clove you can deal with it pretty easily. Follow this self-explanatory picture tutorial to get it right out. Just cut the clove in half and peel the green portion right out.