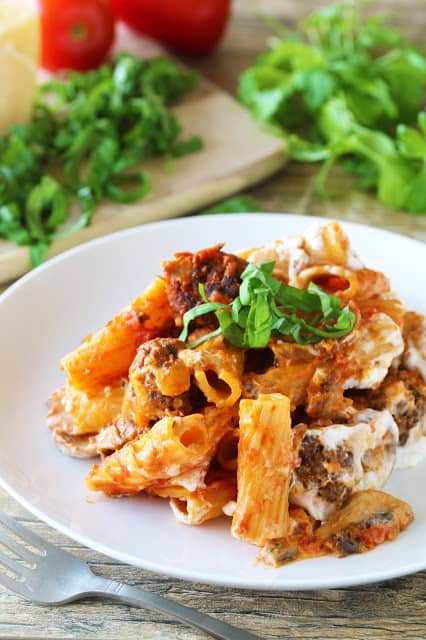 A delicious baked pasta dish with homemade mini meatballs and sauteed mushrooms, topped off with a mozzarella-cream cheese, for the ultimate baked ziti.
Get ready for a pasta dish the whole family will love! This is sure to become a staple on your kitchen table. Of course, I'm making everything from scratch, including the mini-meatballs. You could totally get away with store bought meatballs and sauce if you need to, but homemade is always so much better. Consider making a huge batch of the meatballs and freezing them for an easy and delicious weeknight meal. I do that all the time! And I always have homemade spaghetti sauce in the freezer. We are so in love, that'll never go away. No matter how you float it, this ziti is perfection. We tested it lots of different ways, but this…this is perfection to us.
Be sure to watch the video to see just how to make this fabulous pasta dish.