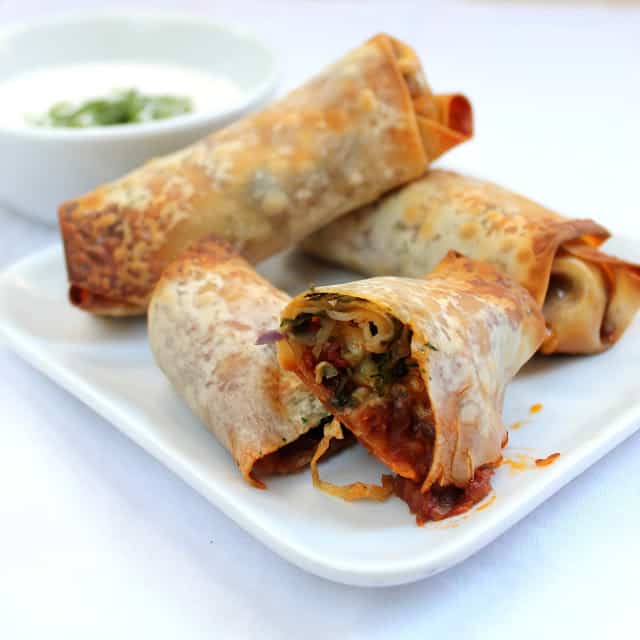 I love egg rolls because you can put tons of different flavor combinations in them for any number of tasty surprises. I was invited to a party where each guest was supposed to bring a Mexican dish. Potluck Mexican food is not my forte and I wondered what I could bring to feed a crowd that was also a finger food. I decided to go for egg rolls and came up with this wonderful little creation. They are almost like little burritos filled with chorizo, chipotle peppers, refried beans, queso fresco, and cilantro. They were devoured quickly at the party! I baked mine both because it is a bit healthier, and because it held up better for the conditions of the party. These can easily be fried for what I'm sure is an even tastier treat. Let's face it, almost everything is better fried! These egg rolls can be frozen for later use. Simply pop them in the freezer after being filled and add 5 minutes to the baking time. Serve with this wonderful cilantro-lime crema sauce for an additional pop of flavor.
Ingredients
1 package of egg roll wrappers (24)
1 can refried beans
1 log of beef chorizo
1 onion, diced
1/2 can chipotle peppers, drained and chopped
1 bunch cilantro, chopped
1 block queso fresco, crumbled
2 cups shredded cabbage
1/2 cup crema (mexican sour cream)
1 lime, juiced
2 tablespoons cilantro, chopped
1/4 tsp salt
Instructions
1. Saute chorizo over medium-high heat for about 10 minutes. Add in the onions and saute for about 5 minutes more. Remove from pan and put in a mixing bowl.
2. Add the refried beans and chipotle peppers to the mixing bowl and stir to combine.
3. Layer your egg roll fillings onto your egg roll wrapper: cabbage, bean mixture, cheese, then cilantro. Roll (see cooking lesson below).
4. At this point you could deep fry them in hot oil. To bake: Line up filled egg rolls on a lightly greased baking sheet. Spray the tops with cooking spray. Bake at 400 degrees for 20-25 minutes until they are nicely browned.
5. For the cilantro-lime crema, combine the crema, lime juice, cilantro and salt. Whisk to combine.



How to fold an egg roll in one easy picture tutorial: