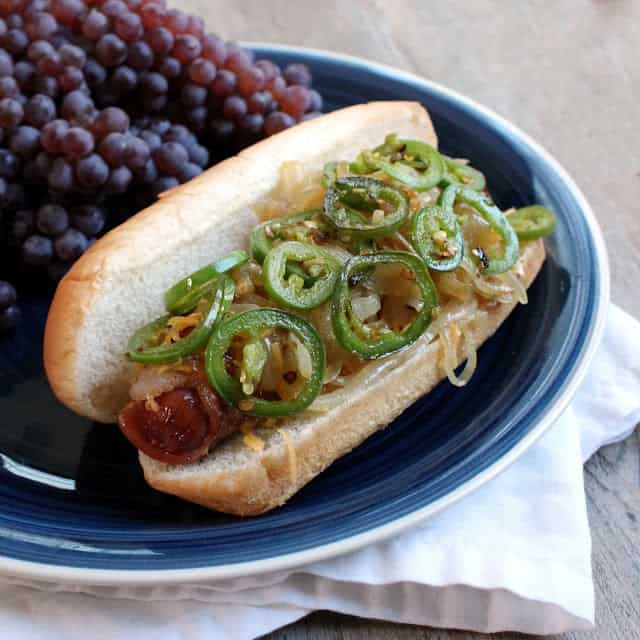 I hate hot dogs. Well, I hate kid hot dogs. If you put a hot dog between bread and lay on a little ketchup and mustard then you, my friend, are eating a kid hot dog. Nothing wrong with it. I just think it is…plain. When I eat hot dogs I like to go all out. I insist on using all beef hot dogs (Hebrew National) and then loading them up with other good stuff. Take this hot dog for instance. It is far from a kid hot dog. It's wrapped in bacon, smothered in BBQ sauce, melted cheese, caramelized onions, and toasted jalapenos. It is right up my alley. I'm all about jalapenos lately. I swear I'm buying them in bulk. Nothing wrong with spicing up your summer!
Ingredients
8 hot dogs
8 hot dog buns
8 strips of bacon
16 toothpicks
2 onions, halved and sliced
1 tablespoon olive oil
4 jalapenos, sliced
Cheddar Cheese, shredded
BBQ sauce
Instructions
1. Wrap each hot dog with a strip of bacon. Secure each bacon end into the hot dog with a toothpick. Cook each hot dog on a grill or in a skillet over medium heat. Rotate each hot dog as they cook so that all sides can be cooked. Remove from the pan when the bacon gets crispy.
2. Meanwhile, in another skillet, saute the onion in the olive oil over medium-high heat. Once they get soft and translucent, reduce the heat to medium low. Stir occasionally. As the onions continue cook, they will take on a nice brown color. Once they have reached a beautiful brown, remove from heat and set aside. This will take about 20 minutes.
3. Toast the jalapeno slices in the same skillet you cooked the onions in. Toast for 3-4 minutes.
4. Compile your hot dog by placing the bacon wrapped dog on the bun, give it a line of BBQ sauce, top with cheddar, onions, and jalapeno. Enjoy!