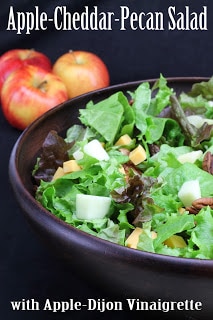 If you are anything like me then you are well into your resolution to eating better. I eat a nice big salad and feel all good about myself and my goals. This year my goal is to surf which is going to require losing a little weight and turning it into upper body strength. I did fall off my board from a squatting position so I'm making progress, right? Well, I'm banking on things like salad and more vegetables to help me reach a physical condition that will allow me to perform a good "pop up" (think a burpee that you do while balancing on moving water). It's gotta work, right? One of my all-time favorite salads is this apple-cheddar-pecan salad. You can use walnuts instead if the price suits you. Top it off with a homemade dressing and you've got yourself a scrumptious salad to enjoy.
Ingredients
1 head green leaf lettuce
1 head red leaf lettuce
4 apples, peeled, cored, and diced
6 oz. sharp cheddar cheese, cubed
1 cup toasted pecan halves
1/4 cup olive oil
1/4 cup. apple cider vinegar
1 sweet apple, peeled, cored, and halved
1 TB. dijon mustard
1 garlic clove, peeled
pinch salt
Instructions
1. Wash the lettuce and chop it into manageable pieces. Toss lettuce together with diced apple, cubed cheese, and pecan halves.
2. Make the salad dressing by combining olive oil, apple cider vinegar, the sweet apple, dijon, and garlic clove in a food processor. Use the S-blade to puree until smooth.
3. Serve salad cold with dressing drizzled over.